Sara Ramirez: Is She Leaving Grey's Anatomy?
Matt Richenthal at . Updated at .
When is a Tweet possibly more than just a Tweet?
When an actress' contract is up and when the show on which she stars has a history of losing key cast members.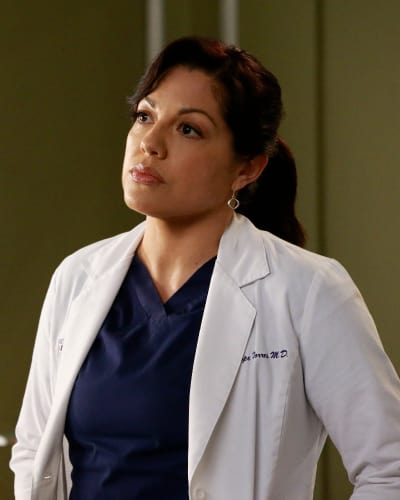 On Thursday night, Sara Ramirez left a message on social media that has fans wondering whether it was her way of saying goodbye to Grey's Anatomy forever.
This is what she wrote:
That's a wrap for Doctor #CallieTorres #Season13 #GreysAnatomy #ThankYou all for an enriching & unforgettable #Rollercoaster ride
There were some hearts and other emojis involved as well.
Ramirez may very well have been talking about the end of filming on Grey's Anatomy Season 12, but her contract does expire in June.
Neither the actress nor her rep have responded to requests for clarification and Ramirez has only Tweeted one message since the mysterious one in question.
"#TGIT #BuckleUp for the ride! #GreysAnatomy," it reads.
Ramirez has been a series regular since Season 3.
There is a storyline in place that would make it easy for her character of Callie to expert, seeing as Callie is dating Penny at the moment and Penny very badly wants to move to New York.
Callie is engaged in an argument with Arizona over her future and the future residence of their daughter.
If Ramirez does check out of the hospital, it will mark the third significant Grey's Anatomy departure in as many seasons, with Sandra Oh saying goodbye in Season 10 and Patrick Dempsey in Season 11.
The former, of course, left to head up her own wing at a prestigious hospital.
The latter was killed off in a controversial death that is still a sore subject among fans.
What do you think of Ramirez's Tweet? Much ado about nothing? Or a clear sign of something?
Would you miss Ramirez as Callie if she leaves?
How long do you think the show can go on for if it continues to lose core cast members?
Matt Richenthal is the Editor in Chief of TV Fanatic. Follow him on Twitter and on Google+.