Shameless Season 6 Episode 12 Review: Familia Supra Gallegorious Omnia!
Paul Dailly at . Updated at .
Well, that was an unpredictable ending!
On Shameless Season 6 Episode 12, Frank fought tooth and nail to try and get rid of Sean. In a very surprising turn of events, he actually succeeded. 
It's not very often that Frank Gallagher can say he's had something that he's been with from start to finish. He's one of the people that find it very easy to just give up and move on, but not this time. He's now proven that he will go to any lengths to screw his family over.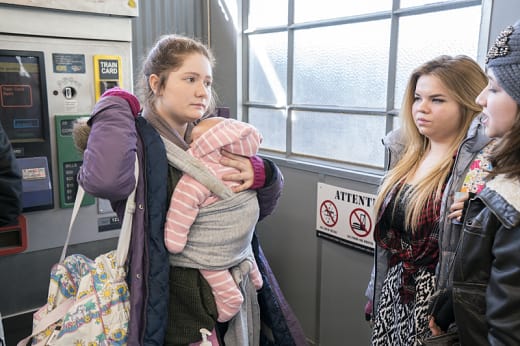 The revelation that Sean was using was quite the shock, but looking back on the last few episodes of Shameless Season 6, we should have seen it coming. He had regular mood swings and changes in his personality that I had questioned a lot over the course of the season. 
He's now made it crystal clear that his son will always be number one in his life and you can't really blame him. Why shouldn't he be? Would Fiona ever let a guy come between her and the kids? Don't think so.
In that moment outside the church, it seemed like there was a chance for Fiona to be swayed into staying with Sean, but it seems that he's had enough enough of the Gallaghers. It would have probably been a better turn of events for everyone if Sean was shot. Not fatally, but I am glad that Fiona at least knew what she was letting herself in for.
Don't expect Sean to be around when the show returns next year. Fiona probably won't be with anyone for quite some time and you can't blame her. She's tried so hard at having relationships, but they just never seem to pan out the way they should.
All of the stuff with Ian was very intriguing. He questioned whether to return to his former life, but upon hearing the sirens from the ambulance, he knew that he'd be constantly looking over his shoulder and fearing the worst was about to happen. If he didn't show back up at his former work, he wouldn't be having the opportunity to work as an EMT. It shows that if you never give up at something, you may just be rewarded. 
Ian's character has developed a lot this season. Out of the gate, he had to adapt to a life without the man of his dreams, while still trying to keep himself on the right path in life. It sucks that Mickey is no longer part of the equation, but would Ian be where he is now if he was still pining after Mickey? I don't think so. 
Based on what I've read online, it seems like Mickey could be making a return trip at some point next year, but will it be as pointless as Mandy's one? Hopefully not. I don't understand the urgency to bring her back and have her disappear into the ether again.
Is anyone else happy that Debbie finally seems to be on the road to getting back in good graces with her family? She didn't want to admit that she needed help and that's really all she needed to do. It helped her to let Lip know that he needs to get help quickly and to be honest, she's the last one I would have pegged to be telling someone that they need help. 
We were left with quite the cliffhanger for Lip. We have no idea whether he went into that treatment facility, or not. The professor may have been a horrible person at first, but it seems that he does genuinely care for Lip. 
"Familia Supra Gallegorious Omnia" was a low key finale. There were a lot of personal achievements for the characters, but at times it felt a little disjointed and could have moved along at a brisker pace. It did set the wheels in motion for what is sure to be a very different show when it returns. 
Other tidbits from the episode:
Can Frank just stay at the bottom of the lake forever? All he ever brings to his family is drama. 
That opening scene with Svetlana, Kevin and Veronica was hilarious. They're making this whole three-way relationship work and they couldn't be more happier. 
How long will it take for Carl to sway his girlfriend's dad? 
What did you think of the finale? What's Fiona's next move? Will Ian be able to keep his job? Hit the comments below!
Remember you can watch Shameless online right here on TV Fanatic. Get caught up on all the drama now!
Paul Dailly is the Associate Editor for TV Fanatic. Follow him on Twitter.