The Originals Season 3 Episode 19 Review: No More Heartbreaks

Amanda Steinmetz at . Updated at .
Now that I've wiped the tears from my eyes and picked my jaw off the ground, I'm ready to go through the five stages of grief. 
The Originals Season 3 Episode 19 was an emotional installment that saw the demise of New Orleans' favorite bartender/therapist.
Not only did we have to say goodbye to Cami, but Davina's life appears to be over... maybe.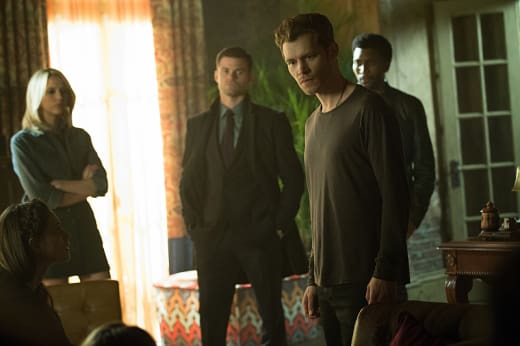 There was no doubt in my mind Cami wasn't going to make it out of this alive. Despite everyone's best efforts, it seems the ancestors have made it so there's no loophole to Lucien's bite. 
While it was wonderful to see everyone work together, I'm curious why they didn't put this much effort into saving Finn. Not that Finn was anyone's favorite, but he was their brother. 
While the others were searching for a cure that would never come, Klaus was providing Cami with one last beautiful dreamed day. This act of kindness reminded me of when Damon gave Rose a similar peaceful dream in The Vampire Diaries Season 2 Episode 12.
Even though Klaus was supposed to be the one providing comfort and solace, it was Cami who tried to remind Klaus of the man he was capable of being. After all, Cami has been the one to remind Klaus he's capable of being more than a monster. 
Love will make you strong. It will make you the man that I know you want to be, and you have to remember that because I won't be here to remind you.

Cami
I'm slightly annoyed because I know Cami's death is only to serve the greater purpose of Klaus' overall narrative arc. It infuriates me when a female character is just a device in the male character's journey. Cami turning into a vampire gave me some hope we would see her become more than Klaus' love interest, but that was not to be.
Even though I wish she had been given more to do as a character, I did think Klaus and Cami were well-suited for one another. Whether or not you were a fan them as a couple, you have to admit the moments Klaus and Cami shared in this episode were beautiful and heartfelt.
I was never naive enough to think that I was your light, but there is light in you. All that anger, the cycle of abuse that Mikael began, you can end it. You have to, so you can be the light for your little girl. For Hope.

Cami
Cami tried to put on a brave face, but the fear of knowing she was about to die brought all her emotions to the surface, Leah Pipes did a marvelous job and left me in tears. It's rare for a character to get such a lengthy goodbye, and she proved she deserved every moment of it. 
Hayley and Vincent shared individual private moments with Cami as she lay desiccated on the bed. Both scenes were lovely and showed how Cami was beloved by everyone, not just Klaus.
If Cami's death weren't enough to digest, it appears Davina may have perished as well. I can't say for certain because she appears in the promo for The Originals Season 3 Episode 20.
The ancestors need to be stopped. Their power has become too... well powerful. It's the ultimate cruelty to Davina to bring Kol back with a burning rage that can only be satisfied once he kills her. 
You can't trust me, which means you cannot love me. Not as I love you.


Kol
The decision for Davina to dagger Kol made sense, but the ancestors were having none of that. Through their mystical ways, they managed to un-dagger Kol and he went straight for Davina's neck. 
The look on Kol's face as he realized what he had just done was crushing. I just hope that Vincent and Marcel don't place all the blame on him. They need to focus on taking down the ancestors for good.
Leftover Thoughts and Questions
Sorry Lucien, but Klaus didn't steal Aurora from you. She was never yours to begin with.
Why did the bite on Finn take him down so much quicker than Cami? Freya slowed the infection down but that was a lot of time compared to what Finn got.
It was nice to see Hope again, even if it was for a brief moment. Gosh, she's a cutie.
So over to you guys! Were you surprised by Cami's death? What will happen to Davina? What was your favorite moment of the episode? 
Sound off below, and don't forget you can catch up on any missed episodes when you watch The Originals online via TV Fanatic. 
Amanda Steinmetz was a staff writer for TV Fanatic. She went into retirement in June of 2027. Follow her on Twitter.