The Vampire Diaries Round Table: The Heretics Are Becoming Extinct!
Paul Dailly at .
Welcome to the future!
On The Vampire Diaries Season 7 Episode 16, we finally spent the bulk of an episode in the future and it threw several shocks our way. 
TV Fanatics Miranda Wicker, Carissa Pavlica and Kelly Thompson chat about those big deaths, Stefan's predicament and what the future holds for Rayna.
React to Mary Louise and Nora's death.

Miranda: Meh. There's only room for one blonde female on this series so Mary Louise had to go. Nora could've stuck around for a bit as she had more promise not to be a stick in the mud. 
Carissa: I'm sorry Mary Louise dragged you down with her, Nora, but at least you were saved thestandard lesbian death trope and went out together and on your own terms. 
Kelly: I'm in the minority but I really liked Mary Lou and Nora and I'm sorry to see them go. I agree with Carissa that their deaths shouldn't be considered in the trope talk going on. I will say their death scene was great: the acting was spot on and the song playing over it was perfect.
What will become of Stefan?

Miranda: I'm pretty unsure. There's a chance they could leave him wherever he is for the rest of the season. But then what if the fact that the stone is destroyed means he comes back human? Or as someone else and that someone else is a Ripper? There are so many directions the writers could take this I hesitate to speculate. 
Carissa: Honestly, this stone gotta go. We've already seen him stuck in it, so where's the fun in that? We have seen witches try to get him out. Granted, we're on low supply since Bonnie is probably poisoned. Reusing stories at this point seems silly. 
Kelly: My guess is that a random vampire soul that was also in the stone will enter Stefan and they will spend the next few episodes tracking down the body that Stefan's soul enter so they can switch them.
How will things for Rayna play out over the rest of the season?

Miranda: The huntress who now has nowhere to send her victims, but she has this overwhelming and supernatural desire to hunt vampires? There's virtually no way this isn't going to be good. My money's on Rayna slowly going insane.
Carissa: I figured if the sword was destroyed, so would be her fate as a hunter. Wasn't everything she was tied to that sword? Someone hasn't been paying attention. Whoops. 
Kelly: I  agree with Carissa, I thought that Rayna was going to die when the stone was destroyed. Ultimately, I don't care what happens to Rayna. I'm ready for a new big bad.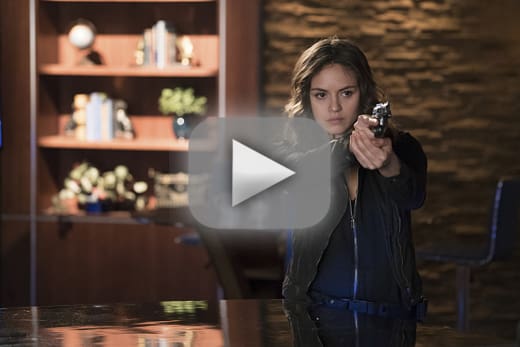 Why did Stefan kill Penny?

Miranda: VERY good question. Part of me wonders if maybe Stefan didn't kill her but Matt thinks she did so he set this entire thing into motion on false information. Unless it was a kill or be killed moment, Stefan's not one to kill humans willy-nilly. 
Carissa: Of all the reveals, that was the least interesting. She was kind of annoying, only there to give Matt company while he hated all the vampires. In any event, it was most likely an accident or self defense. 
Kelly: I'm not convinced he did and I agree that it's not interesting at all. Matt has been lame this season and him being mad at Stefan and trying to kill him isn't helping to make me like Matt again.
Do you agree with Valerie not telling Stefan that she could transfer the knife wound to Damon?

Miranda: Agree with her? Meh. Understand it? Absolutely. This is a woman whose "true love" was ripped away from her and the fear of losing that again is just too great. Her actions were nothing any of the other characters wouldn't do. 
Carissa: I'm not sure I agree with it, but being a girl, I can understand her motivations. I don't agree with half the actions I've taken in my lifetime. We girls gotta stick together. Plus, I like Valerie now. Best Heretic and a great match for Stefan. 
Kelly: I completely understand it and I too like Val. She is a much better match for Stefan than Caroline. I'm sure everyone will hate me but Stefan and Caroline has never worked and they need to stop trying to make that relationship work.
Is there any hope for Matt to stop being against the vampires?
Miranda: I'm actually hoping he doesn't stop being against the vampires. They've taken everything from him in some way or another. I'd love to see Matt grow into a super-villain if only because it would finally give Zach Roerig something to do. 
Carissa: I agree with Miranda. The only thing that would make him a better super villain is if he underwent some heinous treatment a la deadpool to make him invincible and ultra cool, then he, too, would be a freak he should hate. Awesome. 
Kelly: I don't care if he does or doesn't. I agree with Miranda as well, if it actually gives him something to do on the show then sure keep it up. But overall, I don't care about anything Matt does or feels.
Remember you can watch The Vampire Diaries online to get up to speed with the drama. 
Here's your first look at The Vampire Diaries Season 7 Episode 17:
Paul Dailly is the Associate Editor for TV Fanatic. Follow him on X.