Death came to Vikings in a big way, as the body count rose to record numbers.
The previous installment was basically setup for Vikings Season 4 Episode 8, as I mentioned in my review. However, even I wasn't expecting the deaths of so many characters this week. One of which lived past this point "historically."
Many fans feel this season has been a bit of a letdown, but the fun's only begun.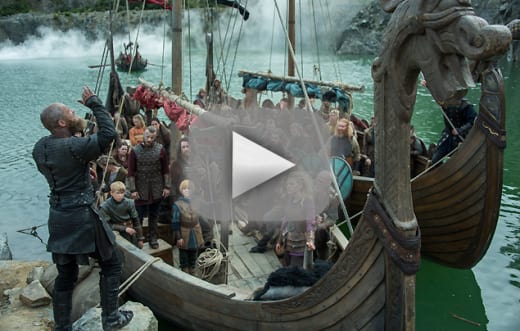 While Ragnar's men (even Bjorn) questioned his leadership, Count Odo made a move to stab Rollo in the back. There's gratitude for you, right? Sure, the count had a valid argument as Rollo's motivations were originally about finally defeating his brother.
However, we know that Rollo's destiny lies in Europe not returning to the Vikings. Odo got what was coming to him.
Wessex finally saw some serious action. Though Ecbert's ambitions had been clear from the start, I loved the way he casually strolled past Kwenthrith as she proclaimed "then I am queen again."
Ah, massive wake up call was on its way your highness. I couldn't wait to watch King Ecbert break the news to her. Kwenthrith brought a wonderful dynamic to the events in England, she will be missed.
Speaking of which, can you believe how Yidu met her end? That one I didn't see coming, but more on that in a bit. When Ragnar revealed his plan, it seemed the "Chinese medicine" finally got the better of him.  
We are going to lift the boats up the cliff. Then we are going to carry them across the mountains, past the forts, and then simply slide them back into the river. Upstream.

Ragnar
Don't get me wrong, the plan seemed logical just absolutely insane at the same time. Especially with everyone staring up at those cliffs. In the first ten minutes, this installment had me more engaged than I've felt all season.
How would Floki pull this one off? What a sight, those boats being lifted by Floki's contraptions. He continued to prove himself useful, but where's he about to run off to?
Kwenthrith's pregnancy complicated matters slightly. After all, how could King Ecbert kill his own grandson? We knew the queen's days were numbered, but who would do the deed? See what I mean? There were so many exciting possibilities this week, and it's safe to say the episode delivered on its promises. Ecbert did not break the news lightly. "You are no longer the queen, because I am the king" he told Kwenthrith. Ouch!
Of course, turning to the wife or your baby daddy was not the most brilliant idea in the world. It soon became apparent that Judith would play a role in Kwenthrith's demise.
In Paris, news of Gisla's pregnancy made the Emperor echo Ecbert's words, "how strange life is." Yes, that's Michael Hirst at his best. Perhaps Vikings Season 4 Episode 7 was simply a low point amongst the peaks and valleys of a typical tv season. Vikings is still one of the best shows on television, hands down.
The first Frankish/Viking child's a major turning point. This was in essence the start of the Northmen being assimilated into European culture. Anyone else feel a major time jump coming?  
Aslaug going batshit crazy was odd. Did she seriously think Harbard was hers alone?
Harbard: What have I done to you? I haven't done anything to you. I love you.
Aslaug: How can you love me when you sleep with every woman in Kattegat?
Harbard: I don't sleep with every woman. Only those who need me.
The guy is fascinating, no doubt about that. He claimed that Queen Aslaug called to him, and that he takes on the sins of the world. Is he a God, or did he explain the mystery as rejecting everything worldly in order to hear the voices of the Gods? Will we see Harbard again? And what did he leave Sigurd for Ivar?
While Yidu was a bit of a mystery character, I thought Ragnar had made a special connection. Her death at his hands proved me wrong. Blackmailing the king about what happened in Wessex was a fatal move and the end of her arc. So much for the Chinese princess, right?
Having Ragnar's sons witness the murder a nice move. By the way, does Travis Fimmel do crazy eyes well or what? Will the boys begin to fear their father? All I know for sure, is that Ragnar has never been this thoroughly unlikable. He's got to go, and I am looking forward to it.
Ecbert professed his love for Judith, but did you buy it? He seemed sincere enough. For a moment, I thought Kwenthrith might make it out of Wessex alive. Judith turning on her was slightly predictable though. Kwenthrith's attempt to take out King Ecbert was impressive, but she talked too damn much.
Had she not wasted so much time gloating, Kwenthrith might have actually succeeded. Enter Judith and exit stage left Queen Kwenthrith. Will we ever learn if Magnus is truly Ragnar's son?
There were many shocks this week, including Odo's violent execution, but Erlendur shooting Bjorn in the neck topped them all for me. Of course, that was nothing more than a fake-out, but it was effective nonetheless. Bjorn is the new Ragnar, and I already find myself rooting for him. Was this scene a hint that Erlendur will mortally wound Ragnar's heir?
Will the little weasel even be around long enough? Or was this Hirst simply toying with our expectations?
Historically, Count Odo went on to become king following the removal of Emperor Charles. I am not sure why Hirst chose to rewrite history, but wrapping up Odo's arc allows the show to move forward in time with Rollo as an established leader. It's also proof that any character's death is fair game. Watch your back (or rather your neck), Bjorn.
What did you think of "Portage"? Which shocking death surprised you the most? Did this installment deliver on its promises? Thanks for all the comments in last week's post. Amazing feedback! You're up folks, once again please sound off in the comments below.
This is one episode worth reliving, guys. As always, you can watch Vikings online via TV Fanatic.

NOTE: Vikings Season 4 Episode 9 is titled "Death All 'Round" and airs on April 14.