Vinyl Season 1 Episode 9 Review: Rock and Roll Queen

Carissa Pavlica at . Updated at .
This was the first hour of Vinyl where I was watching the clock.
Richie's story on Vinyl Season 1 Episode 9 didn't work, and there wasn't enough time spent with Jamie and the Nasty Bitz or "Mailroom and the Birth of Disco," both of whom finally had a story worth telling.
That's been the problem with Vinyl all season, though. With Richie not only taking the lion's share of the screen time, but becoming the character in which we're the most invested, if his story isn't interesting, everything else falters.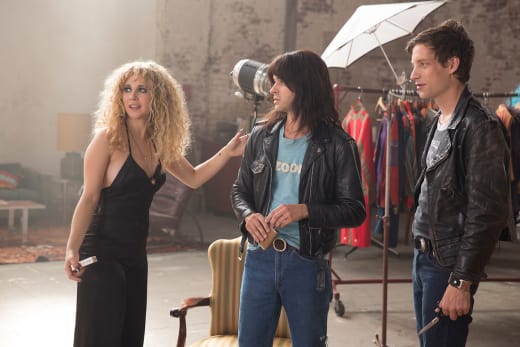 Of course, like on every other episode of late, Vinyl really pulled a winner out in the end. The last 15 minutes of "Rock and Roll Queen" were worth being less than satisfied for the other 45 (or so) prior.
So, I'm skipping right to the good stuff as is my prerogative.
The Nasty Bitz finally recorded their album and shot their cover art. In the process, Jamie was so lost at home she got closer and closer to the band. So close, in fact, by the time all was said and done, they were each other's champions. 
I have no idea what the new guitarist's name is, but it doesn't matter. He became very close to Kip very fast and as a result to Jamie, as well. One threesome later and guitar man and Jamie are cradled in each other's arms and Kip is in the naked cold.
Will the Rock and Roll Queen come between the band mates before they ever get a chance to go on tour? That would be the dramatic thing to do.
Unfortunately, I don't think this story is about them. Although it could use a little more life, a little more pull back from Richie. After discovering this week that showrunner Terence Winter is out of a job, maybe there is a chance we'll see a but more outside of Finestra in Vinyl Season 2.
After all, Kip is played by Mick Jagger's son. And for all the pot shots taken that it was done purely based on nepotism, James Jagger has earned his stripes. Kip is a multifaceted character with talent and feelings. I'd like to see him explored further, and as the face of the new American Century, there's no reason that shouldn't happen.
Will Zak make it to Season 2? When that bell went off in his head and he rung Richie's bell, I wished that elevator had more floors to carry the two men, because Richie deserved to be clocked a few more times.
If that's how Richie treats his friends, then how in the hell will he treat others? It's hard to imagine Zak will hang around. Then again, he has a project in Xavier. Maybe he'll stick around just to prove to Richie he's worth so much more than Richie ever gave him credit.
Or even worse, maybe he'll go somewhere else with Xavier and prove that where it will hurt Richie a lot more.
As an incredibly eclectic music lover and proud owner of K-Tel's Hot Nights City Lights disco compilation album, I'm glad Clark found his calling in disco. Someone had to discover it, and I still get kind of giggly when a good dance song from the era comes on Sirius XM.
There was a lot more to the era than rock and even The Rolling Stones dipped their toes into the disco waters. 
I'm not sure what it was about hearing the Nasty Bitz song that made Richie want to play ball with the State's Attorney's office, but I hope it was his desire for freedom and to see the Bitz become a success. 
Olivia Wilde knocked that scene out of the park. There were no words for her to express what she was feeling, and her face was all over the map. It's exactly what one would do under the circumstances. After processing it all, she'll hang in for him, though. The love is there.
I'm hoping we'll get a Vinyl album when this is over. Correct me if I'm wrong, but I think the two songs are the end were originals. If not, can you tell me what they were? I thought the Nasty Bitz song was original, and the one over the credits, as well. Was that a Lester Grimes song?
It sounded a bit like Eddie Vedder, but not one I immediately knew. In any event, the way they utilize the music fits each scene so well, and makes me ache to turn something on as soon as I'm done reviewing. I'd definitely purchase a "compilation" album. How about you?
Hit me up with your thoughts on "Rock and Roll Queen" and what you expect from the finale!!
Carissa Pavlica is the managing editor and a staff writer and critic for TV Fanatic. She's a member of the Critic's Choice Association, enjoys mentoring writers, conversing with cats, and passionately discussing the nuances of television and film with anyone who will listen. Follow her on Twitter and email her here at TV Fanatic.