Everyone had an agenda on Blue Bloods Season 6 Episode 22 and, as Jamie said, it had little to do with the truth. 
It used to be that if a police officer shot and killed a man with a knife, there would be no question that it was a justifiable shooting. 
How things have changed.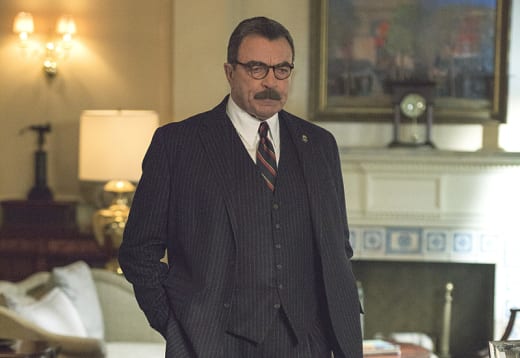 One of the things I've always enjoyed about Blue Bloods is that it attempts to show different perspectives. Yes, in many ways it is pro law enforcement but that doesn't mean that it doesn't question the tactics of police officers. 
Did Perez deserve to be killed? No, but as Mayor Poole pointed out in the end, his death was very much within his own hands. He committed an armed robbery, ran from the police and then held a knife while approaching an officer holding a gun on him. 
I think it's very easy for Nicky, or anyone else who has never been in such a situation to think that the officer should have found another, less lethal way to handle things. 
As Danny pointed out with his own special brand of eloquence in this Blue Bloods quote…
Officer Russell should have taken the one and a half seconds that stood between a knife and his throat and asked this Diego Perez character, Hey, how you feeling?


Danny
I think many times people forget that these decisions are made in split seconds and under pressure that most of us will thankfully never have to know. 
As unfortunate as it was that Perez lost his life, I didn't blame Russell for taking that shot. Perez could have dropped the knife at any time but chose not to and kept advancing. Whether it was deliberate or adrenaline we'll never know but that's on Perez not the officer. 
Should the fact that Perez was speaking Spanish while Officer Russell was speaking English have been brought up to the grand jury? I would have preferred that it were, along with the witnesses that claimed the victim spoke fluent English but I doubt it would have changed anything.
It was obvious from the very beginning that Marta leaked the video. The only thing that surprised me was how adamant she was that she had done the right thing up until the end. Her actions not only led to a cop getting shot but she just threw away a career she spent years building and was facing criminal charges. I suppose uncompromising idealism was all she had left. 
The backlash that Jamie and Eddie faced from Officer Hayes was as ridiculous as it was real. I have no doubt that some cops feel they should protect one of their own no matter what, but lying to protect Officer Russell would have been nothing but stupidity.
There were many witnesses who knew Jamie and Eddie weren't there at the time of the shooting not to mention the body cam footage. Lying would have only made things worse. 
Thankfully Mayor Poole chose not to resign. What fun would it be if Frank Reagan didn't have a worthy adversary to go up against from time to time?
I also loved this Reagan family dinner, especially how Henry snapped at the boys. We never see that but it gave it a sense of authenticity. 
There were plenty of small family moments in this episode, despite the outside drama. I loved Erin joking that Jamie was the one who was unbearable after his first year of college, although I don't doubt that could be true, and Erin and Danny's good natured sniping at the end made me smile. 
I love that the Reagan family acts like family.
Well, Blue Bloods season 6 is over and season 7 won't begin until the fall. What were your favorite moments? Do you wish they'd done anything differently?
Check back next week for our Blue Bloods season 6 report card and if you're already missing the Reagan family, you can watch Blue Bloods online here at TV Fanatic.
C. Orlando is a TV Fanatic Staff Writer. Follow her on Twitter.