DC's Legends of Tomorrow Season 1 Episode 16 Review: Legendary

Carissa Pavlica at .
Well, that was...interesting.
There were times during DC's Legends of Tomorrow Season 1 Episode 16 where it was difficult to pay attention. The story just didn't warrant it.
Then there was a cool fight scene, followed by one across three time periods (WOW) and that ending that pleased everybody. All things considered, it was a win!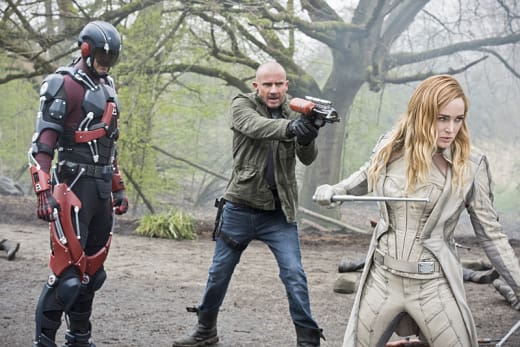 It wasn't necessarily fun watching so much about Kendra being stuck with Savage after Rip had already dropped everyone off. That meant an undesirable story and an unreasonable one. The legends we've come to know were never going to leave that mission unfinished.
Even Laurel Lance haters had to have a tough time swallowing the challenge Rip placed before Sara when she wanted so badly to go back in time to get her sister back. It was something along the lines of weighing the purpose of Hawkgirl vs Black Canary...Kendra vs Laurel.
First of all, that was just cruel, and second of all. I don't need to spell that out. Pump up the time machine.
But going back and coming up with a worthwhile plan and one that finally put an end to the mere mortal Vandal Savage was satisfying. 
Watching our heroes fight different versions of the same dude in three times was really fun, and it's something they do well. They deserved that win. They had all been through so much. 
Sara was reeling from the loss of Laurel, Mick from the loss of Snart. At least most of them had the opportunity to go home again and decide whether or not this was really something they wanted to do again, to make a career of it, I guess.
I loved that Ray figured out Snart probably left him and Mick together because he knew they'd look out for each other. They had already begun that in the gulag, and Mick and Haircut have something special now. It's different, but it's good.
It's lovely that Snart will remain with the DC programs (trying to imagine him on Supergirl is funny), but that he lost all the progress he made stinks. And isn't it awesome how badly Mick wants him to know how much he changed?
You're the best guy I ever knew. You may not think you're a hero, but you're a hero to me. Got it?

Mick
With the absence of Snart, Mick did rise to the occasion to take his place comedically and emotionally. Ray took Mick's and Sara remained one with the trio. Somehow there are always three that rise above the rest.
Hovering in the wings now is Jax, who, when given a chance to shine, can run with it. Unfortunately, he's still the guy who is always partnered with the old guy. Although Stein did get the line of the night, because he's right.
I never thought I'd utter these words, but I think we need a Nazi.

Stein
The whole Nazis being a part of the festivities didn't even make a lot of sense, but for that line alone, I'm glad they were there. 
I really thought, for a minute, Rip was trying to kill himself by driving the Waverider right into the sun. He sure did some damage to it by getting rid of the asteroid.
The end of the finale was by far the best part. I cannot be the only one who squealed just a little bit when the Hawks decided to take their leave to get reacquainted. Of course, Mick had the perfect line to go with the moment. 
Every time they do that, I get hungry for chicken.

Mick [watching Hawkpeople fly away]
I had to ask someone if I multitasked through the appearance of Patrick J. Adams, because how in the heck could I have possibly missed him, right? Then in comes another timeship (well, it could have been any kind of ship, to be honest).
I know NOTHING about the Justice Society of America, only that DC shows are allowed to use it over Justice League of America. Mick, my boy Mick, at some point in his travels came into contact with Hourman and told him if the Legends boarded the Waverider at this point, they'd all die!
Hello there Rex Tyler! He'll be on a couple of episodes on DC's Legends of Tomorrow Season 2, and that will probably be what thrusts us into our cold open for the new season. We're down a couple heads, so new people will come on board, too.
Did any of you watch the Superhero teaser for The CW? There was a LOT of Vixen on it, and given that she was only on one episode of Arrow, I'm throwing her hat in the ring to join the party on Legends. Apparently they won't be boarding the Waverider...so maybe Hourman is delivering a new ship?
He doesn't ride one himself, from what I've read, so he's getting into the story in a unique way. 
I'm tossing in for Vixen. Who else would you like to see join the team for Season 2? Was this a satisfying finale? Did you love the fight scenes? Happy to see the chickens flee the coop? What's your expectation of Snart going forward? Will he ever know what he did?
Hit the comments and don't forget you can watch DC's Legends of Tomorrow online right here at TV Fanatic!
Carissa Pavlica is the managing editor and a staff writer and critic for TV Fanatic. She's a member of the Critic's Choice Association, enjoys mentoring writers, cats, and passionately discussing the nuances of television and film. Follow her on Twitter and email her here at TV Fanatic.