Empire Season 2 Episode 18 Review: Past Is Prologue
Paul Dailly at .
Anika Lyon is pretty damn crazy.
That's what we learnt on Empire Season 2 Episode 18 as we got confirmation that she was the one who sent Rhonda flying down the stairs at the close of the fall run of episodes.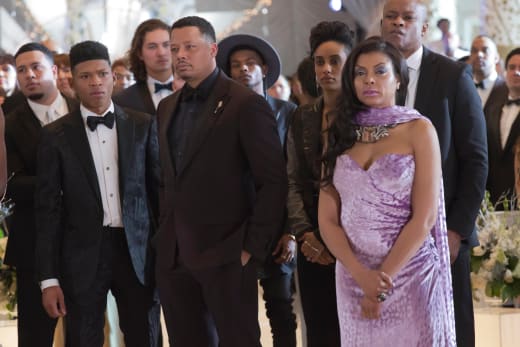 I actually gave poor old Anika the benefit of the doubt this week, but she had me fooled on so many levels. 
The first big OMG moment of this wild finale was when she attempted to jump off the building because she apparently didn't want to testify against Lucious. 
That was actually pretty far from the case and all the chick wanted was sympathy to tear the family up even more. 
Here I was sitting calling Rhonda crazy, expecting to find out that someone else was the perpetrator, so you can only imagine my surprise when Anika confirmed that she was the villain during that crazy rooftop fight. 
I had to rewind it a few times. It was actually pretty hilarious. If there's one thing the powers that be behind Empire can do effortlessly, it's make a character look crazy. 
I don't know if that's a compliment or not, but it elevated the drama to whole new level this week. It does suck that we don't quite know who hit a low note at the bottom of that bridge, but I'm guessing that even the writers haven't decided on that one. 
I knew I heard your voice you evil bitch.


Rhonda
I really do like both characters, so I can't pick which one I'd rather see stay. I'd be happy enough if both of them got to stay, if only to have some more wild cat fights. 
Before the big fight, Anika finally got to marry a Lyon. Honestly, I don't understand her fascination with being part of the family because they're not all that. 
If she does make it to the Season 3 premiere, she should totally invest in a kevlar vest because they have a long list of enemies that would revel in making them pay. 
They're the little family that could. They came from nothing and everyone is jealous of them, so they want in on their fortune. 
The reveal that Tariq the freak was Lucious' half-brother was fantastic. Lucious is always boasting about family loyalty and now he has his brother out for his blood. 
I can't say that Lucious doesn't deserve it. He does. It just sucks for the likes of Jamal who want to live a life without crime. 
Having Lucious as a father is a recipe for a life time of misery. I had a feeling that we could be losing Jamal for good after Jussie Smollett's tweets. 
There was something that made me think that we're going to think Jamal is okay and then have the rug pulled from under us. 
That never happened and we have the new Mrs. Lyon to thank for that. 
Poor Cookie. She genuinely thought she had a chance with Lucious, but what she needs to realize is that he will never change. 
I'm pretty thankful that Lucious and Anika married if only to save Cookie more heartbreak down the line. She needs to find a way to move on from Lucious. 
There's no denying that they have a lot of chemistry, but the man just can't be trusted. I will miss their witty little comments to one another, but Cookie needs to steer clear of him for the foreseeable future. She needs to move on.
"Past Is Prologue" was a wild installment of this Fox drama. They managed to fit in a whole season worth of OMG moments and it made up for some of the weaker moments of Empire Season 2.
Other tidbits from the episode:
Did anyone notice that Jamal only smiled when D Major showed up? I think he genuinely likes him. 
Poor Laura. She should have known weeks ago that it wasn't going to work. I do feel bad for Hakeem because there's no way he's getting over this any time soon. 
Shyne showing up at the wedding with prostitutes was hilarious. He wanted all eyes on him and that's exactly what he got. 
Freda had better not believe Lucious. Hopefully she's biding her time to get her own back on him when she gets out.
What did you think of the season finale? Who died? Hit the comments below!
Remember you can watch Empire online right here on TV Fanatic. Get caught up on the latest drama now.
Note: Empire Season 3 kicks off this fall on Fox
Paul Dailly is the Associate Editor for TV Fanatic. Follow him on Twitter.