Fear the Walking Dead Season 2 Episode 7 Review: Shiva

Carissa Pavlica at . Updated at .
The toll of surviving this new world is simply too much for some of our group. 
The men, in particular, haven't fared well, and by the end of Fear the Walking Dead Season 2 Episode 7, for various reasons, four of them have left the group. It's certainly not an ideal situation heading into midseason.
But it was never boring. If there's one adjective you cannot use for this midseason finale? Boring is it. Another would be predictable. Let's dig in.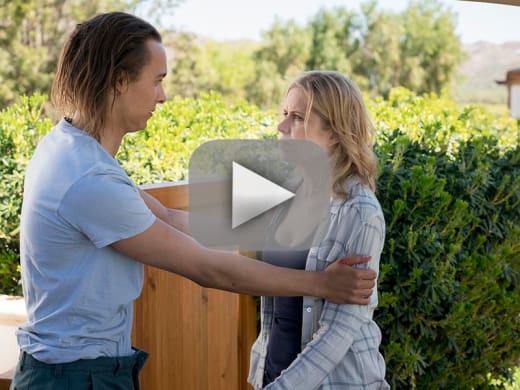 First of all, I have to take note of how well the musical changes and even the intro worked to set the tone for the hour. 
Everything about this hour was downright creepy, and if they can find a way to maintain that feel, it will set this show apart from its parent, The Walking Dead. Granted, we've lost two of the reasons the creep factor was so high, but that doesn't mean we won't meet others along the way. 
Whatever the reason, this hour was scary and creepy in a much different way than TWD, and it was enjoyable.
It started right at the beginning, when Chris took off into the vineyard. That foggy vineyard was downright scary, and that both Chris and Travis made it through the fog that morning alive was surprising.
Chris had no plans at all but to get away. For all of you who thought I was nuts in my read on the boy? I had that one right.
Chris wasn't planning on killing Alicia and Madison with the knife. He was taking it for his big trip away from the group. He believed what everyone was saying about him. He's damaged goods. 
In his mind, the best thing was to get lost. Leave them all so he wouldn't cause them any worry and all that stupid stuff a kid thinks when he thinks too much and about the wrong things.
He went about it all wrong, even taking a kid captive. He's by no means healthy. But by gosh, Travis took his socks off of his mutilated feet in some stranger's living room. That's not healthy, either.
Travis: I should have helped you.
Chris: Look at me. I'm no good. I'm no good.
Nick finally caught up with Travis after walking with his people to bring him back to Madison. Hell was breaking loose back at the compound, after all.
An entire hour of worrying about Travis and trying to get Travis back, and he told Nick to tell Madison they never saw each other. Travis chose the health of his son. That was surprising. Heck, in the current atmosphere, it may be too late for Chris. But dad's going to try. I'm not sure how I feel about that.
Which isn't to say Madison has been mother of the year. 
And I read Nick completely wrong. Dude has major issues. He appears to think he's invincible and will not die. That's his shtick. That's apparently why he felt comfortable with Celia and the dead. The dead can't hurt him. He doesn't think he'll be one of them.
That's a bit of a let down. I thought he understood what the blood and guts did from an intellectual level, and would share the information with the others so they could pass on through when necessary. Nope. He must see it as something else entirely, although I'm not sure what.
Madison had about enough of Celia and her garbage about the dead creating a new world order and decided to show Celia exactly how benevolent the walking dead can be when you don't have them caged up with a bunch of wine casks. 
Now, we didn't see Celia's head lolling around on the floor while the dead were eating her arms and legs, so she may live to bother us another day. Daniel wasn't so lucky.
The little boy we say in his flashbacks was Daniel, as many suspected. He was recalling his first kill. The worst situation for a person who was forced to kill for his entire life and was full of demons is a world full of the walking dead.
When Daniel lost his wife, he slowly started to crack. She was the only person who kept him sane. He used her as his personal confessor. Without her, he began suffering all over again. 
In a weird way, I think when he started to see her again, he found a sort of peace he would have never found if he had to continue living in this frakked up world. The reality of this world is that not everyone is going to make it, and we're seeing it happen with a very small group very fast. 
Strand and Madison found their footing on the Abigail and leaned on each other in a strange way. When Strand asked Madison to join him in returning and then said don't muck things up by using the word friends, they both realized that's what they became through really harsh circumstances.
At hard as they were on each other, they never held back. They were honest and learned to respect each other. That's needed more than anything in this new world. 
Those that kept secrets and tried to hide what they were feeling, going out on side trips, unsure if the group understood them or would accept them; they're falling apart.
This has been an incredibly strong seven episodes. The group started out with so much hope, wanting to save as many people as they could along the way, and finding their legs in the meantime. They're building a hierarchy, and it's not a necessarily an expected one.
It truly is survival of the fittest, and it seems that honesty, trust and communication are the things that are setting the strong apart from the weak and the dead in this new world.
What else are you seeing as important? What has allowed Madison, Strand, Alicia and Ofelia to remain standing while others are falling apart? What did you think of "Shiva"? Hit the comments! 
If you gave up early and missed this and other amazing episodes, you can watch Fear the Walking Dead online right here via TV Fanatic.
Carissa Pavlica is the managing editor and a staff writer and critic for TV Fanatic. She's a member of the Critic's Choice Association, enjoys mentoring writers, conversing with cats, and passionately discussing the nuances of television and film with anyone who will listen. Follow her on Twitter and email her here at TV Fanatic.