Game of Thrones Season 6 Episode 3 Review: Oathbreaker
Paul Dailly at . Updated at .
My watch has ended.
Those were the words that came out of the recently resurrected Jon Snow's mouth on Game of Thrones Season 6 Episode 3 as he gave up his role as Lord Commander. 
There was also a gruesome four-person execution just seconds before, but we'll get to that in a little. 
It was obvious that Jon Snow was going to be different after making his way back into the land of the living. 
It can't be a small task readjusting to life after death, but so far I'm pretty impressed with this new Jon Snow. 
After they stabbed you, where did you go? What did you see?


Melisandre
We've not seen much of him yet, but actions speak louder than words. That execution scene was fantastic. There were many more positives than negatives for him killing the people that orchestrated his murder. 
When he came back, he knew he had a duty to avenge his death. He wouldn't have been able to move on if he didn't. He'd constantly be looking over his shoulder to ensure they didn't return for round two. It should be intriguing to see where his story goes from here.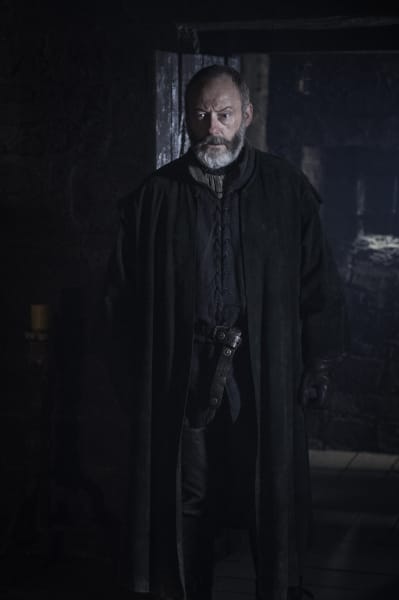 Also, there's normally a vote for the next Lord Commander, but it sure looks like this time it's different since Jon totally handed his title over to Eddison. 
Will he accept it? Will the rest of Castle Black even accept it?
We need to chat about the tower of joy. There's no denying that the fight was outstanding, but it sucked that just as we were getting to the good stuff, the raven took Bran out of it. Who was screaming from the tower? Might it have been Lyanna giving birth? 
When Bran shouted for his father, I was so sure that they were going to engage in a conversation about everything, but then that would be messing with time, and that's never a good thing. 
The scene was a little over hyped based on what little information we actually got from it. Will the Raven trust Bran with more trips to the past if he's going to try and make idle conversation with people?
Meanwhile in King's Landing, it seemed like Tommen was finally growing a backbone going toe-to-toe with the high sparrow. 
It didn't quite pan out, and in the end, his raised voice turned into something more calm. The fact of the matter is that Tommen is a horrible king and needs to be put out of his misery very soon. 
The scene with Cersei being owned by Olenna was hilarious. Cersei seems to think that she still has all this power, but when The Mountain is out of the way, she won't live for very long. 
It's obvious that there are lasting effects for Cersei after her public shaming, but the character needs to up her game so she can become half as good as she was before. 
Her witty comments are completely gone. Lena Headey's scenes have long been a highlight of the show, but something has felt off with her performance throughout these first three hours of Game of Thrones Season 6. 
Another main talking point has got to be Rickon Stark's return. The poor kid just can't seem to catch a break. He's stuck in hell with the treacherous in Ramsey Bolton. Either way you look at it, there's a good chance that Rickon won't be in the land of the living for much longer. 
Ramsey isn't known for being friendly. He's known for being a cold-blooded killer who gets things done.The only hope for Rickon is that Jon Snow could be on his way to Winterfell to settle a score with him. That's something I'm sure a lot of us would pay top dollar to see. 
"Oathbreaker" was a decent hour of this HBO drama. It was by no means perfect, but it pushed a lot of the storylines in interesting directions. 
Other tidbits from the episode:
Varys bartering with the chick from Game of Thrones Season 5 Episode 1 showed us a complete different side to his character and proved that he's one of the best characters on the show. 
It seems like Arya's storyline is about to pick up some steam. She finally has her vision back, but does the House of Black and White really trust her?
Daenerys was still walking about with the Dothrakis, and I can't wait for her to return to Mehreen and be the Queen. I kept hoping that a dragon was going to show up and whisk her away to safety. 
Jon and Davos' chat at the open of the hour was hilarious. 
Where can Mellisandre really go next? Is she going to have to bring Jon back more than once?
Was Jon lying about what happened while he was dead?
Even ditching Theon and Sansa for the week, it still felt like there wasn't enough time spent on the other characters. The scenes were over way too quick.
Gilly and Sam are the only couple to root for in Westeros. 
What did you think of this week's episode? How do you think the next few episodes are going to play out? Hit the comments below!
Note: Game of Thrones Season 6 Episode 4 airs Sunday May 15 at 9/8C on HBO.
Paul Dailly is the Associate Editor for TV Fanatic. Follow him on Twitter.