Game of Thrones Season 6 Episode 4 Review: Book of the Stranger
Paul Dailly at . Updated at .
Daenerys Targaryen is not to be messed with. 
That's the main thing to take from Game of Thrones Season 6 Episode 4, as the Queen finally managed to show us how cunning she can be to save herself from a horrible situation.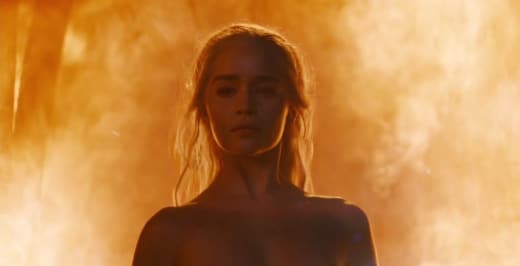 There's no denying that Daenerys' storyline on Game of Thrones Season 6 has been pretty slow, but this hour succeeded in sending it in an interesting new direction. For the first time in a long time, I'm excited to see where it takes us. 
Obviously she had a little help from her friends, but the fire starting was all her move. That scene with the Dothraki army bowing as Daenerys emerged from the burning building was one of the most powerful scenes on the show to date. 
Her quick thinking was backed up by some great one-liners that made me realize why I liked this character from the start.
The Dothrakis haven't been the nicest of people to her, so it was great when she burnt them alive. I must say that I'm ecstatic that she took some of the dead weight characters out of the equation. All they seem to want to do is speak vulgar about her. It was horrid. 
Meanwhile at Castle Black, Sansa showed up before Jon Snow left.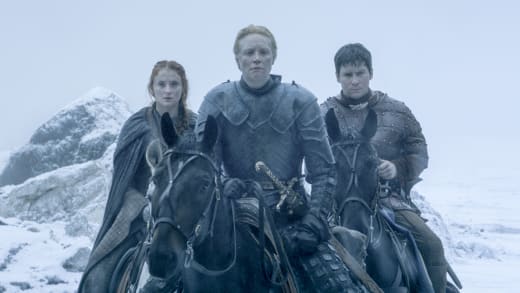 That was quite a relief and a long freaking time coming. I was so sure he was going to go away and then Sansa would appear shortly after. 
Sophie Turner turned in the performance of her career as a revenge-fueled Sansa Stark. The poor girl has had her life turned upside down, so it's only natural that she would want revenge. 
She's become one of the stronger characters on the show and that's no doubt down to everything she's been through over the past six years. With every single horrible thing that's happened to her, she's emerged stronger.
Gone is the scared little girl. Now she's a young woman who is intent on avenging the downfall of her family. 
It's obvious that Jon is apprehensive about going full speed ahead into a war with Ramsey, but he's at least thinking about it. He only just returned from death, so why would he want to put himself back in a situation that could lead to him dying again?
If we don't take back the north, we'll never be safe. I want you to help me, but I'll do it myself if I have to.


Sansa
The letter from Ramsey was brutal.  That man seriously doesn't know when to stop. Someone needs to end his reign of terror before it's too late. 
As much as I love Osha, it would have felt anti-climactic to have her take him out in her final scene with him. We need to see Ramsey on screen with some of the Starks before he goes. 
That said, it also sucked that Osha was killed. She's been on the sidelines for over a year now, so it would have been great to get more time with her before she went. 
As much as I'm worried about Rickon, I hope that Jon and Sansa make their way back to Winterfell to save their brother. The longer he is with that sick, power hungry idiot, the less likely he is to survive. 
In King's Landing, the plan was to get Margaery out of harm's way, but the high sparrow has such high hopes that she'll be the one to get Loras to see the light and admit his sins. 
Margaery is a strong character, and if she gets her way, she'll get her brother out of his predicament unscathed, but it will probably involve the Tyrell army. The sparrow has overstayed his welcome, and it's time to go. 
Tommen has got to be the worst husband around. He barely seems concerned about what's going on. He needs to grow a back bone or he run the risk of having his people realize that he isn't fit to be king. 
I can't be the only one that's growing very tired of Lord Baelish. What help can he really bring to Sansa? 
He gave her over to Ramsey!
Baelish has a way of swaying people around to his thinking, so he will have Robin under his little thumb for the foreseeable future.
"Book of the Stranger" was the best episode of the season. It had everything you'd expect from a vintage hour of this HBO fantasy drama. It should be interesting to see where we go from here. 
Other tidbits from the episode: 
Tyrion continued to be the wittiest character on TV. His dialog is such a marvel to listen to. Peter Dinklage is fantastic in the role. He really wants to be the keeper of the peace.
Did Edd really expect Jon Snow to stay at Castle Black? Why would he want to stay there with all those horrid memories?
Is there a chance that Rickon has already been killed off screen?
Where is Ellaria and the sand snakes? They had such a big role on Game of Thrones Season 6 Episode 1 that I can't wait to see what they're up to now!
Brienne of Tarth really doesn't like Mellisandre. The woman in red looked scared of Brienne and it was pretty fun to watch.
What did you think of the episode? Hit the comments below!
Note: Game of Thrones Season 6 Episode 5 airs Sunday May 22 at 9/8C on HBO
Paul Dailly is the Associate Editor for TV Fanatic. Follow him on Twitter.