Live more. Laugh more. Eat more. Talk more. Gilmore.
It seems only fitting that Lorelai Gilmore herself would be the person to announce the official title for the upcoming Gilmore Girls revival at Netflix.
Production had been working under the tentative title, Gilmore Girls: Seasons, however, Lauren Graham spilled the beans to Ellen DeGeneres that the official title for the revival is, Gilmore Girls: A Year in the Life.
An official announcement came from Netflix, confirming the title along with the first official teaser poster, shortly after.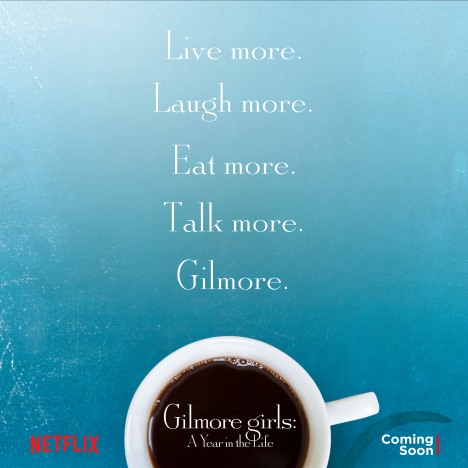 The poster, as seen above, shows what looks like a tabletop at Luke's Diner with a single coffee cup, the signature beverage of the Lorelai and Rory.
As previously reported, Gilmore Girls: A Year in the Life will consist of four 90-minutes episodes that follow Lorelai, Rory, and Emily through one calendar year.
Each episode will coincide with a season, beginning with "Winter," and ending with "Fall." The events of the revival will take place in real time, eight years after the Rory headed off on the campaign trail with Barak Obama and Lorelai and Luke reunited.
While Amy Sherman-Palladino and her husband Daniel Palladino were not the show-runners on Season 7 of the series in its initial run, they are both back at the helm of the series for the the Netflix revival.
The Palladinos have also said that the events of Season 7 won't be negated in the revival.
In an interview with TV Line, Amy said, "I wasn't going to say to the fans who stayed through Season 7, "Hey, you all wasted your f—ing time for a whole season. So, ignore all that!" We had to pick them up where they left off. Luckily, the elements that we really wanted to play were not taken or destroyed by whatever they did in Season 7. So it actually worked out quite nicely."
"Winter," also reportedly begins a few months after the passing of Richard Gilmore.
Nearly 40 original cast members are reprising their roles in some capacity for the revival, including all three of the actors who portrayed Rory's suitors, Jared Padalecki, Matt Czuchry, and Milo Ventimiglia.
Melissa McCarthy also announced last month that she would be returning to Stars Hollow as Sookie St. James after a notorious tweet announcing that she was not asked to return for the revival.
Amy Sherman-Palladino publicly extended an invitation to McCarthy in an interview with Entertaiment Weekly, saying, "We've just put it out in the universe: We're here until May 10. I know what the scene is. I'll pre-light it for her. She can drive up, run in, shoot it, and run out. I can get her in and out in two hours. If she finds that time, I don't care when it is, we will make it happen."
McCarthy appeared on the Ellen DeGeneres show shortly after that interview went public and happily announced to the audience, "There was a whole thing, and then I was going to be out of the country, and literally about an hour and a half ago, we figured out that I'm going to go back and do it, and I am so excited! They're going to be amazing."
Also on deck for Gilmore Girls: A Year in the Life are Bunheads alums Sutton Foster and Stacy Oristano, as well as Mae Whitman, who played Lauren Graham's other famous TV daughter on Parenthood.
While there is no release date set at this time, Netflix has confirmed that the series will drop sometime in 2016.
In an interview with TV Line, Amy Sherman-Palladino said, "My preference would be to release them at least a day apart. Let people get a little sunlight and go for a walk around the corner. We have not spoken to Netflix about it, so I don't know what their thought process is yet. But we're planning to throw it out there."
Filming on Gilmore Girls: A Year in the Life wrapped last week, according to Luke Danes himself, Scott Patterson, who tweeted one last photo of himself and Lauren Graham to mark the occasion.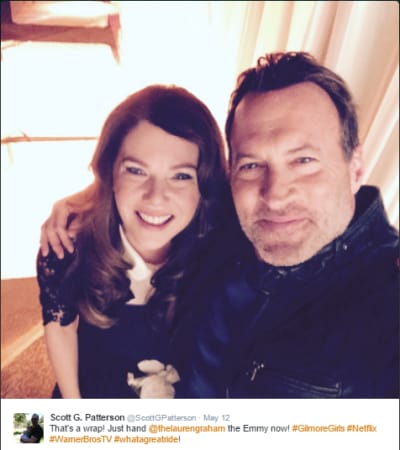 Are you excited to head back to Stars Hollow? What do you think of the poster? Share your thoughts with us in the comments below!