Grey's Anatomy Season 12 Episode 22 Review: Mama Tried

Elizabeth Harlow at . Updated at .
The trial took up the bulk of Grey's Anatomy Season 12 Episode 22.
And even though the lawyers weren't really on their games the whole time, the witness testimonies managed to cover a lot of different topics concerning parental fitness.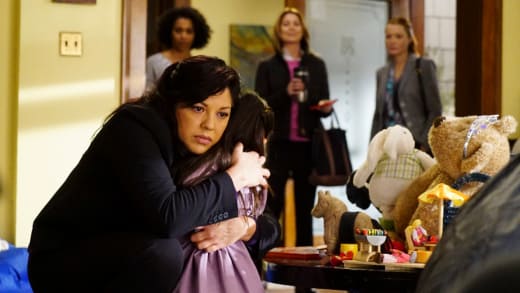 On the surface, almost everything was about Callie and Arizona, sure. But Shonda Rhimes and her team were also clearly trying to make some social statements. Stigmas about single parents, working mothers, and non-biological parents were all taken down head on. 
While Arizona's counsel ignored the biggest hole in Callie's case (the math on the supposed 150 nights Arizona abandoned Sofia seemed suspect), Bailey had Arizona's back, sisterhood style. I loved how she took on the lawyer about the sexism of the working mother attack so bluntly. 
Lawyer: Even for a surgeon, wouldn't you call that kind of schedule grueling?
Miranda: You could say that, I wouldn't. I would say it's wildly successful. But then I would never put a woman's success in the "con" column.
Unfortunately, there wasn't an equally strong response to the slut-shaming attack. Or even a logic based defense along the line of pointing out that Callie may have had Sofia on the nights that Arizona went out. 
Meredith managed to stand up for single parents everywhere, although her speech ended up supporting Arizona's side. I'm still so surprised that she took Callie's side.
Seriously, she could have been called as an expert witness on the fallout of one parent taking a child cross country at a young age.
So Callie's okay slut-shaming me now?

Arizona
Both Jessica Capshaw and Sara Ramirez did a great job with their performances giving testimony, but I was a little disappointed with Callie's calm affect during the proceedings as a whole. It was just a little too restrained.
Considering Callie would have had to approve her counsel's trial tactics, it would have been nice to see her looking more conflicted. 
Callie testimony was touching but didn't really relate to the current situation. It was no surprise that when compared to Arizona's fierce response about her status as Sofia's mother and about her job that the judge granted her custody. 
Arizona: I'm going to have to stop you before you continue, for your own sake. You're not going to imply that I'm any less Sofia's mother because we don't share the same DNA.
Lawyer: Dr. Robbins, excuse me.
Arizona: Because that would be offensive. It would be offensive to anyone in the room who has an adopted child, or is an adopted child. And for you to say that -- I *chose* to be be Sofia's mother.
It did suck to see Callie so upset with the outcome. Luckily, Arizona's not good at holding a grudge, so while she might not have the custody arrangement she envisioned, it's unlikely her ex will her child from her. 
What was really interesting about the final scene at Meredith's house was how Callie brushed off Penny. She may love Penny, but can that love withstand some misdirected anger about being separated from her daughter? That's a pretty tall order. 
I shouldn't have to choose between the person I love and the person I love.

Callie
The way that the whole surgical team was concerned about the outcome of the case might not have been the most realistic thing ever, but it led into the other storylines nicely, so I'm willing to let it pass. 
Obviously, April and Jackson, given their current situation, were affected by the Torres-Robbins trial. I was relieved to see that not only are they sticking to their agreement to be friends but that they were taking the custody case as a warning about what could lay in store for them.
Of course, I'm not altogether convinced their going to need their parenting plan – at least in so far as splitting up holidays goes. With Jackson's softening attitude, do we really think they're going to be apart forever? 
Jackson: Easter's all yours.
April: And you can have the Superbowl and Halloween.
Stephanie didn't seem all that interesting in the goings-on at the courthouse, but that's just because she was too busy obsessing about Kyle. Poor girl should have taken a day or two off to nurse her broken heart. I probably would have let her call him at the bar just to stop her moping.
She took his rejection at the hospital rather well, but that could have been her shock. Kyle's reappearance and her second guessing of her decision are sure to be a part of Jerrika Hinton's (temporary) absence from the show next season.
Will she run away with him, or end up on the bathroom floor for a week like a certain blonde? 
Jo: I can't believe you dumped Kyle with a note. Brutal.
Stephanie: Yeah, not my finest moment.
Jo: That's like dumping somebody by text, only in 1980
Grey's Anatomy Season 12 Episode 23 is the second-to-last episode until summer hiatus, and it's going to be a doozy! Love is in the air – and so is sex. There will be not one but TWO proposals!
But which couples are talking about tying the knot? Jackson and April? Owen and Amelia? Penny and Callie? Jo and Alex? Kyle and Stephanie? So many possibilities!
While most of the docs are enjoying the romance of spring, Callie and Arizona are still non simpatico when it comes to Sofia. The judge may have ruled in Arizona's favor, but can she really keep the little girl from her Mama? We'll all have to watch to find out!
You can watch Grey's Anatomy online if you missed "Mama Tried." We'd love to hear your thoughts, so join the conversation down in the comments section!
Get your first look at "At Last," airing May 12 at 8/7c on ABC, below!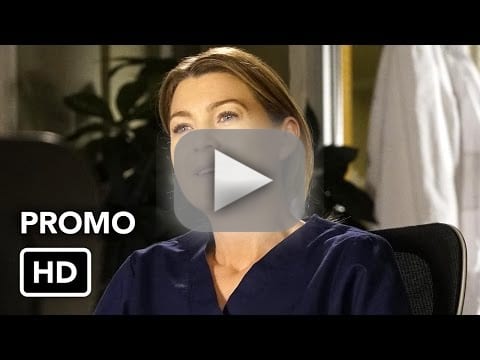 Elizabeth Harlow was a staff writer for TV Fanatic. She left the organization in October 2018.