Houdini & Doyle Season 1 Episode 1 Review: The Maggie's Redress

Stacy Glanzman at .
A skeptic and a believer team up to solve strange, potentially supernatural cases. 
Sound familiar? 
There's nothing new about Houdini & Doyle Season 1 Episode 1, and The X-Files it is not, though it does have better costumes.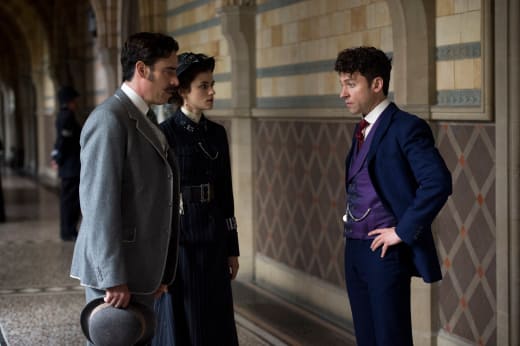 Does that mean it's not worth watching? 
Not necessarily, while there really is nothing special about it, it can still be viewed as potentially fun summer fodder. 
There's nothing inherently terrible about it, but not much that stands out either. The two main actors do a good job, and I particularly liked Weston, which surprised me since I mostly wanted to watch this for Mangan as I'm a huge Episodes fan. But I tend to gravitate towards the skeptics in these situations. 
Constable Stratton didn't do much for me as the typical "woman trying to make it in a man's world" character. I was surprised she so readily believed in the ghost, and being that she was the one of the three who was actually trained in police work, she had very little to add. 
Her one theory about the ghost passing through the passageway was immediately shot down by Houdini. Yes she redeemed herself later with the handwriting samples, but by then everyone else had figured out who the killer was too, so it didn't matter much in the moment.
If I want to watch a strong female lead in a time when women weren't valued, I'll stick with Marvel's Agent Carter. 
Houdini: Want to say a hundred bucks?
Doyle: You do know this country has its own currency.
I'm not sure how I feel about all the betting. It wasn't as funny as I think it was meant to be, and seemed more about Houdini constantly feeling the need to prove he's better than Doyle. There is clearly history between the two that we haven't delved into yet, but I imagine it's coming. 
Houdini placing the new first edition next to a row of all the rest of Doyle's books implies he respects the author, despite how he might come off in person. 
I did find it interesting that while Houdini does not believe in the supernatural, he understands that his success is thanks to those who do. He wouldn't have a career if people weren't willing to believe in his illusions. 
Granted, you don't have to believe in magic or the supernatural to find illusions like his entertaining. 
The better I do my job, the more people believe in the supernatural.

Houdini
Doyle's strong belief in the supernatural appears to stem from his ill wife. I'm curious how long she's been in a coma, and what he was like before it happened. I'm guessing conventional medicine has failed to help her and he can't accept that there's no hope for her, causing him to seek answers from the supernatural. 
I get the feeling that we are in for nine more episodes of sarcastic Houdini quips, fantastical Doyle theories, and Houdini using literally anything he can find to get them out of life-threatening situations. 
Will the supernatural ever play a real part, or will Houdini find a logical explanation for every case? Hard to say, though I get the feeling the supernatural element will stay as a possibility without ever finding any real proof. 
Will you stick around to find out? 
If you're looking for a light procedural that doesn't require you to think too much, or if you need something on in the background while you clean, this could do the trick. 
But if you decide this is it for you, I don't think you'll be missing much.
Stacy Glanzman was a staff writer for TV Fanatic. She retired in March, 2019.