Once Upon a Time Season 5 Episode 21 Review: Last Rites

Christine Orlando at . Updated at .
The heroes made it back to the land of the living in Once Upon a Time Season 5 Episode 21 but not everyone would stay for long. 
Both King Arthur and Merida returned for "Last Rites" but neither was truly necessary to the story. 
At least Arthur was useful as Hook's traveling buddy. It would have been quite dull to have Hook make the journey to reclaim the book with no one to talk to along the way, but Merida's return was completely wasted.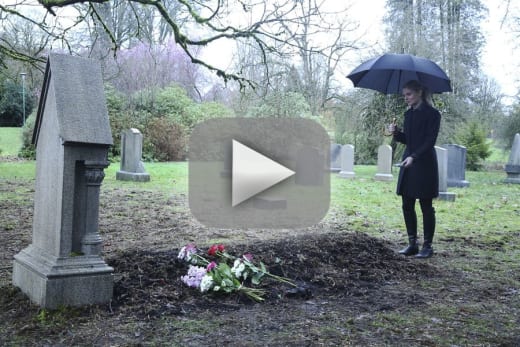 Emma, unsurprisingly, couldn't wait to go after Hades, but David tried to slow her down. It's always great to see him act like her father, and he was right in that she needed time to grieve and not just jump into the next mission. 
I was glad to see that Zelena truly believed in Hades, as I would have been disappointed if they tried to turn the two of them into some villainous couple. 
However, it hurt to watch her want to believe in him so badly. As Regina pointed out, love can make you blind, and this was the first time that Zelena was truly in love.
Hades may have truly loved her, but he loved power more. He needed a kingdom to call his own, while all Zelena wanted was a happy life with her daughter and a real relationship with her sister. 
As sad as Hades betrayal was, it was satisfying to watch Zelena finally realize that love and family would make her happy.
Elsewhere, Rumplestiltskin tracked down Belle's father to wake her from her sleeping curse. I've always found dear old dad to be kind of an ass in this series, but it was still astonishing to hear that he'd rather his daughter be trapped in a cursed sleep than awake and able to make her own decisions. 
Shouldn't the fact that Rumple couldn't give her true love's kiss be enough to prove that she's no longer under his spell? Yes, he thinks he's protecting his daughter, but she's not a child and his methods are extreme.
When Killian met Zeus, I knew he'd be back in Storybooke soon, and I'm so glad to see Captain Swan back together. Goodness knows if someone on this show should be happy for all of five minutes, it might as well be them.
As for Robin, I've been predicting his death for weeks. He's had a very limited role in Once Upon a Time Season 5, which was disappointing considering how hard Regina worked to find her own happy ending and be worthy of love. 
But up until he gave his own life for Regina's, he was being darn snarky as in this Once Upon a Time quote…
Regina: Look, I'm sorry I trusted Zelena with your daughter.
Robin: Glad to finally hear it.

I know he was worried about his daughter, and I suppose that Regina was partially to blame for their predicament and that made her an easy target for his fear and anger.
Thankfully, Regina never took the bait to start a fight. As a parent, she understood Robin's fear, and goodness knows she can be the Queen of Snark when provoked.
But Regina realized her sister's actions were coming from a place of love, not hate and that Hades was the person they need most fear. 
The only upside to Robin's death is that, hopefully, Regina and Zelena can bond together to raise Roland and little Robin.
Speaking of which, I'm so grateful that poor child finally has a name! Too bad her father had to die for her to find it. 
Did you expect Robin to die? Will Regina fall back on her evil ways to get through her grief? And what will Rumple do with his piece of the Olympian Crystal?
Check back later this week for our Once Upon a Time round table before tuning back in next Sunday for our Once Upon a Time Season 5 Episode 22 season finale review.
If you can't wait until then for more magic, you can always watch Once Upon a Time online here at TV Fanatic. 
C. Orlando is a TV Fanatic Staff Writer. Follow her on Twitter.