Rosewood Season 1 Episode 21 Review: Wooberite & The Women of Rosewood

Rachel Miller at . Updated at .
Did anyone else get chills while watching Rosewood Season 1 Episode 21? There was a lot of relationship drama that will definitely pull some of our favorite people apart, while others will be getting closer.
The death of a man named Calvin reunited Rosie with a woman he once cared about. Dr. Aubrey Joseph is a respected therapist who helped Calvin with his problems. When Calvin was mysteriously murdered, Rosie was the first person Aubrey called to help with the case.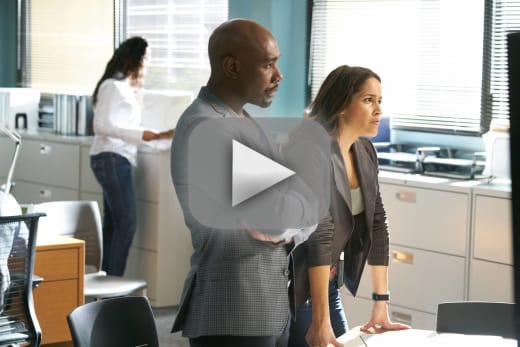 I do wonder what would've happened if we met 10 years ago. Do you?

Aubrey
It seems like Rosewood dates a lot of professional and successful women, but he always has a hard time committing to them. Fear often plays a major role in Rosie's relationships. But what, exactly, is he afraid of?
Rosewood and Aubrey dated in their younger years. He proposed, and Aubrey rejected his proposal. That rejection caused Rosie to have a fear of falling in love again. He wanted to give his all to Aubrey, and she turned him down. 
Whenever things are going great in Rosie's relationships, he tends to back off out of fear of getting his heart broken again.
Erica: You have feelings for another woman that I could never compete with.
Rosewood: I told you about Aubrey.
Erica: It's not Aubrey.
Many of us thought Rosewood may have found love again with Erica. Heck, they both thought the same thing until Erica's conversation with Villa.
Erica noticed the way Rosewood looks at Villa. The admiration is written all over his face no matter how much he tries to deny it. 
Rosewood and Villa have always had an underlying love for one another, they just never officially crossed that professional line into romance.
Rosewood: I'm your best friend. I'm your bestie.
Villa: Don't use that word again.
As much as Villa and Rosewood try to stress they're just friends, there could be something more in store the duo. Maybe, if they finally confess to one another how they truly feel, things can be a lot easier for them.
Neither Rosie nor Villa would have to deal with lingering relationships. They'd no longer have to express to people they're dating about the flirtatious relationship they have with one another. 
It's time for Rosewood and Villa to go on a few dates.
This was the first time I was invited on a trip by a man I actually have feelings for.

Daisey
Speaking of going on a few dates, who knew Daisey was falling in love with good ol' Hornstock?
I assumed she was pulling a Daisey and was only interested in Hornstock because she longed for the company of a man. She's actually interested in Hornstock and it makes her nervous.
In fact, Hornstock and Daisey are both nervous about this budding relationship. This seemed like a theme throughout most of the relationships on Rosewood Season 1. Whenever things seem too good to be true, they back away from the situation of out fear of getting hurt.
Villa would be proud to know that Hornstock isn't just another guy Daisey fools around with and eventually leaves. Daisey cares.
What possibly could've happened that was so bad you'd throw away your career?

Pippy
While there may be new relationships budding in Miami, one relationship may be sinking. Mitchie found the courage to confess to Pippy about his attempts to kiss TMI. I wasn't sure how Pippy would handle the news, but like a classy individual, she handled it well.
Pippy will most likely not take this new semi-kiss that happened between Mitchie and TMI well, though. TMI was always nervous about losing Pippy to Cassie and now she's going around kissing Mitchie.
The TMI, Pippy and Mitchie love triangle will cause drama at Magic City Lab.
What did you think of Erica breaking up with Rosewood? Does Erica have a point about Villa and Rosewood? Will TMI and Pippy call off their wedding? 
Don't forget you can watch Rosewood online right here at TV Fanatic. Get caught up just in time for Rosewood Season 1 Episode 22, which airs Wednesday, May 25 at 8/7c on FOX.