Scandal Season 5 Episode 21 Review: That's My Girl

Christine Orlando at . Updated at .
Everyone got what they wanted…sort of on Scandal Season 5 Episode 21. 
Thankfully on the Scandal Season 5 finale, the show stuck to what it does best and focused on the twisted path of backroom politics on steroids. There were enough surprises to keep me guessing until the very end. 
But did everyone get what they wanted?
Sort of…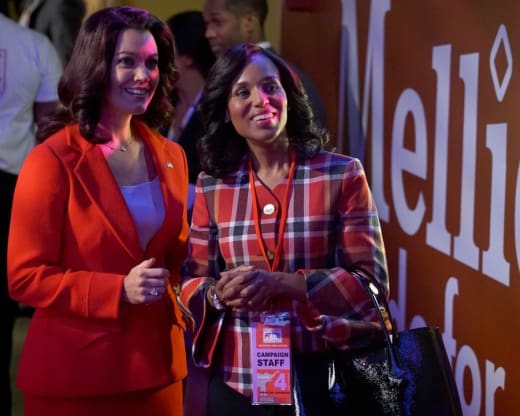 Mellie got the official nomination at the Republican National Convention. I dare say she was the happiest of anyone in the hour, but as fun as it is to see Mellie smile, it's even better to see her fight back. 
Bellamy Young is such a powerhouse when she delivers one of Mellie's infamous tirades. Her dressing down of Fitz in this Scandal quote had her at the top of her game…
When you're running, you talk about how great you are. When I'm running for office, you talk about how great you are. Is there a scenario where you don't talk about how great you are?

Mellie
Fitz has always had an arrogant streak which is made all the more unattractive when it's coupled with his whining about how difficult the job of President has been. Hearing Mellie hold up a mirror to make him look at himself and his behavior was one of the most satisfying moments of the hour. 
Speaking of Fitz, what does he want? 
Before we answer that one, I have a different question: was Abby just leaving Olivia's confidential medical records out on her desk for anyone to find? What the hell?
Fitz can't seem to wait to be free of the Oval. He feels it's kept him from what he's truly wanted, and it sounded like that's still Vermont. Maybe that's why he didn't freak out on Liv for ending her pregnancy. If he had, it only would have driven her further away. 
Much like Fitz, Jake just wanted to be free. He wanted to be normal, something at which Olivia scoffed. Maybe if she'd spent large portions of her life being locked in a box, physically and emotionally tortured and tasked with killing people as her only career option, she wouldn't look down her nose at a normal life. 
The saddest part is that Jake loves Olivia. Olivia loves power. 
I've gone from being his bitch to yours.

Jake
So is that what Olivia wants? She doesn't appear to want love or family or children. She's had an impressive career, but that doesn't seem to be enough. Apparently Daddy's influence about taking control ran deeper than we ever expected, but more on that in a bit.
Vargas got his own nomination for President, but since we barely know him yet, it's hard to really be pulling for him. The oddest, and perhaps most intriguing, thing about Frankie Vargas is the the devil incarnate believes in him. 
Which brings us to good old Cyrus, the man who never stops manipulating. He and Olivia are well matched as they both are more than willing to give up on love in order to achieve power. And they're both obsessed with taking back the Oval no matter who they have to use, step on, or crush to get there. 
Only Cyrus could make me feel badly for Tom, the man who murdered Fitz and Mellie's son. 
The fact that we can sit here and talk about murder and not blink our eyes, I've never had that, not with anyone. This is the truest, most honest relationship I've ever had.

Cyrus
One moment Cyrus was considering having Michael murdered while making goo goo eyes at Tom, the next he was tossing Tom aside like last week's trash. 
I was hoping Cyrus would let Michael live for Ella's sake. The poor child needs a parent to love her, not a nanny. Obviously, I was naive… but was Cyrus as well? Because somehow I can't imagine poor, dumb, but deadly, Tom will simply sulk away into the shadows and do nothing. 
Cyrus got exactly what he wanted all along. Well, he probably wanted to be the Presidential nominee, but for now, Vice President will have to do. 
And then there was Rowan…
I doubt Rowan emerged from the womb this heartless and evil. I'm sure the path to Command was hard. Is Olivia on a similar road?
This season, she's proven that nothing is more important to her than retaining power: not the love of either Fitz or Jake, not the possibility of a child, not her friendship with Abby.
All Eli Pope has ever wanted was for his little girl to take Command. Papa Pope couldn't be prouder of Olivia. Her white hat may be long gone, but she's taking command, no matter who it hurts. 
Check back next week to see what our Scandal round table team has to say. If you're already missing the show, you can watch Scandal online here at TV Fanatic.
C. Orlando is a TV Fanatic Staff Writer. Follow her on Twitter.