It's becoming easier to understand why spies compartmentalize their feelings.
After watching The Americans Season 4 Episode 11, I'm also inclined to believe that a Soviet living in America would probably be the very worst gig. 
Elizabeth has tried so very hard to maintain her status quo as a hardass and hard nose Soviet, but she's changed. And that change is really getting to her now.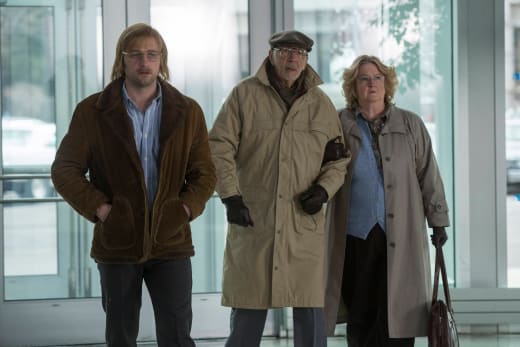 It was pretty impressive how Pastor Tim showed up at the Jennings house to apologize. 
It's been unclear up to now whether the good Pastor really got it, whether he understood what he was into, but with that visit, he seemed pretty clear. Apologizing for putting Elizabeth and Philip into a fearful place through his actions was a good move on his part. 
Likewise, inviting Pastor Tim and Alice over to dinner was a good move on Elizabeth's part. It's like a game of chess as each family moves square by square into a different position, trying to assure the other they're on their game.
Stan's arrival sure made dinner interesting. 
Henry: Stan's an FBI agent.
Pastor Tim: Oh really? Huh.
It's not very often the Jennings are in the middle of any two groups. Stan had been confiding in Philip his boss was probably killed by the KGB, and Pastor Tim and Alice know Philip and Elizabeth are agents. I wish we had seen more of the awkward conversation between them, but it could have been impossible to write!
Whatever they talked about, Elizabeth became even more comfortable with Pastor Tim. It seems like whatever Philip found with est, she may be finding through Pastor Tim.
And who could blame her? She really can't catch a break. 
The Centre denied her request to have a friend. She didn't even have words when she heard the news. She just went into action. I wondered how the plan was going to play out. It was unexpected and definitely put a cap on her friendship with Young-Hee.
If it turns out they get nothing out of Don after everything Elizabeth put the family through, Elizabeth may just crack down the middle. She was utterly defeated when Philip told her they didn't find the codes for Level 4 in his office.
Then hearing that frantic message from Young-Hee? If we all loved Young-Hee, imagine what spending time with her must have been like for a friendless Elizabeth.
I'm not even sure which scenario would be worse from Young-Hee's perspective: learning what Patty did to Don and that she was dead, or just never hearing from her friend again and thinking she was abandoned after they shared so much.
Then, when Elizabeth went to talk to Pastor Tim about not being able to get something terrible out of her head and what she should do about it, his ultimate answer was that all that matters is how you treat other people. 
Ugh Pastor Tim! You knew that was the wrong answer, didn't you? Check! 
Somehow, I don't think that answer will drive Elizabeth away from seeking Pastor Tim's advice. She needs something right now, and as screwed up as it is, might she actually find it in God? Could that happen?
Elizabeth needs a tether. She has all of these feelings and no way to really understand them, or to come to terms with them. Especially in conjunction with the job she's tasked to do. 
Right after she got done telling Paige that maybe if Pastor Tim and Alice need their tape to make them feel safe, it's a good thing they have it (does anybody agree with that?), they were harassed in the parking lot.
Paige finally saw her mother in action, and it wasn't pretty. I'm sure there was nobody Paige would have rather had by her side, but damn, what an initiation into the big leagues. Hi daddy, we're home! Mom just killed someone in the parking lot!
In addition to Elizabeth's change, Stan is suffering from growing pains himself. 
Gaad's death really affected Stan, and he's starting to carry the weight of many deaths on his shoulders. And, sadly, he's right. Things he has told Philip go into reports and as a result people die. 
Stan didn't want another life on his hands and said goodbye to Oleg, who essentially just stood there letting everything Stan said soak in, saying nothing in return. If ever there was going to be a move on either end, that time has passed.
The more Paige gets engulfed in the lifestyle and the more Elizabeth feels, you have to wonder if she's second guessing anything. Does she want Paige to end up where she is in life? Does Philip? It seems unlikely.
There are so many things in America to take their minds off of being Soviets. It's hard to believe they've made it this far or that they even wanted to. Being a KGB agent in Korea would probably be a lot easier than in America with all the temptations.
Seeing Keri Russell take Elizabeth outside of her Soviet comfort zone has been just as engaging as watching Matthew Rhys do the same with Philip. Where they will end up, nobody knows!
What did you think of "Dinner for Seven"? Hit the comments with your thoughts, and don't forget you can watch The Americans online via TV Fanatic at any time!
Carissa Pavlica is the managing editor and a staff writer for TV Fanatic. She's a member of the Broadcast Television Journalists Association (BTJA), enjoys mentoring writers, wine, and passionately discussing the nuances of television. Follow her on Twitter and email her here at TV Fanatic.