The Good Wife Season 7 Episode 21 Review: Verdict

Christine Orlando at . Updated at .
If Alicia Florrick has to leave our TV screens, at least she appears to be doing so at the top of her game with The Good Wife Season 7 Episode 21. 
With only one more episode to go, it's anyone's guess how it will end, but no one can say the ride hasn't been amazing. 
Thankfully Peter's trial wasn't being dragged out over several installments. This way, every scene had it's own moment of drama.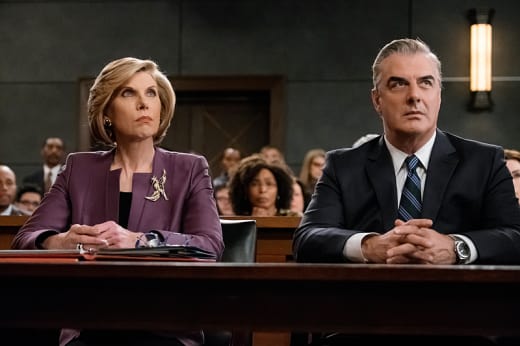 I'm still appalled by Garber's testimony against Peter. Either he really believes Peter saved his son from a life sentence or he's blatantly lying because the prosecution is holding something over him. Either way, he's a real weasel. 
The absolute best moment of the night – and possibly all of The Good Wife Season 7 – was Alicia's reaction to Louis Canning telling her Peter was having an affair with Geneva Pine.
Alicia: Were you wanting me to cry, Mr. Canning? Oh my God, (fake sob) I thought my husband no longer cheated.
Louis Canning: Wow. God, I love you.
Alicia: I know.

The fake sob and quirky smile were so sardonically funny. How could anyone not love Alicia Florrick in that moment?
Perhaps it was even funnier that I believed Peter when he said he hadn't slept with Geneva, but everyone thought he did because office rumors take on a life of there own. 
I actually felt the worst for Eli. He looked outrageously uncomfortable when Alicia told him and Diane about the supposed affair. I think he really cares about Alicia and would hate for her to go through that embarrassment once again, even if Alicia is over caring about it herself. 
Poor Jason didn't seem to know what to think or how to feel, and watching Alicia hold Peter's hand in court obviously got under his skin. 
Was he right? Would Alicia stand by Peter if he went back to prison? I think there's a good possibility that she would, especially if she thinks that Jason won't stick around long term.
I loved Lucca's The Good Wife quote where she told Jason that, if he wanted Alicia, he needed to stop sitting on the fence and get in the game.
Stop playing it cool. You want her, go to her and say I want you. I'll protect you. You don't owe your husband anything. Be happy. Come to me. Make me happy.


Lucca
I've really enjoyed Lucca and Jason's relationship. They are the kind of friends who can be honest with one another but also tell each other when to drop the subject. 
I was a little confused when the AUSA brought the deal for two years to Alicia. I know she's an attorney, but she's not Peter's attorney. Shouldn't he have brought that deal to Diane?  
Also, why didn't we hear more about all of the complaints against that lab tech that Jason had uncovered? Did he not share that information with Eli or Alicia? The fact that it wasn't brought up at trial seemed odd. 
And which attorney got hit with the Contempt of Court charge and the $10,000 fine? How many hash marks did each of them earn from Judge Cuesta?
Will Peter take the deal or roll the dice on the jury's verdict? It truly is the gamble of his life. 
Check back later in the week to see what our The Good Wife round table team has to say, and don't forget to check back next week for our review of the series finale of The Good Wife.
If you simply can't wait for more, you can watch The Good Wife online here at TV Fanatic. 
C. Orlando is a TV Fanatic Staff Writer. Follow her on Twitter.