The Originals Round Table: Cami's Farewell!
Paul Dailly at .
Will the show ever be the same?
On The Originals Season 3 Episode 19, Cami succumbed to the bite that Lucien gave her and she peacefully passed away. Davina got a horrible death at the hands of Kol.
TV Fanatics Kelly Thompson, Amanda Steinmetz and Paul Dailly discuss the deaths, Klaus' next move and the direction the series is going.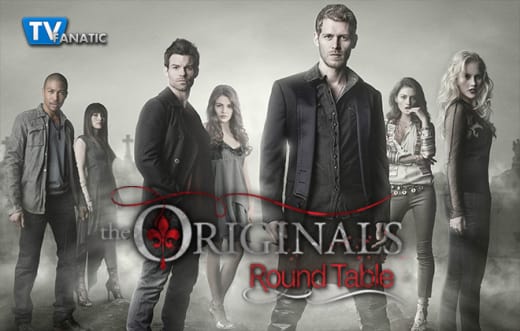 React to Cami's death!
Kelly: I have no reaction yet because I'm still in shock. I loved Cami, and I can't believe she was killed so quickly. Leah Pipes was so fantastic in this episode, and it is a big shame that she is leaving the show. Her presence will be hugely missed. Cami and Klaus could have been epic but instead they never really were. We didn't even get a goodbye kiss.
Amanda: Cami's death didn't come as a surprise, but that doesn't mean the entire episode wasn't emotional. Leah Pipes absolutely nailed her final scenes. I'm just sad because there was so much more potential for her character. I also couldn't help but think what could have been as she and Klaus walked hand in hand in the dream. 
Paul: I'm shocked they actually killed her off. It was heartbreaking, but it showed us that no one is really safe. They need to find a damn cure now!
What will Klaus do next?
Kelly: Mourn, then get revenge. With the death of Finn and Cami, I don't think Klaus will run head first into a fight with Lucien. Klaus will plan his revenge, and it will be glorious when he gets it.
Amanda: I don't think Klaus will allow himself too much time to grieve Cami. He'll want to avenge her by destroying Lucien. 
Paul: I wonder if Klaus is in hiding three years from now because of this. What if they don't manage to take Lucien down, so vampires are in hiding to ensure their safety?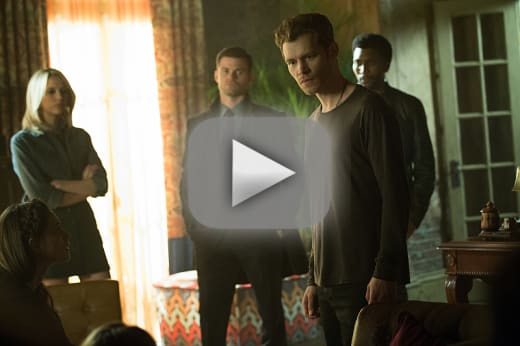 Will Kol find a way to bring Davina back?
Kelly: Probably, but I hope he fails. It's very annoying that there is, of course, a loophole to get Davina back but not one to get Cami back.
Amanda: I agree with Kelly. Bringing Davina back would lessen the shock of Kol killing her in this episode. I was stunned, and I don't want that moment to go to waste. 
Paul: I was also very shocked. Two big characters in one episode. I hope Davina spends some time on the other side to show us what it's like. I enjoyed the trip we took there before.
Who will be the next big casualty?
Kelly: Kol. He will more than likely sacrifice himself for Davina by trading his life for hers. With so many deaths this season already, I highly doubt another series regular will bite the dust, so it will be Kol if it's anyone.
Amanda: That's a good point Kelly, but I hope Kol doesn't die though. I want him to stick around. I'm assuming Lucien and/or Aurora will be toast by the end of the season.
Paul: Rebekah. I have a feeling she's going to pop back up in the finale and then cruelly be taken away from us for good.
What are your thoughts on the direction the series is going in?
Kelly: I'm super confused as to why they killed off Cami. I get that this show isn't all about romantic love like The Vampire Diaries, but Cami's death has me concerned for the direction of the show moving forward. However, currently The Originals is firing on all cylinders which is saying something since the first half of this season was very slow.
Amanda: While I'm sad that Cami is gone, and Klaus has missed the opportunity to be with her, I don't think this show ever set out to give Klaus the happiness that's alluded him. The show has taken a much darker turn in the second half of this season, and I think it should stay that way. The Mikaelsons may want their happy ending, but I don't think that's in the cards. 
Paul: I'm loving the direction of the show right now. It's currently my favorite drama on the air, purely for the risks they are taking this season.
What did you think of the episode? Hit the comments below!
Remember you can watch The Originals online right here on TV Fanatic. Get caught up on all the drama now!
Paul Dailly is the Associate Editor for TV Fanatic. Follow him on Twitter.