The Originals Round Table: The New World
Paul Dailly at .
Was Freya's new world a success?
On The Originals Season 3 Episode 22, she had to go to drastic measures in order to protect her family from Marcel's bite. 
Below, TV Fanatics Kelly Thompson, Amanda Steinmetz and Miranda Wicker discuss Freya's new world, Vincent stepping up and whether Claire Hold should leave for good...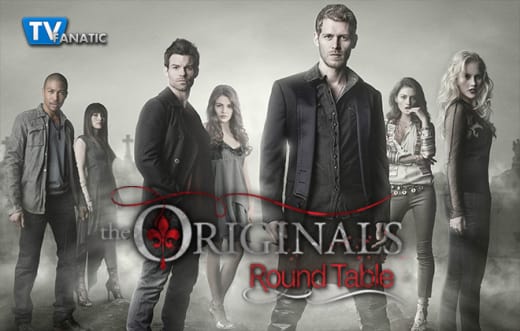 What did you think of Freya's virtual world?
Kelly: I'm actually a huge fan of this storyline. The MIkaelson's being trapped together with having no idea what is happening the real world, should allow for some great family bonding. Plus, it kind of broke my heart that Freya said this is how she always imagined time with her family.
Amanda: I think it's a smart move to get most of the siblings in one place together. Since they are trapped there, does that mean we'll get more screen time with Claire Holt?
Miranda: Aside from it being beautiful, I loved it. I think Elijah and Kol have some serious fences to mend, as to Freya and Kol. I love that Rebekah is getting time with her sister. I hope we see more of their dream world when the series returns. 
How long will it take Hayley to fix things?
Kelly: My guess is 3 years so that this shows gets back on track timeline wise with The Vampire Diaries.
Amanda: I'm assuming 3 years or so. However long it takes for The Originals to catch up with The Vampire Diaries timeline.
Miranda: Yep. Three years. 
Did you enjoy Vincent stepping up?
Kelly: I did. Marcel is no different than the Mikaelsons. I mean he was killing witches and any one else that crossed him when this show started. Vincent should have never aligned himself Marcel and it's a shame that it took him this long to figure that out.
Amanda: I LOVED his scene with Marcel. Vincent never seems to cower toward anybody. Someone is going to have to stand up against Marcel, and he's the only person right now who I believe is powerful enough to do so.
Miranda: Yusuf Gatewood is the MVP of the season for me. That scene? His willingness to stand up to Marcel and speak the truth as well as vow to protect the city? Gah. I loved it. All of it. If Julie Plec kills Vincent I'll riot in the streets. 
Should Claire Holt just leave for good, or do you enjoy her popping back up as a plot device?
Kelly: I love the character of Rebekah so she can come back as often as possible. I'm still holding out hope that she will come back full time. Meaning that no, Holt should never leave for good.
Amanda: I adore Rebekah, but I'm tired of her coming in and out of the story line. I'd like to have her back for good, so this virtual world they are all stuck in now makes me think we should be seeing more from Claire Holt.
Miranda: At this point, I'm so tired of the back and forth I really just want her to be here all the time or gone for good. I *hate* that the only time we see her is when it's convenient. 
Grade the season finale.
Kelly: I really, really enjoyed this finale except for how annoying Marcel was so a B+/A-.
Amanda: A-. I thought everyone's performances were fantastic and it was a nice contrast from the Season 2 finale for Klaus to step up like he did to save his family.
Miranda: A+ based solely on Vincent. God, I loved it.  
What did you think of the finale? Hit the comments with your take on the questions.
Remember you can watch The Originals online right here on TV Fanatic. Get caught up now!
Paul Dailly is the Associate Editor for TV Fanatic. Follow him on Twitter.