Bones Season 11 Episode 19 Review: The Head in the Abutment

Christine Orlando at . Updated at .
Only the squints at the Jeffersonian would have a drone measuring contest to try and prove their manliness, but that was part of what made Bones Season 11 Episode 19 so much fun.
That, and the return of the Cocky belt buckle! It's been far too long since we've seen that, or Booth's sock collection. 
All of these throwbacks to the character's past both made me smile and made me a little sad because it's a reminder that we'll be looking at the end of the series next year.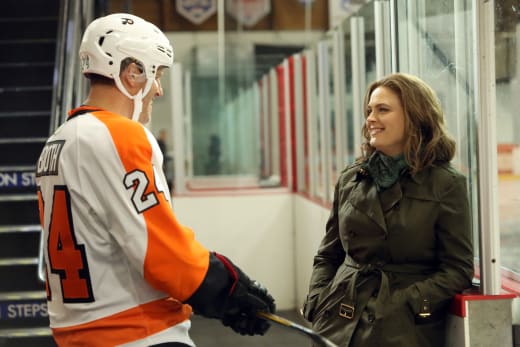 For now, let's set that melancholy thought aside and concentrate on the fun. 
Any couple who has shared space knows that de-cluttering can be an emotional minefield. What one person thinks is nonsense can hold deep emotional value to the other. 
In my opinion, the Cocky belt buckle is a classic and has to stay, but I also agree with Brennan…
You don't get rid of books, Booth. That's crazy.


Brennan
An e-reader was the obvious choice, but Brennan's books are special to her for many reasons. Some are rare and some have been an emotional haven for her going back decades, as Angela pointed out in this Bones quote…
Books have been your escape your entire life, through the foster system and your parents.

Angela
It didn't surprise me a bit that Brennan was only able to give up three of her beloved collection. 
The best thing about the death of the hockey player was Booth's glee at getting to use his hockey knowledge. I also really appreciated that Brennan readily admitted the value of his hockey background and that it could be used to solve the case. 
I was half hoping that Booth would get Brennan out on the ice because that could have been entertaining, but instead, the story went a different way. 
The moment I saw Daryl Patterson's family and friends cheering for him at the ice rink, I had no doubt that Booth would intentionally throw the shot. Booth is a good, kind man. He'd never want to embarrass someone for the sake of his own ego. 
Hodgins and Oliver Wells competitiveness was silly but in the best way. When they kept arguing about how each other's faces didn't make sense, all I could think was how similar their faces actually are. It's kind of weird. 
And only on Bones would you find two men trying to prove their prowess with a battle of the drones. Having the drone fly the head all the way back to the Jeffersonian wasn't their smartest choice, but I did like how it showed that Aubrey has become one of the team. 
A few side notes:
Couldn't we have seen Cam's engagement ring?
Who buys, sells, or gives away old jock straps? Ew!
What is an infinity rink and where can I get one?
And the best quote of the night goes to Brennan...
Please press the thumbs up button. I find imbeciles amusing.

Brennan
Only three more episodes until the end of Bones Season 11. Check back on Monday to see what our Bones round table team has to say and if you can't wait for more, you can watch Bones online here at TV Fanatic. 
C. Orlando is a TV Fanatic Staff Writer. Follow her on Twitter.