Feed the Beast Season 1 Episode 4 Review: Secret Sauce

Lee Jutton at . Updated at .
At the end of Feed the Beast Season 1 Episode 3, Dion had been replaced as head chef of his own restaurant and could do nothing about it because of the terrible contract he and Tommy signed with Aidan.
On Feed the Beast Season 1 Episode 4, titled "Secret Sauce," the two of them feel the repercussions of that bad decision in a big way.
Like every other antagonist on Feed the Beast, Kevin, the executive chef hired by Aidan to oversee Thirio, is a cartoon character of a villain. He has no redeeming qualities. He's rude and dismissive to Tommy and Dion despite Thirio being their restaurant and their vision – and he's not even that good of a chef.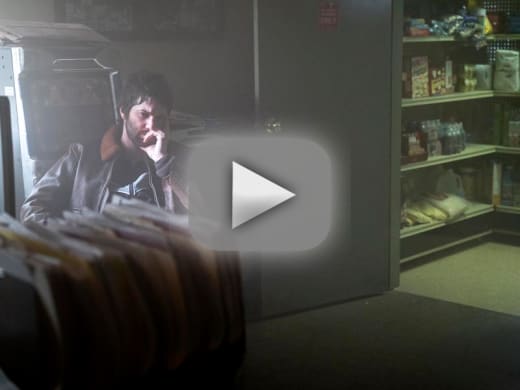 Kevin is generally a terrible person, which I guess makes sense considering that he was handpicked by Aidan, who is quite possibly the king of Feed the Beast's kingdom of terrible people.
He also has terrible taste; he's obsessed with old-fashioned, cliched restaurant ideals like white cooks' uniforms, plates on display and hanging metal lamps. 
However, there is one positive aspect to Kevin's presence at Thirio: it leads to many snarky one-liners from the rest of the restaurant's crew. Amidst their struggles with money and their race to get the menu ready in time, the crew can unite in support of one thing: hating on Kevin. And it's hilarious. 
Why don't we invite him up here and calmly and rationally throw him off the roof?

Dion
Speaking of which: When are we going to get to know the crew better? Pretty much everyone in this eccentric bunch is worth spending more time with.
As I have mentioned before, the running of a restaurant, and the wide variety of people that are required to make it a success, are interesting enough to carry the show without all of the gangster nonsense.
The main problem with Feed the Beast's gangsters-versus-detectives storyline is that all of the characters are so bland that they all blend together. I frequently have a hard time keeping track of who is who, not to mention who wants to kill who.
This is in stark contrast with the restaurant, where everyone already feels very clearly defined and memorable despite having had far fewer minutes onscreen.
He calls himself a chef? He has a secret sauce. McDonald's has a secret sauce!

Dion
The Tooth Fairy got his claws into poor Pilar in this episode, which shouldn't be too surprising given her shocking levels of naivety. Pilar is sweet, caring and kind, so it's hard to outright dislike her as a character. Nonetheless, I find her incredibly frustrating.
It feels as though Pilar lives in a candy-colored fairy tale world, not one populated with gangsters and drug dealers. And yet now she's gotten herself stuck right in with the lot of them. 
Feed the Beast needs a strong female character who can go toe-to-toe with the men of this very masculine world. There are other female characters besides Pilar, and we get brief glimpse of some that seem quite interesting – including Ruth, Aidan's tough-talking accountant.
Ruth's one scene with Aidan was intriguing, mostly because she was able to give him bad news – not to mention a piece of her mind – without him threatening to murder her. (He just spews Jewish stereotypes at her, in case the audience had forgotten his prejudices.)
Ruth put Aidan in his place, reminding him that he's not the hot shot entrepreneur he used to be – he is old and old-fashioned, unable to keep up with the changing times both in the business world and on the streets of the Bronx. Feed the Beast needs more of her, or at least more characters like her. 
Tommy: Why don't you return our calls?
Aidan: Frankly, I don't enjoy talking to you.
The best thing about "Secret Sauce" is that gave us some much-needed development on the TJ front. It also set the stage for further tension between Tommy and Dion as Tommy grows more and more jealous of the important role that Dion is playing in TJ's gradual emergence from his grief. 
From seeing the drawings of TJ and Dion cooking together in TJ's sketchbook, to finding out that Dion gave TJ "the talk" about what it's like to be a young black man in a world that is too quick to jump to the conclusion that young black men are criminals, it's clear that Tommy is more uncomfortable than grateful for the bond Dion is forming with his son. 
You gave him the talk? The one that parents give their black sons to prepare them to be treated like criminals?

Tommy, to Dion
While it was a bit awkward to hear a white man explaining to a black boy the danger inherent in the color of his skin – something that Tommy was quick to point out to Dion – the scene was a surprisingly tender moment on a show that prides itself in being harsh and angry.
The contrast between that scene, in which Dion tells TJ it's not always smart to fight back, and the one that follows later in the episode, when Aidan shows TJ how to hold a gun, was chilling.
While I wish TJ would speak again sooner rather than later, it was nice to see him make some bigger strides towards that moment in this episode. 
So, what did you think of this episode? Who's your favorite member of the restaurant crew? When you do think TJ will speak again, and to who? 
If you're hungry for more, you can watch Feed the Beast online via TV Fanatic.
Lee Jutton was a staff writer for TV Fanatic. She went into retirement in July of 2017. Follow her on Twitter.