Feed the Beast Season 1 Episode 5 Review: Gimme a T

Lee Jutton at . Updated at .
On Feed the Beast Season 1 Episode 5, there are only six days until Thirio is set to open – and no one has bothered to secure a liquor license. However, this is the least of everyone's problems.
In addition to the lack of liquor license – which would deprive Thirio of a substantial source of income via the sale of wine – it is also Rie's birthday for the first time since her death, and everyone is grieving.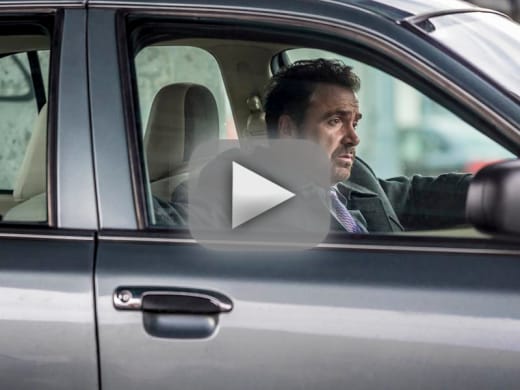 Not only that, one character gets a pretty bad leukemia prognosis, while another finds out he's going to be a father. Oh, and there's a severed head in someone's refrigerator. Hope that's not on the menu at Thirio.
Just when I thought Feed the Beast was finally starting to find its footing to become an engaging show, it went and delivered its worst episode yet. There's just too much going on, and too much of it is utterly predictable, not to mention pointless. 
Let's get straight to the absolute worst thing about this episode: the pregnancy plotline. At the end of Feed the Beast Season 1 Episode 4, Dion's lawyer, Marisa, found out she was pregnant – with Dion's baby.
Really? Your reaction to getting someone pregnant is to snort some cocaine?

Tommy, to Dion
Now, the last thing Feed the Beast needs right now is more storylines. The show is already overstuffed, like your dad on Thanksgiving after he has that third helping of sweet potato casserole (a dish that I am sure Dion would turn his nose up at in disdain).
If Feed the Beast offed the Tooth Fairy and his mobster friends, that would free up some space in its world. Instead, not only do the boring mob activities continue – complete with refrigerated heads – yet another overused plot device appears in the form of Marisa's unexpected pregnancy.
I assumed Marisa's introduction in the pilot was merely a plot device to show what a wild a crazy guy Dion was – look, he has sex with his lawyer! In the prison waiting room! 
It's hard to feel sympathetic for a character who is so stupid that she screws her coke-addicted client before he can even get out of prison. That's a recipe for getting disbarred.
Dion: When did this happen?
Marisa: In the prison visitation room? When your penis was visiting my vagina?

Apart from that moment and a few other scattered, brief scenes, it's easy to forget Marisa has ever appeared onscreen. She's not one of the more necessary people in the show's large ensemble of characters. 
So, naturally, the show's writers have decided Marisa needs more to do and have given her an unplanned pregnancy. And even better, they shoehorn in an awful, awkward scene in which Pilar (who is the one at fault for the lack of liquor license, by the way) persuades her to not have an abortion.
Tommy, to Pilar: Believe me, if we served this crap, the state would revoke our liquor license.
[pause]
Tommy: What? Please tell me we have a liquor license.
I'm not saying that Marisa should run out and have an abortion. I'm saying that the scene is poorly written and overly preachy. Feed the Beast seems to have taken an ill-advised page about of the book of another, better AMC drama: The Walking Dead.
Back on The Walking Dead Season 2, Lori realized she was pregnant and debated whether to try and abort the baby. When she asked preacher's daughter Maggie to get her some pills on a drugstore run, Maggie self-righteously shamed her. In the end, Lori cried and threw away the pills.
Many viewers – myself included – thought The Walking Dead got a little too preachy with this storyline. I felt the same way when Pilar managed to convince Marisa, a woman she had never met before, to not get an abortion after only knowing her for five minutes.
First, Pilar asked about Marisa's age. That's insulting, as it implies Marisa better not get rid of that baby, because what if she is too old to have another? She then tells Marisa the sad story of her own abortion and how much she regretted it. 
Pilar: How old are you?
Marisa: I'm none of your business years old.

Now, it is true that Pilar's personal experience gives her more authority to speak on this matter than another woman. Yet, she doesn't know anything about Marisa, her relationship with Dion or anything else about her life.
It seems a bit presumptuous for Pilar to advise Marisa on this important, life-altering decision. Nonetheless, this one anecdote from a near-stranger is enough to convince Marisa to become a mother.
The whole exchange is bizarre and kickstarts yet another melodramatic storyline to further clutter the show's already overcrowded landscape. 
Tell me what I need to know. Rie always told me what I needed to know.


Dion, to Tommy
Pretty much everything in Feed the Beast feels as though it were cribbed from a soap opera – and not a good one. When Aidan's doctor told him he was going to need a bone marrow transplant, I rolled my eyes. Of course he's going to need to make nice with Tommy in order to get his bone marrow. Of course. 
The flashback scene involving Rie's last birthday before she died was the highlight of the episode. Getting to know what kind of woman Rie was during her life provides further insights into how much Tommy and TJ have been affected by her tragic death.
In their grief, both Tommy and TJ lash out – TJ at the school bullies that have been tormenting him, and Tommy at TJ when he refuses to tell him whether or not he started the fight. Because, you know, TJ still refuses to say anything. 
TJ's embrace of art and aggression as a means of coping really took a turn in this episode. Now that we've seen Aidan showing him how to use a gun not once, but twice, one wonders when TJ is going to end up actually using one.
It feels inevitable at this point. After all, according to Chekhov, once a gun appears in a story it has to be fired.
Will TJ end up bringing a gun to school to scare the bullies? Will he need to defend Dion against the Tooth Fairy and his minions? Either way, I predict that TJ will pull the trigger at some point – and I'm willing to bet that will be when he finally speaks, too. 
What did you think of this episode? And, most importantly: Do you think Thirio's upcoming grand opening will be the success Rie wished?
If you're hungry for more, you can watch Feed the Beast online via TV Fanatic.
Lee Jutton was a staff writer for TV Fanatic. She went into retirement in July of 2017. Follow her on Twitter.