Preacher Season 1 Episode 1 Review: See

Lisa Babick at . Updated at .
Was that the craziest thing you ever saw or what?!?
Things got a whole lotta strange on Preacher Season 1 Episode 1 with Jesse and Cassidy, two mystery men, and one very, very odd ritual.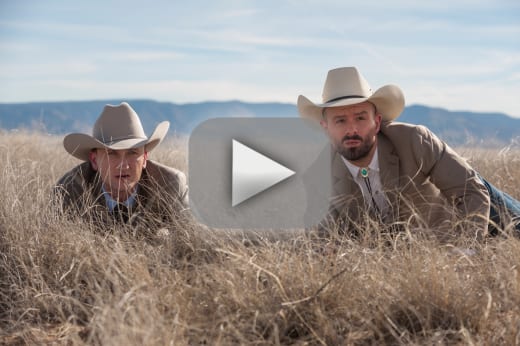 I'm not sure what I liked better: the severed chainsaw arm, or the bearded mystery guy singing "Wynken, Blynken, and Nod." 
The whole scene was completely out there. It was so flippin' weird watching those two guys pull out all that stuff from the trunk. It held some pretty crazy tools, and at first, I though they were just going to torture Jesse until the entity came out. 
I was not expecting the gentleness of that lullaby, which actually made the scene quite effective even with all the violence that followed.
The two mystery men certainly looked surprised to see Cassidy show up while they were trying to take care of business. Jesse will need to thank Cassidy at some point for showing up just as he was about to be slaughtered to death.
The fight scene was pretty intense, but I thought the violence was a bit gratuitous. I mean, this isn't Ash vs. Evil Dead, so was it really necessary to see the chainsaw slicing everyone everywhere?  I actually had to close my eyes during part of it, and I'm not a particularly squeamish person.
Despite all that, I did enjoy the severed chainsaw arm moving towards the completely knocked out and oblivious preacher man with Cassidy slip-sliding in all that blood trying to stop it. It was a kind of slapstick moment, but I still thought the fight was a bit much.
Even Cassidy lapping up all that blood to heal himself wasn't as gross as that fight.
So, who are those two mystery guys that aren't really dead even though it appeared that Cassidy buried them? If you've read the comics, you probably know. And that's one of the problems I have with Preacher. It's almost like they're assuming everyone has read the comics or at least some of them.
But, if you haven't, the whole point of those two guys could be a bit confusing. All we know at this point is that they are after the entity, but we've been given no reason why. So, I guess that's part of the fun. At least Preacher is pretty to look at.
Yet, there were also two other scenes that were a just as confusing.
What was the whole point of that guy demolishing that house? Who is he and how does this all fit into the story? The guys who were with him ended up at the whorehouse playing cards with Tulip, and I'm going to guess that somehow they're all tied to Tulip's mission regarding the map, but it was all rather confusing.
I'm also not sure what the whole map thing is supposed to be about. We had Tulip groveling over Jesse and taunting him a few times, but no clear answers were given as to what exactly was going on.
I actually liked Tulip better on Preacher Season 1 Episode 1 when she when she was kicking ass. This time around, she just seemed to have a fluff role.
At some point, things are going to have to click together. Throwing characters and situations at us doesn't work very well.
Who is this Cowboy? Is he the Saint of All Killers? I'm guessing that he is, but his introduction was rather strange. I like the comic version much better. And I'm glad I did read at least some of the comics, because like I said in my last review, I would have a hard time following this story.
It's unfortunate, because it's a very good story. I just think the show is trying too hard to be cool and hip. Was that "1881" title card and sound effect really necessary? I would rather have had a more cohesive storyline than a stupid title card.
On the bright side, Dominic Cooper is doing a phenomenal job as Jesse Custer, and his story is about the only one at this point that makes any sense. I'm hoping in future episodes it will become more clear as to how everything fits together rather than the muddled masterpiece being thrown at us.
So, what did you think of "See"? Are you able to follow the story? Did you like the fight scene? Hit the comments and share your thoughts. If you missed any of Cassidy's fun, you can watch Preacher online right here via TV Fanatic!