How far will the liars go to save Hanna?
That's a huge question as we head into Pretty Little Liars Season 7. 
If you recall, Hanna was in a tough spot at the close of Pretty Little Liars Season 6 when she kidnapped and taken to the bell tower.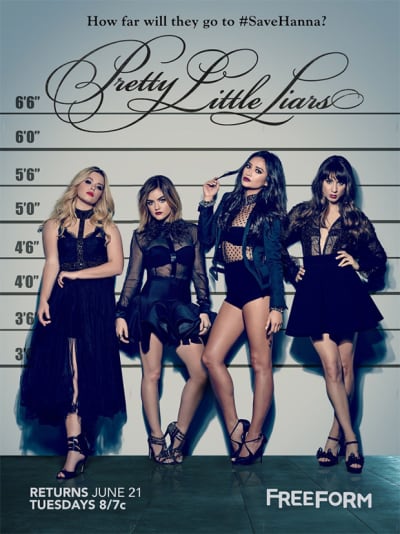 The bell tower is where pretty much all the murders in Rosewood take place, so thing ain't looking too good for Hanna Marin. 
The poster does hint that the liars could find themselves in hot water with Rosewood P.D. once again. 
At this stage, the police station probably has the gals on speed dial. 
They never get a break from the law, or crazy people who want them dead. 
That's just how things seem to go down in Rosewood, but will they be able to save their friend?
The official trailer for the season showed the remaining liars attempting to bury someone. 
What's your pretty little theory for what could be the final season of this Freeform teen drama?
What if the liars are digging Mary Drake's grave? 
Andrea Parker may have been upped to a series regular, but she could still appear in flashbacks. 
Spencer could be the one to kill her and the other liars help her to bury the body. 
It sounds a little out there, but this is Pretty Little Liars. 
Anything is possible in this show and it's about time the drama picked up. 
We need to know all of the answers to the questions on the show before it inevitably comes to a conclusion. 
Hit the comments with your theories! 
Remember you can watch Pretty Little Liars online right here on TV Fanatic. Get caught up on all the drama now!
Note: Pretty Little Liars Season 7 Episode 1 airs Tuesday June 21
Paul Dailly is a staff writer for TV Fanatic. Follow him on Twitter.