Things weren't what they seemed on Royal Pains Season 8 Episode 3 as Hank flew off to Hong Kong on a mysterious mission with Boris.
I'm still not entirely sure I understood it all.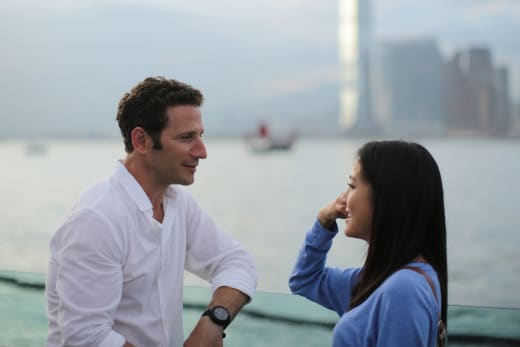 Boris was announcing that his company had developed a drug to combat his genetic disease, but up until this point it appears he's been successful at keeping his disease under wraps. 
Was it the competition for the drug itself that was driving all of the conspiracy theories? What does some foreign entity want with Boris' DNA? 
I loved it when Boris used Guy's own son as the switch for Carlos. Talk about a way to knock a man off balance and show him just how vulnerable he is, even if Boris meant the child no harm.
However, I was shocked when Boris appeared to hand over that blood sample so readily and relieved when that turned out not to be the case…but I doubt it will take whomever is after Boris' DNA  to figure out that the sample isn't his. 
Boris obviously has some idea who is after him, even though he's hoping his prediction is wrong. That means it must be someone close to him; someone he thought he could trust.
There are so few people in Boris' inner circle that I find the thought that one of them would go so far as to try to steal blood from the man's child truly disheartening. 
For a while I wondered if Amy Chang was the mole and just playing Hank in order to get information on Boris. Considering how quickly she ended up in bed with Hank, it wouldn't have surprised me but I suppose her character was nothing more than a ruse all along…and a way for Hank to realize that he's looking for more than just another fling. 
Hank knows that he wants a real relationship and he's not willing to settle for a half hearted effort from himself or someone else. That's progress. 
It was great to see Paige back and I loved it when she and Divya's plan completely backfired on them. Raj recounting his experience with invitro fertilization was both truthful and comical, even if it wasn't what Paige had hoped to hear. 
When Evan said he had already decided that he was willing to try IVF, Paige was dumbfounded and asked him why he hadn't said anything sooner. 
His response in this Royal Pains quote was every reason why I love Evan Lawson…
You're the one who's going to have to take all the drugs and have the procedures. This one had to be your call.


Evan
One question though, how does Paige stay so thin if she bakes that much whenever she's upset? Does she not eat any of it because it all looked amazingly delicious!
In other news, Jeremiah was completely MIA in this episode and I missed him. 
On the upside, Divya's pilot patient was super cute, although I could have lived without him cutting off his own finger. I had to look away or risk passing out the same way he did.
One more lovely episode of Royal Pains down and only five more to go. Check back next week for my review of Royal Pains Season 8 Episode 4 and if you can't wait for more, you can watch Royal Pains online here at TV Fanatic.
C. Orlando is a TV Fanatic Staff Writer. Follow her on Twitter.