Eddie returned to the Hamptons on Royal Pains Season 8 Episode 6 after hiding out in Passaic, New Jersey. 
Why go back to Hank and Evan's childhood home? Guilt, mostly. He feels guilty for abandoning his family all of those years ago and guilty for lying to them now.
And rightfully so.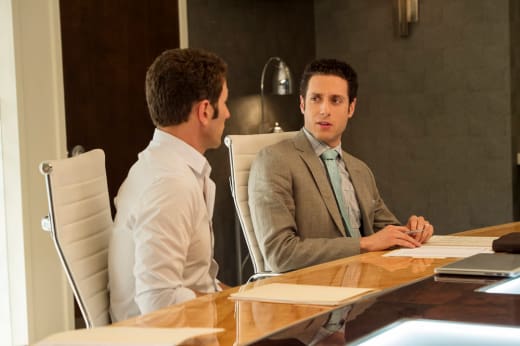 Yes, Eddie panicked and made a poor decision, and this time he was lucky that Hank was there to save him, which led to one of my favorite moments. 
When the receptionist at Passaic General Hospital asked Hank if the Hamptons was better than "down the shore," I couldn't help but laugh, because in Jersey, you never, ever say you're going to the beach. Anyone who has grown up in New Jersey asks if you're going down the shore.
Well played, Royal Pains, for getting it right. 
Eddie got off easy with Hank – and with his fiancée, who was not only willing to marry him but wanted to throw an even bigger wedding than before. I can't wait to see it. I'm just a sucker for a wedding episode. 
But Evan wasn't about to let him off the hook. When Eddie promised never to lie to his family again, Evan wasn't buying it.
As far as believing your promises, Paige and I are trying to start our own family right now, and when we do, my first promise will be to never let you near enough to hurt or disappoint our child.

Evan
I really couldn't blame Evan. For years, he was Eddie's ally, but time and again the man has disappointed his family. Evan's not about to let him do that to his grandchild, too. 
Evan and Paige's journey with IVF has been surprisingly well balanced in that it's shown the frustrations while still finding the humor and heart, as in this Royal Pains quote:
Paige: It's just so wild to think that some time soon, that some of your sperm are going to meet some of my eggs.
Evan: I know. I know. I hope they hit if off.
And when Evan asked their doctor if he'd ever been told that he sounded like a Bond villain, I had to laugh because I was thinking the same thing. 
Elsewhere, Hank lost his dream house when he properly diagnosed Felicity with syphillis. I'm sure her once-friendly divorce from her husband just took a very nasty turn. 
Jeremiah showed some serious backbone in standing up to Boris about his research. I couldn't help but cheer for him, and if he does end up with money and notoriety from his work, I say it couldn't happen to a more deserving guy. 
But Divya was still at loose ends as she hadn't heard from John Hopkins yet. I was a little confused by Raj taking a new job in Baltimore. What about his twins' mother? I'm assuming she lives in the Hamptons, although they haven't really discussed it.
Will the twins end up having to cross state lines to visit each of their parents, all so Divya can hopefully live out her dream of attending the school of her choice? 
I know it's a great medical school, but it all had me wondering if Divya's mother's words had more merit than she wanted to admit….
If you insist on having it all, you might end up with nothing.


Divya
Check back next week for my review of Royal Pains Season 8 Episode 7 and if you can't wait for more, you can watch Royal Pains online here at TV Fanatic.
C. Orlando is a TV Fanatic Staff Writer. Follow her on Twitter.