Turn: Washington's Spies Season 3 Episode 10 Review: Trial and Execution

Megan King at .
Better late than never, right? 
We waited three full seasons for Judge Woodhull to finally (finally!) choose kin over king and in Turn: Washington's Spies Season 3 Episode 10, he didn't disappoint.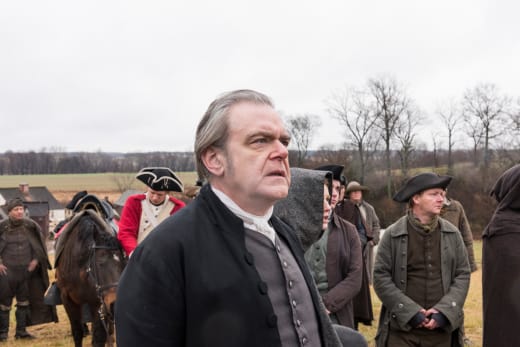 The best part of his choice (as much as I love Abe) was the look on Simcoe's face when he realized that the Judge was propping up his son's legs instead of pulling them down to ensure a quick death. 
Technically, it was the second time Abe escaped death after having a noose around his neck. The Judge also stopped the first attempt, insisting on holding a trial.
Now, Abe may not be a good spy, but he's a great BSer.
How many times this season has he talked his way out of no-win situations with Maj. Hewlett, Robbie Rogers and even Cpt. Simcoe?
In other words, he'd make a great lawyer. Which is perfect, because he would have to defend himself at the trial (against his father, who was the solicitor for the crown) to save his life.
However, Abe was suddenly mute during the trial. He was not interested in defending himself so much as bringing down Simcoe.
Mary refused to cooperate with the prosecution of her husband and she flung accusations at the elder Woodhull, too. (I guess she should be glad that the Judge didn't expose her misdeeds in open court as well.)
Abe unexpectedly confessed to the charges when he pondered his relationship with his dad.
My only regret is that I didn't commit them sooner

Abe
To the astonishment of his wife and father, he also admitted to being the one who started the riot which killed his older brother.
Simcoe gleefully pounded the gavel and everyone headed out the gallows.
After Judge Woodhull saveed Abe, he finally stood up to Simcoe, too:
Get out of my town, you pathetic amateur.

Judge Woodhull
In a parallel storyline in West Point, Maj. John Andre sat before a tribunal to determine his fate.
Yes, obviously I should have started with his tale, but I had to stop crying first!
Maj. Andre was a favorite, even after he cut off that wonderful tiny braid (which still made an appearance, clutched by his beloved Peggy). 
I started to choke up when Abigail cried "I'm sorry" into his shoulder and then he said:
It's not your fault.

Andre
Yes, it is Andre! The woman who is bringing you the fresh uniform in which you will die is the same woman who made it possible for you get caught in the first place.
The tete-a-tete between the two armies' intelligence czars was my favorite scene of the finale. It seems like sweet Ben Tallmadge has been surprised all season to learn that people are not what they seem.
His lover turned out to be a loyalist, his mentor turned out to be a traitor, and his man-crush GW manipulated his classmate Nathan Hale's final words to suit the Patriot cause.
During their ride to the gallows, Ben realized that Andre, too, was not who he thought he was. He learned that Andre wasn't reckless because of his commitment to the crown but because of his love for a woman.
As Andre prepared to die, he spoke his final words:
I pray that you bear witness that I met my fate like a brave man.

Andre
He caught Peggy's eye just before he dropped. 
I have criticized Peggy this season for crying and moping too frequently, but her steely gaze as her man stood with a rope around his neck had me finally feeling sorry for her (and tearing up myself).
I can't believe I was rooting for her later when Ben gave her a chance to escape before anyone figureed out her involvement in the plot.
Back in New York, a traitor walked into a bar. No joke. Culper Jr.'s bar.
After basically disavowing the spy ring earlier in the episode, Robert Townsend apparently changed his mind when Brigadier Benedict Arnold stood in front of him in a red coat.
Townsend's decision to place another ad in Rivington's newspaper set us up perfectly for Turn: Washington's Spies Season 4. Right, AMC? Right??
Don't forget you can watch Turn: Washington's Spies online anytime on TV Fanatic. See you next season. Right, AMC?!?
What did you think Turn: Washington's Spies Season 3?
Megan King is a staff writer for TV Fanatic.