BrainDead Season 1 Episode 5 Review: Back to Work: A Behind-the-Scenes Look at Congress and How It Gets Things Done (and Often Doesn't)
Carissa Pavlica at . Comments
Of all the people who might be able to fight back against the alients, I'd say the right person was infected to do it. 
We discovered on BrainDead Season 1 Episode 5 that I was all kinds of wrong about FBI Anthony, because he was most certainly infected.
No other guy is going to wash a girl's sheets in the middle of the night because of a wet mark.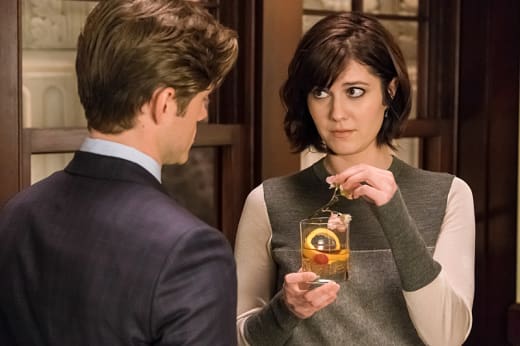 When the wet mark is made because half your brain fell out? Well, that's a different story.
Our trio of bug fighters took a step back and tumbled down a hill into a violent crash.
Is there any other way to describe one of them becoming infected themselves? I think not.
The step forward was Laurel, Rochelle and Gustav finally getting Luke's attention about the bugs -n- brains. He sent them to Margo Martindale, a renowned bug lady who haphazardly carried a bug or two back home with her after she and Gustav visited an infestation cluster.
At least they got to the point of understanding infestation clusters. Gustav was having so much fun! He was really in his element. 
But of course, it didn't last. As soon as bug lady was turned, she pulled the rug out of the bug fighters and Luke never wants to hear about bugs again.
But that was before Laurel was infected.
Anthony wasn't even any good at pretending to not to be infected. So far, the only people who are infected and are still somewhat normal are Red Wheaton and Ella Pollack.
Red always seems ornery and on the cusp of being either funny or mean, emotions that aren't quite easy to control, and Ella closely follows. Other who are infected are too in control and hardly what I'd call entertaining.
They're generally a bunch of bores. But oh, did I laugh at this line. I don't know why it hit me so funny, but I had to stop and wait for tears to subside. No kidding.
Laurel: But you drank before, at the bar.
Tony: And I shouldn't have. I was happy. But last night, I hit bottom. I just blacked out. Woke up with food in my ears.
The way that line was delivered, the "food in my ears" part, was off the wall. I was trying to imagine thinking you had had so much to drink you'd passed out and then layered raw bacon on your face. It still makes me laugh.
It might be enough to take any hit of humor you had right out of your personality. Or it might make you grab for the bottle to resign yourself to the fact you are not going to be able to put a stop to madness like that.
But back to Laurel. 
With all the concerns she had about Anthony and so many unknowns about the bugs, why would she take any chances at all? I would have duct taped those headphones to my head. No, that's not true.
The day I learned about this invasion, I would have bought earplugs and started using them. And noseplugs. If there are such a thing. Maybe I'd tape my mouth shut, too. Who needs to breathe?! 
But we've learned already there is a way to pull the infected back. It's by reminding them of everything human, digging into their memories. 
No doubt Luke and Gareth will both become important in that particular endeavor. Luke who doesn't want to hear the word bug, and Gareth who hasn't yet heard it. 
And if she's infected in some way, but not down and out, Laurel may be the key to stopping the whole group, because she'll be able to tune into particular wavelength over which they communicate and should be accepted among their group.
Do any of you think we'll lose her to the other guys? Does that even come into play? It doesn't to me.
Hit the comments and share your thoughts. And if you're missing out, you can watch BrainDead online to catch up on all the silliness.
Carissa Pavlica is the managing editor and a staff writer for TV Fanatic. She's a member of the Broadcast Television Journalists Association (BTJA), enjoys mentoring writers, wine, and passionately discussing the nuances of television. Follow her on Twitter and email her here at TV Fanatic.