Gilmore Girls: A Day in the Life - Amy Sherman-Palladino Worried about Spoilers
Carissa Pavlica at .
With the good comes the not so good.
Gilmore Girls creator Amy Sherman-Palladino is definitely excited to be back with more episodes, but she can't deny she's worried people will either spoil the journey of the characters for others or for themselves by getting to the finish line before it's time.
At the TCA panel today, she talked about her fears and excitement at about the release of Gilmore Girls: A Day in the Life.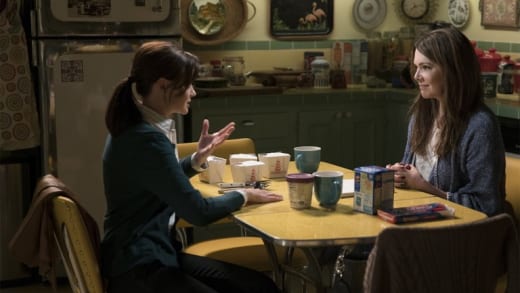 Those final four words that Gilmore Girls fans have waited an eternity to hear?
Yes, they will be a spoiler if you hear them out of sync with the rest of the series.
It won't behoove you to watch the last minutes of the four episodes first, nor to share those words with your friends (or Twitter or Facebook) to ruin the experience for everyone else.
"It would be great if people who wanted to see the last four words got therapy before it airs and got rid of that inclination, because it really is a journey," Sherman-Palladino said.
"It will mean a lot more if you take the journey and less if you flip to the last page. I hope people will take the whole trip."
In fact, she argued against having all four episodes released at the same time. She was quite adamant about it.
"I told them I'm going to hang myself with the shower curtain if put them all out," she said. "It was my hope to put them out separately, because I'm 1,000," she revealed.
She shared that "it's such a journey and a build to the last four words," and she just knew people would want to visit the end first and spoil it.
Sheman-Palladino laughed, revealing she doesn't have the ass she wants, either, so she'll take the good with the bad. 
She agreed that Netflix "is a wonderful place to create things in a different way, so the shower curtain will wait."
When they originally left Gilmore Girls, they thought they were done with the show, never expecting to return, never expecting something like Netflix to come along and offer up such a different platform for creativity.
"It's a different form; you're not writing to commercials or to sell soap or tampons," she said.
"We pitched exactly what we got," added EP/writer/director Dan Palladino. "With all streaming services coming up it's a new way for people like us, who are bored with the old ways, to tell stories."
Sherman-Palladino is really excited that Gilmore Girls is not a show about a teenage girl and her mom any longer, but two women who can sit around talking about their "sh*t."
And since their family, they never run out of it to talk about, and there is always conflict involved.
Gilmore Girls: A Day in the Life will drop on Netflix on November 25 at 12:01 PT.
Carissa Pavlica is the managing editor and a staff writer for TV Fanatic. She's a member of the Broadcast Television Journalists Association (BTJA), enjoys mentoring writers, wine, and passionately discussing the nuances of television. Follow her on Twitter and email her here at TV Fanatic.