Hell on Wheels Season 5 Episode 11 Review: Gambit

Sean McKenna at .
It's really not that surprising that there were going to be consequences for Durant's kidnapping plan.
I guess if you know some history or Googled information about Durant, you'd know he makes it to the end when the two railroads meet, but the flashforward on Hell on Wheels Season 5 Episode 11 took away any real suspense Durant would survive the ordeal during the hour.
Instead, it was his short-lived love interest, Maggie, that was shot and killed. I just wished I cared more about this sidestory.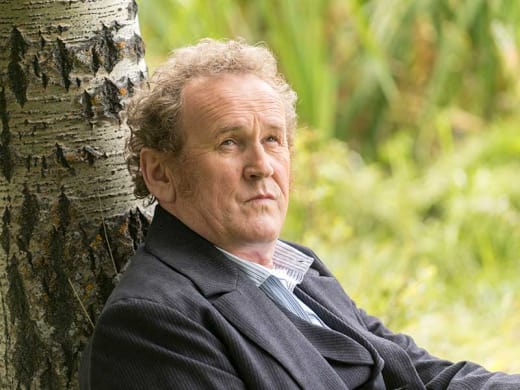 Much like Martin's death on Hell on Wheels Season 5 Episode 10, Maggie's death just didn't have an emotional impact. She was another minor character that didn't get a ton of screen time and seemed to be more of a plot device for Durant.
It's sadder that her character didn't get the time to really be developed, though the hour certainly highlighted her good nature and determination to help out a man she cared for.
Too bad Durant didn't really listen and quit his scheming like she asked.
And even in the future, Durant couldn't help but continue to focus on money and schemes. It's just who he was until his last breath.
Though, at least Mickey felt like something of a wildcard.
I wasn't entirely sure what he was going to do, especially when it came to dealing with his cousin. And I liked his proposal to head out and leave the area, even though he never followed through on it by the end.
It has been interesting seeing his rise in power and position since his introduction on Hell on Wheels Season 1, but remember when he killed his brother? And remember when he said all women were whores while trying to get extra handsy with Eva, who had just been raped, on Hell on Wheels Season 4 Episode 1?
Mickey clearly seemed to feel some guilt during the hour, even bringing up the death of his brother, but I'm still surprised that Eva was willing to have sex with him. Does she not remember what he tried to do to her before?
I know she was trying to comfort Mickey, but it just felt like an odd decision.
The aftermath of the kidnapping kind of left me scratching my head.
Though I was glad to see John Campbell again. I liked his antagonistic presence on Hell on Wheels Season 4, and it was fun to see a former character return. I wonder if this was a one-shot episode for him?
But wow was the absence of Cullen sorely felt. He truly does carry the show, and while he's off at a different area than Durant, keeping him out of the episode was a huge negative.
I'm far more invested in seeing Cullen's story, and not even weaving that throughout the episode made me wish the kidnapping would wrap up quicker.
I'm even surprised he was missing considering we're close to the end of the line for the show.
It's fine delving into the other characters, but this story involving Durant and the kidnapping just wasn't that exciting. I found myself not caring about the events unfolding and further recognizing that Cullen is the true lynchpin of this show. Without him, it's just not the same ride.
What did you think of Maggie's death? Did you miss Cullen during the episode? Sound off below, and be sure to see it all again when you watch Hell on Wheels online now.
Sean McKenna was a TV Fanatic Staff Writer. He retired in May of 2017. Follow him on Twitter.