Killjoys Season 2 Episode 5 Review: Meet the Parents

Henry A. Otero at . Updated at .
I'll be honest, I can't say I'll miss Pawter's folks even though they went out heroes.
Both teams spent time with their wretched parents, but we quickly realized the elders were being tough attempting to make their kids stronger. Was the time wasted worth it though? Killjoys Season 2 Episode 5 proved there's always room for forgiveness.
There were so many great comedic moments here. Man, I just love Johnny Jaqobis.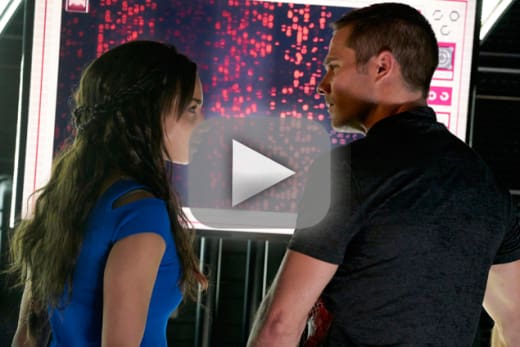 Sure, I realize the Killjoys still have to chase warrants while piecing together the larger mysteries of the Quad, but man those "voice-box" Skeever dudes were just plain nasty. Weren't they?
I was hoping this installment might pick up with Khlyen and Fancy Lee, but I guess they had to get the action sequence out of the way early.  
Since Johnny's scenes were going to take place on Qresh with Pawter and her parents, I was a bit worried this wouldn't be our typical action-packed Killjoys romp. Boy was I wrong. This episode was a freakin' blast!
Aaron Ashmore's comic timing during that formal Qreshi dinner was everything! Honestly, I don't think I've laughed so hard since the start of this series. Plus, we got the body-swapping stuff with Khlyen and D'av. Yeah, this one's right up there with my all time favorite episodes.
Anyway, so the Simms Estate was located on its own private island. Talk about... Rich!!! (In a high-pitched tone like Johnny). I'm not sure where production filmed those scenes, but damn that house was something else.
Apparently, Toronto's got its ostentatiously rich and luxurious homes as any other big city does. Here in South Florida, a palace like that is probably a museum and the city charges 20 bucks a pop to tour the gardens.
John was like a fish out of water in the most hilarious way possible.
Look here's what we're gonna do. You're going to get the order of exile rescinded and then I am going to take you to this little place on Leith to celebrate.

Johnny
Anyone else immediately fall in hate with Pawter's sister? Her tone was just so obnoxious and the fiancée... ugh! "Kinda short to be a scoundrel. Eh, big guy?" Hank teased Johnny.
Hey Michelle/Adam, why did the douche have to be named Hank? Here I thought you guys really liked me. Maybe he'd turn out to be a hero I thought to myself. Nope, Hank was this week's mustachioed villain. Hey, at least my name popped up on the show.
The kindest of the Simms dynasty was definitely Pawter's father. "It's good to have you home, Pawts" he told her. It was clear she was his favorite, though he was powerless to help her. Andrew Gillies' (12 Monkeys) time on Killjoys sure was brief.
Johnny enjoying a little skinny-dipping in the family pool was a trip. Adam Barken wrote some amazing stuff for John this episode and those were without a doubt my favorite moments. Aaron Ashmore nailed every single scene too.
Though D'avin and Sabine's conversation started as flirty, it quickly turned to his home planet Telen, "ringworld of the ass end of the J." Was Sabine seriously that intuitive or is she a Level 6? Did Khlyen plant her at the Royale to watch D'av? Now there's a cool little twist for you, eh?
Either way, five and a half minutes into the episode Khlyen was back. Not too bad. The Khlyen/Fancy team up's going to be interesting to watch. I'm glad Fancy hasn't lost his edge, even though one look from Khlyen was enough to quiet him down.  
Marris Jaqobis, we need to talk about your son D'avin.

Khlyen
From what we know about D'av and Johnny's dad, the guy was a piece of work. Still, you couldn't help but feel sorry for the guy with Khlyen looming over him. Whatever was going to go down, it was not gonna be pretty.
Would injecting their father with green-goo yield the results Khlyen was looking for? Not so much, but what about their mother? We haven't heard much about her.
As I mentioned earlier, the formal Qreshi dinner was my favorite moment of the hour. Aaron Ashmore's performance made me love Johnny even more, which I didn't think possible. The gong, the music, the awkward standing/sitting was absolutely brilliant. I swear my eyes teared up.
I can watch that scene on repeat and laugh like an idiot every single time. Thank you Adam Barken and Aaron Ashmore for that exceptional moment on Killjoys.
Then the "Lady of the Land" arrived and the fun was over. Tell me you didn't cheer when Johnny was informed there was a ritual for leaving and he said "Yeah but I'm not from Qresh, so I don't give a shit." You go boy!
Kaster shattering into a gazillion little pieces of ice surprised me. Why couldn't it have been Pawter's a-hole mother? Well, we soon found out. Was the Simms Estate under some kind of bio-attack? Yup! Can you believe Pawter cut her sister's arm off? Ouchie!
D'avin came clean with Dutch about fainting and seeing green-goo just as Khlyen tapped into his mind again. Freaky Friday time!!!
How cool was their body-swapping stuff? I loved seeing Luke Macfarlane channel Rob Stewart and vice versa. Khlyen strutting around like D'av was pure awesomeness. Seriously, can this show get anymore fun?
Dutch: I'm not going to let D'av's body die because you don't care about him.
Khlyen: On the contrary Yala, I care about him very much. That's why I'm here.
Khlyen informed Dutch that D'avin resisted the plasma and ultimately figured out how (the military implants). It's a shame the body-swap didn't last longer, perhaps another episode or two? Then again, too much of a good thing would get old. It was just so much fun dammit.
Other important bits of information came to light as well. Khlyen controls The Black Root, but they're rebelling? He also told Dutch she'll get her answers by unlocking the RED 17 transmission and that she wasn't the young girl on Arkyn killing scarbacks. What the hells? Any theories?
Pawter's mother infecting herself was a twist, but not more so than the fact she created the damn pathogen. What?!?
Yes, the "Lady of the Land" went out bravely and we got a real sense of her sacrifices as head of the family. She was hard on Pawter to make her a strong leader, but in the process lost so much time with her daughter.
Speaking of which, the other daughter, Louella, was smarter than she seemed. The diving suit was a wonderful idea, and Johnny had the cojones to go out in that smog to neutralize it. Hank was definitely a "massive dickhole." I was hoping Johnny would take him out painfully, but it was Pawter's dad who had the awful death. So much for the light-hearted fun at dinner, right?
In the end, Pawter lost both her parents who died heroes protecting their family. She took her rightful place at the head of the Simms clan and can now make a real difference. D'av protected his family as well, sparing his father who we realized was just toughening up his son. A lot of that going around in the Quad.
That hug between Dutch/Johnny, her words "you're my gravity" and his face tells us there are some rough times ahead for their little family.  
What did you think of "Meet the Parents"? Were you surprised Pawter's folks died? Did you have a feeling Dr. Jaeger's implants caused D'av's immunity? Will Khlyen track her down? Your turn ladies and skeevers, sound off in the comments and share your thoughts below.
Tons of important revelations, guys. You may want to watch Killjoys online via TV Fanatic to make sure you caught everything.
NOTE: Killjoys Season 2 Episode 6 is titled "I Love Lucy" and airs on August 5.