Oh Audrey, you had so many chances to tell Emma the truth before she found out another way. 
Of course Audrey should have told her sooner, but really, making that call to Noah was what really screwed her. 
If she hadn't made that call, maybe she would have had time to finally tell Emma her side of the story on Scream Season 2 Episode 8.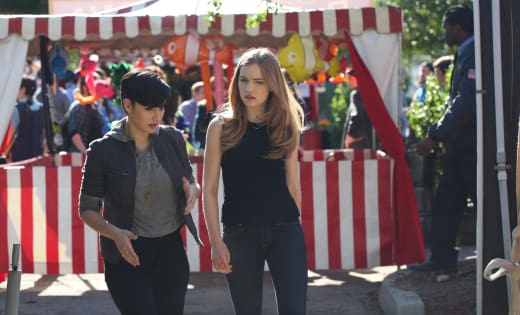 Poor Noah is doing everything right and it is just not happening for him. Well, everything except turning his phone off, or at least putting it on silent. He learned from last time and locked the door at least. If he gets a next time, he'll remember the phone. Baby steps, buddy.
He and Zoe really do make an adorable couple. The bow tie and the cotton candy bouquet to match her dress were nice touches. Thank goodness she didn't go with that god-awful yellow poofy thing. 
This is the stupidest, most insane thing ever. Having a carnival after everything that's happened in this town?

Gustavo
Did anyone else feel like maybe they should have saved the carnival for the finale? Sure it's cliche, but it also felt a little anti-climatic with no major death other than the cop protecting Emma. And come on, we all know the minor cop character always dies.
We also knew we weren't finding out the killer this early, so the mask being pulled off a duct-taped Kieran's mouth was a bit of a let down. 
Of course, that doesn't mean the killer isn't Kieran, but if it is him, that was a pretty elaborate scheme to throw everyone off his trail. I'm still not crossing him off my suspect list. 
As for the other suspects, well, we're learning everyone has a past. Kieran came clean about the night his mom and step-dad died, but it still doesn't completely explain all the bad blood between him and Eli. 
Speaking of Eli, they're really laying it on thick against him, which almost definitely means it's not him. But, at this point, so many characters feel "too obvious" to be the killer that it could really be almost anyone (or anyones). 
Seriously though, they're basically spelling it all out for us, not even giving us a chance to connect the dots on our own. Eli has a history of breaking into girls' bedrooms, and oh wait, someone just broke into Audrey's. Gee, could it be him? 
Gustavo is another obvious suspect, and we learned he may have "accidentally" killed someone back in Phoenix. I know I'm curious about that drawing of Branson tied to the bed.
Maggie's back on the case and we have confirmation that Branson actually did die this time, after miraculously surviving up until the fire. 
I figure Miguel putting her back on the case is his way of admitting to himself that he's too close to it now too, which is why he took her off in the first place. If Gustavo doesn't turn out to be the killer, Miguel is going to have some grovelling to do. How do you get past your dad accusing you of murder?
If he's innocent, Gustavo also may want to start watching his back. The men in Brooke's life do not have the best of luck. 
Audrey: Is she drunk?
Noah: Either that or she's recently suffered a blow to the head.
Emma: She's drunk.
The drunken pageant speech and mic drop was mostly just hard to watch. She's falling apart, and not really making the best decisions. Leaning on Gustavo probably isn't the way to go right now. I can't imagine how she will react if he winds up either dead or being the killer. 
Will Emma give Audrey a chance to explain? Will Noah figure out Zoe was the one to send the file? Something tells me relationships are going to be pretty strained on Scream Season 2 Episode 9. 
Don't forget you can watch Scream online any time!
Stacy Glanzman is a staff writer for TV Fanatic. Follow her on Twitter.