There was a lot of interesting conversation at the Supernatural panel at San Diego Comic Con this Sunday.
First up was a bit of casting news. There's a new face that will be around at the beginning of the season.
He's new to the show, but looks a bit familiar. Rick Springfield will be a down on his luck rock star named Vince Vincente hosting Lucifer for a bit.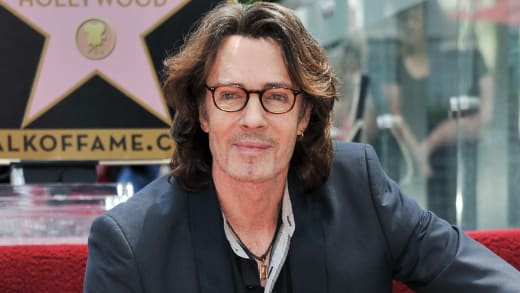 Robert Singer said in talking about Lucifer trying out hosts, that he needs a "really strong vessel, like Sam or Castiel..."
So this was one rock star who may not have been ripping his body to shreds in his line of business.
"The first vessel that [Lucifer] feels comfortable with," Singer went on, "is a rock star who's a little bit on the down side who's trying to come back."
Meanwhile, and I doubt this will be a surprise for anyone, but Sam's alive!!
"Thankfully, Sam Winchester is alive," Jared Padalecki said. "Because he's not a lose-chester."
During Season 12, they'd dig into who shot Sam. That person is a member of the British Men of Letters.
"We find out more about the Men of Letters and their worldwide society," Padalecki said. "We'll learn more about what she wants and what they want."
"Obviously she and Sam didn't start out on the right foot. From the looks of things in the promo, [Sam is being tortured], we see they're not off to a great start, but we don't know why or what happens."
For the first time, Samantha Smith (Mary Winchester) was on stage and this drove a lot of conversation.
"It certainly presents a dynamic that we haven't had ever," Jensen Ackles said.
"The interesting thing is when Mom left, Sam was a baby and Dean was a child. The children that she knew are now men, so the relationship was nonexistent."
"It's going to be an interesting situation of them trying to bridge that massive gap that occurred over the past 30-odd years." "It also brings into question how is she going to plug herself into their lives? Is that going to leave the brothers vulnerable?"
"We find out more about what family means and how you become family," Padalecki shared. "Sam and Dean with their mother are starting anew. Does blood make you family, or is it more than just DNA?"
"There's a lot to consider," Smith said. "Being dead, now alive with a big gap in the middle."
"My sons are now older and taller than I am. I've always loved Mary and to be able to experience her from a whole different perspective is incredibly fun for me."
"To not just be passing through as a ghost is actually really fun. It could go anywhere, so I'm having a good time with that."
Meanwhile, Cas is getting a bit of his old self back. Misha Collins weighed in.
"Cas is back to a little bit of Cas from Season 4. He's angry, and he's in a fighting spirit. He's after Lucifer."
"Now that Mary is back, he's also tattletaling a lot."
"We've still got Lucifer out there, so there's a hunt for Lucifer," Singer said, noting that this season is going back to basics. "You don't get bigger than God. "We can't top all that, so we're going to try to get back to basics a little bit, tell smaller stories. Some good old-fashioned horror stories."
Carissa Pavlica is the managing editor and a staff writer for TV Fanatic. She's a member of the Broadcast Television Journalists Association (BTJA), enjoys mentoring writers, wine, and passionately discussing the nuances of television. Follow her on Twitter and email her here at TV Fanatic.