The Fosters Season 4 Episode 5 Review: Forty

Jasmine Blu at . Updated at .
What a truly delightful episode of The Fosters!
The serious tone of this season has taken its toll, so the lightheartedness and fun of The Fosters Season 4 Episode 5 was genuinely refreshing to watch. The Fosters is at it's best when it's the perfect blend of family angst and feel good moments, and the episode was certainly full of them.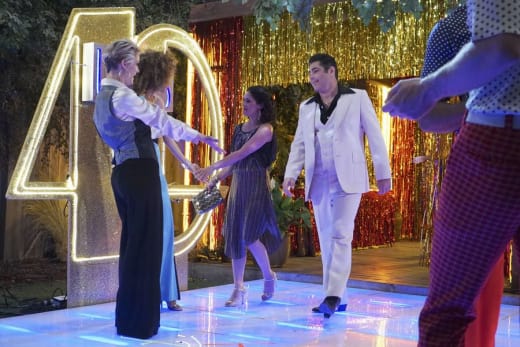 How awesome was Lena's 40th Birthday Bash? A 70's themed retro party was a perfect fit for a family that is affectionately referred to as "The Gaydy Bunch" across the interwebs. Thank God nothing truly horrific happened to ruin the fun!
How adorable was every single one of them in their 70's outfits? They were the cutest, and it made me genuinely want to join the party. What does it take to be an honorary Foster? They always seem to have room for more people.
Dana: I'm sorry where does Brandon live?
Mariana: With his married girlfriend and her three year old son.
Stef: Mariana!
Brandon: She's getting a divorce.

Let's back things up. The theme of the night was Mariana and her inability to stay within an inch of her lane. She blabbed everything there was to blab. It's one of her least appealing traits, but for the most part it seemed to work out in her favor.  
Kudos to Jesus, with an assist by Mariana, for spilling the beans to Lena's parents about Brandon. Lena has been complacent and Stef needed some support. Stef and Lena's mother both tend to be extremely  protective and very outspoken. Sometimes they clash, but the best times are when they come together.
Courtney: Nice to meet you. I've heard so much about you.
Dana: Really? Well all I know about you is you're a young married mother allowing your high school boyfriend to pay for your divorce.
Lorraine Touissant is amazing and has a way of making every episode she's in all the more enjoyable. Dana was already stressed dealing with her suspicions that her husband was cheating on her. She didn't waste any time taking some of that out on Courtney. I didn't hate it.
As sure as the sun will shine, Brandon Foster will make mind-numbingly stupid decisions. It was cringe-worthy enough watching Stef attempt to be the bigger person, only to stumble across that check. There will be another storm on the horizon when she finds out he took the SATS for someone.
What the hell is he thinking? Contrary to the tone of the reviews this season, I actually do like Brandon. He used to be one of my favorite characters, which is why it's so difficult to accept this irritating character he has become. He needs to make a turnaround.
Mariana: So I was thinking, you should join S.T.E.M. Club.
Jesus: You're hilarious.
Mariana: No I'm being serious, you should join the robotics team. I think you'd be a great asset:
Speaking of a turnaround, Jesus has evolved and developed quite nicely over the past season and a half. He is no longer a one-dimensional character who revolves around girls and sports. His storylines have meshed well with the rest of the family, too.
The suggestion he made to Mariana's Robotics team was great. The way Emma treated him was not. I was proud of him for ending things with her and recognizing that their situation was not working for him.
The nod to Jesus' learning disabilities and the insecurities he has as a result of them, was subtle. but appreciated. Hopefully he does join the S.T.E.M Club. It will boost his confidence and improve his grades.
Mariana and the all girl robotics team kicked butt!  It's great that the show is joining the initiative of encouraging girls to get into S.T.E.M. The fight against gender bias in those fields is a worthwhile one. 
You invited Gabe?

Mike
Can anyone blame Mike for being jealous and a bit intimidated by Hot Gabe? Gabe looked ridiculously attractive in his Bell Bottoms. Gabe has been a great addition to the show and watching him slowly but surely get pulled deeper and deeper into the Foster clan has been a treat.
He has come a long way from the standoffish curmudgeon with a dark past. He desperately needed a family of his own and he found one. Jesus and Mariana needed the opportunity to know their birth father.
Gabe and Anna rekindling their relationship felt like an afterthought. So Mike didn't have a reason to worry about Anna. They both love each other and are a match made in heaven. Mariana spilling the beans for the umpteenth time in an episode worked out just fine. 
Alright, cuteness overload. You two, get together. C'mon.

Taylor
Mariana nearly cost Jude his new relationship with Noah though. Jude lying about being in a relationship with Noah to make Connor jealous was understandable though a bit misguided. Noah is in a tough position being the the son of a pastor and always under scrutiny and criticism. 
The fact that they were able to discuss it and move on quickly, was a promising start for a new relationship. Taylor has been quite the successful matchmaker. Mariana was right. Those two need an adorable mashed couple name. 
Callie's latest quest to rescue someone has fortunately taken her away from Brallie drama. Unfortunately, the writing is on the wall that Aaron is interested in her. He flat out said that he wanted to help her even though she's unavailable but it doesn't feel genuine. 
Callie's former foster brother Kyle, comes across as a decent guy in a very horrible situation. The clock is ticking down and Callie is afraid he won't make it in an adult prison. Hopefully the weird one-sided sexual tension between Callie and Aaron will take a backseat and the two of them can help get Kyle out of prison. 
What did you guys think of the episode? Does anyone have any shipper names for Jude and Noah? How long do you think it'll take before Brandon gets busted yet again for doing something stupid? Does anyone else want to be an honorary Foster is it just me? 
Hit up the comment section with your thoughts on the episode. Tune in next week for a new review. Don't forget you can watch The Fosters online! 
Jasmine Blu is a senior staff writer for TV Fanatic. Follow her on Twitter.