Finding an equally beneficial common ground with your most notorious enemy during a time of crisis can often times appear too good to be true.
Leaders often understandably strive to soothe their conflicts with their foes, in order to prevent a devastating conflict.
However, officials' mutual understanding can ultimately prove to be a false cover, if their rivals instead take a selfish action to secure their own success. During The Last Ship Season 3 Episode 5, U.S. President Jeffrey Michener, CO CDR Tom Chandler and their fellow officers unsurprisingly discover that harrowing turn in alliances.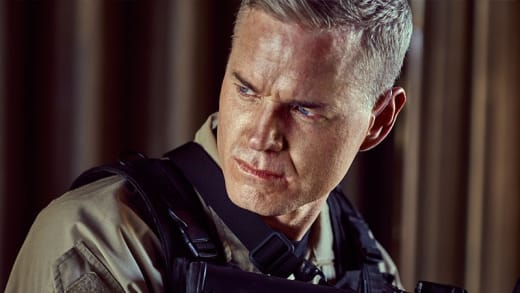 Throughout the current season so far, the U.S. Commander-in-Chief reasonably believed that he had the support of the Regional Leadership Committee as he commendably strived to support his citizens' reconstruction of their territories.
Tom, the temporary captain of the Nathan James, also understandably assumed that with his latest alliance with Chinese President Peng, he could safely pass through Asian waters. He's relying on that protection to harmlessly search for the ship's permanent commanding officer, Mike Slattery.
President Michener is initially open to the idea of welcoming the leaders of each of the current American territories into his office in St. Louis. He wants to inform them on Tom's mission in Asia, and how it will impact the lives of their citizens.
But the members of the Regional Leadership Committee soon appear ungrateful as they begin to question the Commander-in-Chief's decisions. They inform him they won't be able to control the public's reactions to his ideas, to which President Michener grippingly reminds them that it's their job to soothe the citizens' concerns.
Get a handle on your people.

President Michener
Meanwhile, Tom and the rest of the crew aboard the Nathan James rightfully feel confident as they begin to sail towards where they believe Mike and his team are being held hostage by Takehaya.
But when the series' protagonist and his fellow officers discover the mines that have been placed underwater in the ship's planned path, they disappointedly realize their seemingly new alliance with President Peng won't protect them in the international borders.
They must determine the best course of action to take in order to protect themselves, and how their decision will ultimately impact Mike and his crew. But Tom and his officers refuse to give up home, and heroically won't consider plans to abandon their vessel right away.
Has anyone talked about evacuating the ship while we still have time?

Sasha
Lieutenant Kara Green, who's also a vital member of the team that's determined to bring the Nathan James team home safely, is also enthrallingly facing a vital predicament.
She's struggling to remain calm in her duties as a Combat Information Center Officer, particularly in deciding how much information she should make public.
Kara is once again pushed to her limits by news reporter Jacob Barnes, who she seemingly formed a mutually prosperous professional relationship with during the events of The Last Ship Season 3 Episode 4.
The lieutenant is enthralling optimistic that she can garner support for President Michener during news reports, particularly with the reporter's help in his broadcasts.
But Jacob's questionable loyalty to his new source in the president's office is grippingly brought to light when he callously uses Kara's kind nature to his advantage. He only agrees not to broadcast his latest report if she can guarantee him an exclusive interview with the president within the next 12 hours.
Kara: Where did you hear that?
Jacob: So it's true. Judging by your reaction, there's no good news.
The seemingly established bonds that have formed throughout the beginning of Season 3 have intriguingly already begin to shift, as the American and Asian leaders and public figures have already begun to start serving their own needs.
The characters in the sci-fi drama series' current third season have interestingly started questioning each other, as a result of their selfish drives, which has put the world's safety in jeopardy again.
What did you think of The Last Ship Season 3 Episode 5? Share your thoughts in the comments below!
Want to catch up on the first two seasons, and stay current with the third season? You can always watch The Last Ship online right here via TV Fanatic!