The Night Of Season 1 Episode 4 Review: The Art of War

Carissa Pavlica at .
The new and improved (free) lawyer was absolutely worthless.
It's not that she was expected to do much for Naz, but the overall incompetency of big firm Alison as shown on The Night Of Season 1 Episode 4 was still a little bit difficult to swallow.
And yet, it's probably not at all unique that a prisoner at Naz's level never meets with their attorney face to face, is treated like meat, and in a system where truth means so little, is used as little more than a bargaining chip so the players can carve out another notch on their belt.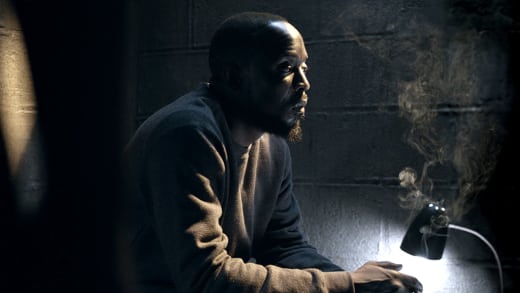 When you look at Alison and Jack side by side, there's really no comparison. Sure, Alison is all gussied up in a suit, but cleaning up nice means nothing. Less than nothing in this case.
The only personal connection to Naz's case came from Chandra. It was to Chandra that Naz's parents identified and with Chandra that Naz himself felt like a human being. That is not a good selling pitch for Alison nor her firm.
Of course, it's highly doubtful she has ever had another client like Naz, so why would she want his endorsement anyway?
She didn't meet with him until moments before they were scheduled to appear in court. Alison didn't take his thoughts or concerns into consideration. Not only on that occasion, but on any occasion in which she was involved. She bartered a plea bargain without ever having a full discussion with him.
Even during the two minute plea bargain process with the DA, Alison managed to get the plea raised from manslaughter one and 10 years to manslaughter one and 15 years. How piss poor of an attorney do you have to be to do that?
There was not one competent thing Alison did while representing Naz, and she had the audacity to insult Jack during court, as well.
Judge: Prepare for what? This isn't his trial. You'll have plenty of time to prepare. And it's not as if he didn't have professional counsel before.
Allison: Excuse me? Professional counsel? He had John Stone. [laughter]
Judge: Ms. Crowe?
Allison: Your honor?
Judge: Not in my court.
Jack, though, was still thinking about Naz and his case. He had new clients, but they were idiots. You could tell Jack missed the candor he received from Naz when they spoke, as he had a difficult time not rolling his eyes at the crazy story he was being told while investigating a new case.
Where Alison is a hands off attorney, Jack is hands on even off the case. 
He's a man of the streets. He's out there, in the thick of it. He may not have had his big break, but something tells me that even on his smaller cases, he's sniffing out clues just the same. He's known virtually everywhere. That doesn't come from sitting in an office.
He's respected for the job he does because given what he does, he does well. 
So the opportunity he was given with Naz piqued his interest. He can't let it go. He attended Andrea's funeral. He examined everything and followed up on leads. She was at a rehab clinic, so Jack checked it out. He even sold what information he bought to Chandra for Alison's defense.
Not that she used it.
Alison never intended on actually representing Naz. She was in it for the high profile nature of the case. Anyone who dares go in front of the camera with her client's parents standing beside her only to call them "one of the most reviled ethnicities in America" has one strange agenda.
Naz was learning the score from a bunkmate in Rikers. I never learned the guy's name, but at first he seemed cool. That didn't last the whole hour. 
Some of what Naz learned from him was fruitful, but it was what he learned about Freddie that will probably be the most helpful.
Freddie continued to look out for Naz, even providing him with a navy blue set of prison garb to use to attend court. Naz wore them, even if he worried a bit about accepting the favor from Freddie not knowing what these favors meant.
As of now, it's not as nefarious as we might have let ourselves think. The thing in his room of which Freddie is most proud is his high school diploma. It's real. He earned it by attending school and studying. He enjoyed learning and considers Naz a care package for his brain. 
For a moment, it's easy to see both Freddie and Jack in the same light. Mostly surrounded by idiots who are unable to challenge them, through this bizarre twist of fate, Naz is in their lives and they're not going to waste the opportunity.
In return for what Naz may be able to offer Freddie by way of stimulating conversation (or who knows what else), Freddie offers his support, but Naz has to ask for it. 
Naz doesn't want to ask for it, and the dude sleeping next to him knows it. Using that to his advantage, Bunky throws boiling water and baby oil all over Naz, burning him severely. Somehow I don't think Bunky's name will be useful for much longer.
But was it just me, or did Freddie seem somewhat disillusioned when Naz did, eventually, go to him seeking his help? It was almost as if he was holding out hope that Naz may be able to use his smarts to survive inside. Maybe if Naz had been a street savvy kid outside he could have parlayed that into something beneficial inside, but not given what little he knew about the world going in.
With Alison sitting before Naz's parents pointing out that a real attorney (anyone who is going to do more than nothing, really) actually costs money, I see the future of consisting of Chandra and Jack partnering up to work on behalf of Naz.
They're of like mind, and it's from someone like Jack who Chandra could really benefit. And Naz could do the same from their partnership. I'm looking forward to my theory coming through and all of them benefiting, and we, the viewers, as well!
When Chandra talked to Naz as a human, forcing his hand to tell the truth when asked what he remembered about the night of the murder, it was enlightening. Can you imagine being in that spot in court? Could you make something up to take the plea?
And yet, I really got where Jack was coming from when he told Naz to take the plea. I would kill to be 35 again, too. I wouldn't have said that at 20, not in a million years. But I never thought I'd be on this side of 35, either. Life is really effed up, you guys.
All of this means I didn't pay too much attention to the clues involving the case, but there was a graveside argument, stints at rehab and even more of a hint from Box that he'd like to see the case go to trial. If he wants it to go to trial, that tells me he isn't allowed to investigate further, but hopes others do.
I'm with Box. I feel a lot like Freddie. The Night Of is a care package for my brain. A gift from the Gods, to use another popular saying of the evening. I'm enjoying the thought provoking viewing very much. How about you? Jump in, comment on all of the events of "The Art of War." 
Carissa Pavlica is the managing editor and a staff writer and critic for TV Fanatic. She's a member of the Critic's Choice Association, enjoys mentoring writers, conversing with cats, and passionately discussing the nuances of television and film with anyone who will listen. Follow her on Twitter and email her here at TV Fanatic.