Wayward Pines Season 2 Episode 9 Review: Walcott Prep

Stacy Glanzman at .
OMG. Kerry is Jason's mother?!? Ewww. Thank goodness they couldn't reproduce. 
Seriously guys, that reveal on Wayward Pines Season 2 Episode 9 was something I never saw coming. 
I wondered if anyone from Wayward Pines Season 1 would make it out of this season alive. It looks like Adam will be the sole survivor.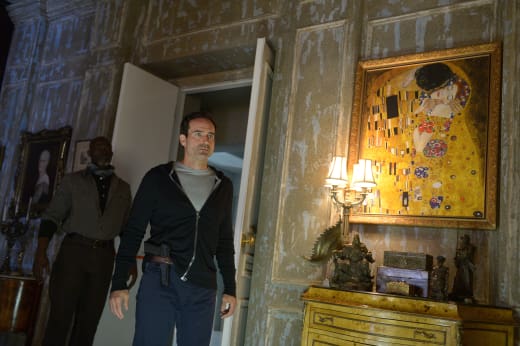 Of course there's no guarantee of that, but I don't expect to see him again. 
Theo used his power of manipulation on Kerry to try and get her to turn against Jason. It didn't work, but in the end she had no choice but to take him out anyway. Jason attacked her first, and as she told Pilcher in the flashbacks, she knows how to survive. 
So, what happens now? 
We have one episode left and Jason is dead. Margaret is hanging on and rallying up her troops. Will the town go through with the plan to go back to sleep, or will they stay and fight?
If they choose option one, who gets to live? Now that Jason is dead he won't be making the decisions. I really can't tell what Theo's ultimate plan is. 
He approached Xander to ask him for help, and Xander asked for his plan, but of course they didn't let us in on it. I do find it odd that part of the episode description was that Xander and Theo put aside their differences for the good of the town, and we only actually saw them in one scene together. 
I definitely thought there was going to be more of them actually, you know, working together. 
I guess it all happened off screen? 
Defectives. Don't forget the defectives. And I suppose you mean by that the physically disabled, the mentally diminished. I guess in your calculus that's the easiest call to make. Of course, if someone is unwilling or unable to reproduce certainly they're a defective. I mean that's simple right? That's black and white. You can or you can't. Unless of course, that defective is someone you love.

Theo
Jason's solution was to go back to sleep and wait out the threat of the abbies. Seems simple enough until he finds out there are only enough pods for roughly half the town. Jason wants Theo to help him weed out candidates by going through their medical files. Theo believes a lottery is the only fair option. 
The First Generation's uniforms were always symbolic of the Nazis, and Theo brought up the comparisons again when discussing who Jason would save and leave behind. It's a tough dilemma, especially when the survival of the human race is at stake. 
Personally, I hated the book Animal Farm when I was in high school, but I can appreciate the similarities. But, Jason is gone now, so we will just have to see how the town proceeds from here. 
The way those abbies were gathering, I'm not even sure they have enough time to get people back in the pods. Fighting may be their only option. 
If they all stay behind and fight, they risk extinction. However, there is strength in numbers, and they have a much better chance at winning if they stick together. 
What will they do?
Going back in the pods would be boring, so I have to assume that's not going to happen. Who wants to watch that? 
I'm still not ruling out some sort of peace treaty between Theo and Margaret. He made a connection with her, and with Jason out of the picture, I could see them calling a truce. 
With no word on a pick up or cancelation, i can't help but worry that Wayward Pines Season 2 Episode 10 will end on a cliffhanger. I'm not opposed to a renewal, but I'd really like to see a satisfying ending either way. 
What do you guys think will happen? How will it all end? Who else will die? Hit the comments with your thoughts!
Get ready for the finale and watch Wayward Pines online!
Stacy Glanzman was a staff writer for TV Fanatic. She retired in March, 2019.