BrainDead Season 1 Episode 6 Review: Notes Toward a Post-Reagan Theory of Party Alliance, Tribalist, and Loyalty: Past as Prologue
Carissa Pavlica at .
I've never been so proud to be a fan of The Partridge Family.
I bet you never thought David Cassidy could bring the sexy like he did with #Laureth on BrainDead Season 1 Episode 6, did ya?!
Sometimes the old, kitschy and tried and true really work. That scene was so much fun it's kind of hard to care about the rest of the hour. Can't we watch that one on a loop?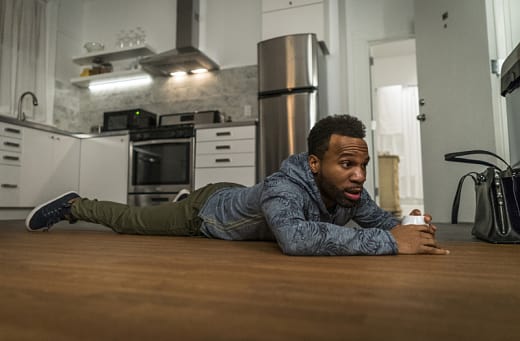 Everything about it was perfect. 
Laurel was struggling with the bugs in her ears. Gustav and Rochelle were on hand trying to brain them out of her.
That Gustav is one smart fella. He's been a step or two ahead of everyone the whole time. If they had continued trying to get Laurel to think logically, her head may have exploded.
Of course, he was also the one who closed the door in Gareth's face when he arrived, so he's not perfect.
I'd love to know what made the writers think of that particular song when Laurel finally, drunkenly, turned to Gareth and started speaking the words and then singing "I Think I Love You." Rochelle picking up the chorus behind Gareth, almost as a question, made me giddy.
Poor Gareth had no idea what he was getting into, and no idea why he was getting into it. There before him was the girl he's been crushing on, incredibly turned on, singing and then noshing on a whole salami and chocolate bars while they had sex.
And all he wanted was to be the guy to take her on a date, drop her on her stoop, kiss her on her cheek, call her too soon, feel awkward and be razzed by his friends.
It didn't matter. The chemistry between Tveit and Winstead was off the charts for all of their scenes, and whether they got there the traditional way or the weird one with an assist of salami and chocolate, it was well worth the wait.
Kudos to Laurel for thinking of her friend, Stacy, even if that ship has long sailed. The key is to catch the bug brains before they're gone. The window is barely open.
Did you hear Stacy's head when whatever overtook her knocked on it? Yikes. It sounded like a big, hollow coconut. Not that I've ever heard a human hand knocking on a big, hollow coconut, but you know what I mean.
NotStacy revealed the alients consider the government gone. They don't really think they even have an issue moving forward, so Luke is fighting a losing battle. 
If the gerrymandering continues and the alients (I'm using the term even for the human versions going forward...so Red) continue to use tactics like animal testing against people like Ella, then they're probably right. There won't be a government again.
It's like Luke is the only fish swimming up stream. He might as well just turn around and swim with the current. Or go home. But he's not going to do that.
Our intrepid team will find a way to use what they know to their advantage. But how?
Gareth is about be informed of the secret. If he hadn't just had salami sex with Laurel, he might be hard to convince. He's academically vulnerable at the moment. He might believe just about anything if it means he can make what just happened a little less weird.
I just had sex with Laurel while she ate a whole salami and chocolate before passing out on top of me. Oh, but it's because bugs were eating her brain. Whew! OK. NOW it makes sense. Drink please!
What song will Gareth sing to show he's on board with the whole mess?
Please don't let it be "You Might Think" by The Cars! That comes from outer space kids, the Draco Constellation, to be exact. Was Luke right when he spotted constellations in Laurel's crop circles map? 
Are ALL crop circles constellations? Are we supposed to know that? It's interesting.
I'm looking forward to what comes next on BrainDead Season 1 Episode 7. How about you? Were you all mushy with the Laureth sexy scene? Or are you more on board for the politics and alients? Hit me up!!
Don't forget, you can watch BrainDead online from the very beginning if you want.
Carissa Pavlica is the managing editor and a staff writer for TV Fanatic. She's a member of the Broadcast Television Journalists Association (BTJA), enjoys mentoring writers, wine, and passionately discussing the nuances of television. Follow her on Twitter and email her here at TV Fanatic.