These kids are obviously stupid. A ouija board when you already know you're being haunted? Really?
Dead of Summer Season 1 Episode 6 finds Deb and the counselors stricken with grief after Cricket's "accidental" death, though no one really believes that story.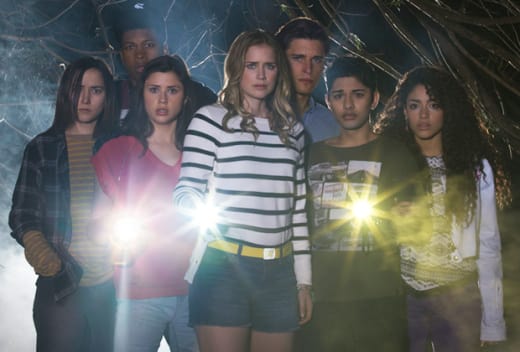 Cricket's death was so unexpected and so sad for those of us who loved/related to the character, but her death certainly brought about the next step in the Camp Stillwater mystery.
The hard truth is the quicker people leave us, the harder it is to say goodbye.

Garrett's mother
Unfortunately, we finally found out Blotter ended up in a similar position as Cricket as we saw his head being buried on top of the counselors' Cricket relics. At least they're in heaven together now, right?
Poor Amy. Poor Deb. Poor everyone. (Except you, Jessie.)
Blair's attempt to contact Cricket worked, but at a price. Amy was the one possessed, which doesn't surprise, and Cricket passed the message of her murder, but also her after-death torment.
Holyoke, the man haunting them all, really, really, really wants Amy dead, and he used this possession opportunity to try and slice her throat.
Amy is the portal or something to the other side? What did this poor girl ever do to you?
Is Holyoke trying to protect the camp from the demon in the lake? Amy almost made contact with it, and everything seemed to be fine during Deb's time at camp.
But with Jessie's possession, and her helping Garrett piece together more of the puzzle, will they be able to solve it in time before the murder pentagram is complete? Three down, two to go, four episodes left.
Seeing as, if the show is renewed, Season 2 would pick up in a new era with the actors as different characters (yes, including the ones that have been killed off), it's likely the Camp Stillwater story will end, but how?
Will everyone just die and the demon win? SO MANY QUESTIONS.
Anyways, meanwhile, Deb is visited by a ghost from her past. Literally.
Her ex-boyfriend from her summer at Camp Stillwater 19 years previously, which she never got over even through her marriage, overdosed the last time she saw him, and he broke her heart.
That's the reason she came back to the camp. With him, like they'd always planned. It's quite sad really.
But, as we found out he was a ghost, he forewarned Deb of a coming darkness to Stillwater, and refused to let her join him because she has to save the kids.
You want to see the world, Keith. I think I want to try and save it.

Deb
She wanted to save the world, so maybe saving all these innocents will be worth it?
The guilt from Cricket's death ate at her more than anyone else, which is understandable given the circumstances, but what's not understandable is why this camp hasn't been shut down?
Y'all had two murders already, send the damn kids home. Save yourselves!
The hard truth is the quicker people leave us, the harder it is to say goodbye.
It seems Garrett is going down a path similar to his father's obsession with the curse of Camp Stillwater, which we'll probably see more of in his flashback episode.
How can these kids find a solution to a demonic problem? One other than Amy being murdered, which would probably stop it all.
There's so many questions left open about the curse, how it began, and what role each person plays in it. Will they have enough time to wrap it up? Or is the plan for Season 2 to follow another era of camp, and another cast of characters, at Stillwater, where they learn more about the curse each time?
Whatever it is, we want answers! Now, preferably!
If you've missed any episodes, you can watch Dead of Summer online, or if you just already miss Cricket like I do. It's a shame.
Jay Ruymann was a staff writer for TV Fanatic. He retired in January 2018.