Dead of Summer Season 1 Episode 9 Review: Home Sweet Home

Jay Ruymann at . Updated at .
What the heck just happened?
I think we can all say after Dead of Summer Season 1 Episode 9 that we will never trust a pretty blonde girl ever again, right?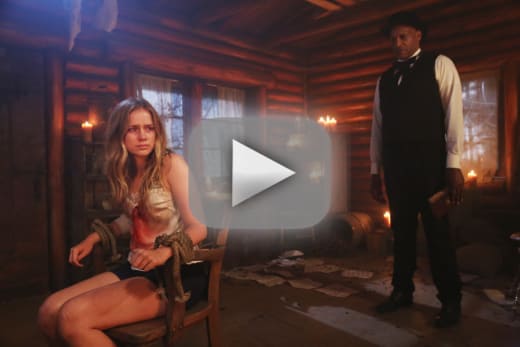 Turns out, Amy wasn't possessed after all. At least her behavior wasn't. SHE was the person who killed Cricket, Blotter, and Joel for Malphus, and now, Deb, too.
I guess I'll have to do this myself.

Malphus/Amy
That has to be one of the best plot twists in recent TV history. The girl that we all thought was innocent, that was unfairly being persecuted by Holyoke, was actually the one trying to summon Malphus. Who would've suspected her?
My disappointment stems from the fact that Amy was my favorite for all of the reasons that she decided to go down this dark path.
Amy didn't have a family, she didn't have a home. She was searching for that home, for people to call a family, and to feel whole inside. 
My relation to these feelings are what irritates me the most about this reveal, but nonetheless, it's a good reveal. For all of those reasons, Amy went down the path she did, and hurt the people she did.
Malphus was the family she had been waiting for her entire life; her role as the vessel probably resonated with her from a young age as she felt that missing part of her looking to be fulfilled.
She wasn't an innocent from the moment we met her.
Amy killed her family as a child for keeping her trapped, and when Deb wouldn't let her into Camp Stillwater, she killed her friend by letting go of her hand as she fell off of the roof. This girl has been a psychotic sociopath her entire life. Where are the Criminal Minds profilers when you need them?
Elizabeth Lail deserves all the awards in the world for her performance just in this episode. She played Malphus, "innocent" Amy, Amy possessed by Malphus, and crazed Amy, and there was a difference between all of them.
What was the girl that saw Amy kill her friend doing at Camp Stillwater? She warned Deb that Amy wasn't who she said she was, but she was weeks too late. Why now? What happened that caused her to warn them after weeks away?
Meanwhile, Deb, Blair, and Drew all attempted to save the children.
The second you get going, you don't stop. Promise?

Deb
Too bad Deb lost her life in order to save the kids. But perhaps it was for the best, according to Keith's spirit. She allowed the vessel to enter Camp Stillwater and take control of Malphus.
Will Drew and Blair make it to safety with the kids? Speaking of which, why didn't we get a Blair flashback episode, yet we had two Amy episodes? Was Blair really just the token gay character for a Freeform show? Is there some other secret that's going to attack us in the season finale that will change Blair's character?
Poor Jessie. Nine weeks ago, I would've never sympathized with Jessie, but damn, this girl has had it bad. She saved Amy's life twice - a killer's life TWICE - and she died because of it.
She sacrificed herself to save someone that never wanted to be saved; someone that called Malphus from her corpse. Luckily, Jessie actually was the innocent vessel that could kill Malphus and withstand it. 
Shut your mouth, bitch.

Malphus/Amy
Let the games begin.
On Dead of Summer Season 1 Episode 10, it's all for themselves as Killer Amy is hunting them all down with her magic ax.
From the preview, it looks like The Hunger Games are taking place at Camp Stillwater, and Amy is winning. Will she kill all of the tributes before they find a way to rid Stillwater of Malphus?
Seeing as Dead of Summer will have a different story, time, and location if given a Season 2, this next episode is crucial. How are they going to wrap this up? Will the demon win?
You can watch Dead of Summer online right here at TV Fanatic and catch Amy Hughes in all of the lies she's told.
Jay Ruymann was a staff writer for TV Fanatic. He retired in January 2018.