Devious Maids Season 4 Episode 9 Review: Much Ado About Buffing

Yana Grebenyuk at . Updated at .
That ending changed everything that I thought I knew.
Devious Maids Season 4 Episode 9 had Marisol finding out some dark secrets from Genevieve's past, Carmen and Dani facing off once again, and Zoila's cover finally being blown.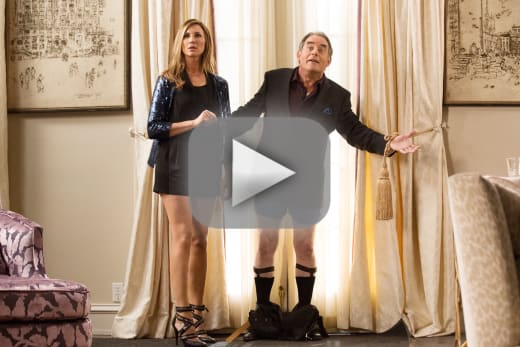 Book Club is only an excuse for us to day drink.

Genevieve
Evelyn has also been a favorite of mine, but she stood out even more throughout this entire episode.
First she realized that while James is a great guy, he isn't a great guy for her. Evelyn thrives on drama, and even though Adrian isn't the best choice, he makes more sense.
I don't think Evelyn going back to Adrian would be the best choice for her, but in the end, it's what she wants that matters.
And the wisdom she shared with Marisol was spot on. Evelyn knew that Peter wasn't the one for Marisol, no matter how much she tried to convince herself of that. 
If we are lucky, Evelyn will continue to share her pearls of wisdom with Marisol because she needs them if she wants to figure out this relationship mess that she's in. 
Adrian, on the other hand, might benefit from listening in on one of the sermons that James conducts. 
Instead of trying to figure out what about him drove his wife away, all he wants is to tear down the guy who makes her happy.
And how is lying to Gale any better? He is going to have to deal with her as well as Evelyn when he sets that plan in motion.
You never tell a woman you love her unless it's true, Adrian.
Fiona: I expect you come running when I call.
Zoila: Like a dog?
Zoila had this coming for a while. 
But it looks like her lie was the least of her problems, what with Kyle and Frances disappearing off the face of the earth.
I have to admit, Kyle was really growing on me, and this wasn't fair. He had the potential to stick around, but he was just a mommy's boy.
There is a sliver of faith, though, that he might surprise both Zoila and us in the finale. Something tells me he wants to be the guy she knows him to be. 
As for Zoila, at least she dumped the guy she's been struggling being with for a while. Although her boss doesn't exactly make her life any easier.
At least all Kyle wanted to do was make her happy and run a cult with his mom. But what guy doesn't have flaws? 
Well no one is more unknown than you.

Zoila
Marisol's shining moment was her interaction with Genevieve. 
I wasn't prepared for that director to be the rapist, but it seems like the show is trying to mirror real life.
All clues pointed to Peter, which made that twist even that much more intense.
It all adds up. I was wondering why he kept popping up this season. But It's the Dani part that has me a little worried. I may not be a fan of hers, but she doesn't deserve anything that guy might try with her.
Even with the way she treated Carmen, Dani is still just a girl and being used like Peri and Genevieve were is just not okay.
Dani: I thought you would be jealous.
Carmen: I am, but I'm also happy for you.
Rosie neglecting Miguel was something I didn't even think of, but Spence and her were aiming for Bad Parents Of The Year!
Rosie almost got Tucker killed, yet she continues to dig even when she comes up short.
Everything will fall into her lap soon but that doesn't help Miguel, who just wants his mother around for him.
As for Spence, forget getting out of prison, keep him in there! This inside the prison sneak peek is only getting better. Kill Face deserves a show of his own after all the stunts he's pulled.
Why do we need Spence on the outside when he could entertain us with his prison plays and escape plans that will most likely fail? 
Both Rosie and Spence have been the downfalls of this season, with this rescue mission not being interesting enough from their end to sell us. Spence could move somewhere and I wouldn't even notice at this point.
What do you think of Spence in prison vs Spence in the real world? Is there a chance for Dani to escape that creepy director? How much do you love and support Genevieve after this episode? Tell us what you think below.
You can watch Devious Maids online right here at TV Fanatic!
Yana Grebenyuk was a staff writer for TV Fanatic. She retired in April 2021.