Fear the Walking Dead Season 2 Episode 8 Review: Grotesque

Steve Ford at . Updated at .
Well... that wasn't quite what I expected.
With the way things ended with the mid-season finale, I didn't expect the show to go the route of a character centric episode for it's premiere with Fear the Walking Dead Season 2 Episode 8. And boy was it a smart move.
Nick is one of the more interesting characters, so having an episode solely about his continued journey in the infected parade was a nice treat.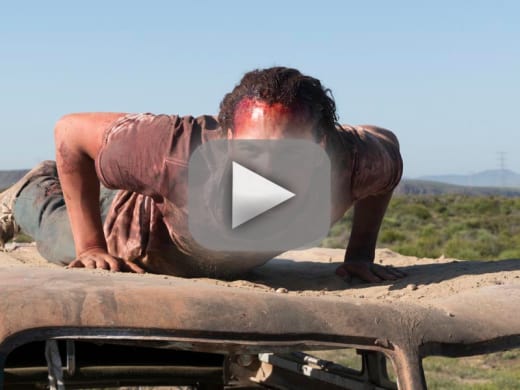 Things picked up not too far after the events of Fear the Walking Dead Season 2 Episode 7.
I thoroughly enjoyed the flashbacks and callbacks to Fear the Walking Dead Season 1 Episode 1. So, we now know that Gloria, the girl that Nick went on a drug binge with in the church during the opening moments of the pilot, was with him during his rehab stint.
We also finally learned about what happened to Nick's father. During Madison's visit to see her son, she explained that Nick's father was killed in a car accident on his way home from work.
Nick obviously took this news as terribly as anyone would, and would appear to be the event that pushed him into a relapse.
I can't say I wouldn't have handled it any differently if were in his shoes. After spending three weeks in rehab and on the verge of being released, you get hit over the head with the news that one of your parents has been killed. A truly devastating moment for a person who has apparently already hit rock bottom.
After Nick was chased out of the seemingly vacant house by that crazed woman and leaving his backpack behind, I knew he was in trouble.
With Nick back on the road again, this time with no supplies whatsoever, it was only a matter of time before things started to go south. When those three thugs showed up in that jeep, I knew something was about to go down. 
Once they impaled that poor fellow stuck in the car and still alive, it was obvious these weren't the good guys. Then again, in the world of The Walking Dead and Fear the Walking Dead, that area between good and bad can become quite grey.
I wasn't surprised that after getting a burst of feedback on the radio, that Nick would be on the run yet again dodging a hail of bullets. How inconvenient.
I was starting to really feel for Nick. Watching him become so desperate to eat the insides of a cactus, only to regurgitate it moments later. Then with no options left comes up with the bright idea to drink his own urine. Talk about hitting rock bottom.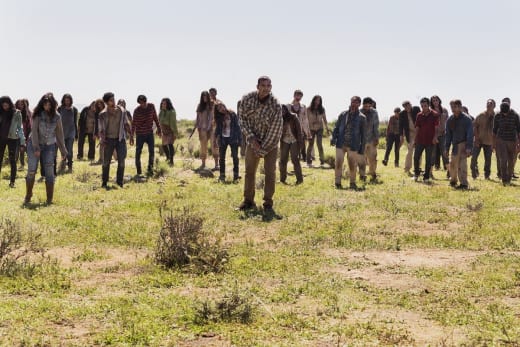 The scene with the two German Shepherds attacking Nick was pretty intense. What made this even better was the two vicious K-9's turn their attention to the approaching horde.
Even though they were quickly subdued and devoured by the infected, I couldn't help but play the theme from Cops in my head as the dogs brought some of the zombies down to the ground.
Just when all hope seemed lost and Nick collapsed from heat exhaustion, dehydration and borderline infection from the dog bite, the skies rained down upon him and was resurrected in a sense. The smile and relief on his face as water droplets fell into is mouth was as satisfying to the viewer as much as it was to him.
I also loved how Nick attempted to treat his wound using duct tape. Because, you know, duct tape fixes everything.
Although we only got a brief introduction of Luciana and her people, I'm highly interested and looking forward to seeing how they all develop.
What did you think of the return of Fear the Walking Dead Season 2? Drop a comment below, and remember, you can always catch up when you watch Fear the Walking Dead online!
Steven Ford is a staff writer for TV Fanatic. Follow him on Twitter.