Hallmark's Summer in the City Writer Gary Goldstein on First Instincts, Happy Endings & More

Carissa Pavlica at .
To be honest, we don't cover enough Hallmark around here. But when the opportunity arose to interview award winning playwright and screenwriter Gary Goldstein who, unbeknownst to me at the time, has written some of my favorite Hallmark Channel movies, I jumped.
If you long for the days of romantic comedies, there is no better place to find them than on Hallmark Channel and Hallmark Movies and Mysteries. There's a great one airing tonight on Hallmark Channel titled "Summer in the City."
Written by the talented Goldstein, it stars Julianna Guill, Marc Bendavid, Vivica A. Fox and Marla Sokoloff. The premise is when a small town woman with Midwestern charm, is given a big promotion managing a store in the Big Apple, she tries to adopt a big city personality and it leads to disastrous results.
Realizing it's better to be true to herself, she lets her personality shine and it becomes the secret to her success in work and in love. You'll learn during this interview that the inspiration for Guill's character came straight from Goldstein's own life experience.
It was destiny for Gary Goldstein to become a writer. He may not have known he'd wind up a successful playwright and screenwriter, but the desire was always there. He said, "My first job out of college was to be a movie publicist, and I kind of fell into that and did that for a while and enjoyed it. But I always wanted to get back into writing."
A journalism major in college, he ultimately left the publicity job, got some work in episodic television and then started moving into writing features and stage plays. He was constantly expanding his career and my abilities.
"I think it goes back to sometimes your first instinct is your best instinct. My first instinct was always to be a writer. I had written a lot in high school and college and for school newspapers and magazines."
"I got a little waylaid in the beginning just because you need a job, and you need to work, but fortunately, after a time, I went back to what I loved to do. And then I started that whole journey. You know, the writing journey has been a rollercoaster. I got on that thrill ride and hung on."
His ride to Hallmark came courtesy of the changing marketplace in the film industry. Goldstein explained, "The market for spec features, particularly what I was writing, had shifted a little bit over the course of time."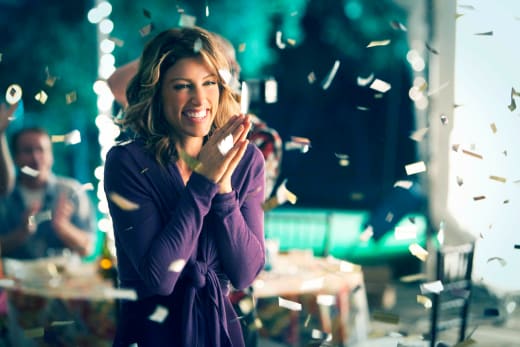 Their leaning toward action movies and big budget sequels meant a high concept romantic comedy he had written called The Wish List, wasn't getting picked up. At least not until his agent got it into the hands of Hallmark.
"It was kind of at the time when they were doing more and more of these romantic comedies, and this movie was written more as a feature, so it was a really good script, and they loved it. We had to readjust it for Hallmark, and it came off really well, and it was kind of off and running from there."
Goldstein works with Hallmark now on many different levels. He writes and sells original scripts, scripts adapted from optioned books, as well as stories for which the network comes to him to write a script.
"There have been times when I've sold a spec screenplay to them, and we've tailored it for a Hallmark audience. That's always great because I love the story and the script is written and has been developed over time so we only need to tailor it for the Hallmark audience and for the length of the movie and that sort of thing. That's very gratifying," he said.
Goldstein likes adapting books and finding the TV movie within the book itself, making sure he "honors the writer who began the material the best he can to best maintain the feeling, the vibe" about the book and what we all loved about the book in the first place.
On Summer in the City, for example, a producer went to Hallmark with an idea and Hallmark partnered Goldstein with the producer developed the story and they, in turn developed the story with the network.
"Ultimately, it got greenlit, and I wrote the script from there, Goldstein said. "That was interesting, because the story evolved over time, and we had a really good foundation for this movie and we took it in some exciting directions, I think."
Does it take a special person to write such inspiring characters and eternally happy endings? Golstein admitted, "I'm an eternal optimist. I like happy endings. I mean, who doesn't? So much of it is about creating characters. How do you create characters that people identify with, care about, recognize? There's a way into the character, you root for the character."
"It's shaping these characters to be a realistic person who's flawed but has aspirations and learns a lot in the journey along the way but triumphs in the end. That's what we want out of life, right? We want to meet our challenges, and be successful, and be happy and make other people happy. And yes, I am by nature a very optimistic person, and these movies are a very good match for that."
I realized Goldstein seemed to be talking a bit the main character, Taylor, in "Summer in the City," sort of a follow your dreams and stand your ground kind of thing. "Or be careful what you wish for," he said, "because you may think your whole life you wanted to live in Manhattan, but when you get there, there's some obstacles here that I didn't count on. I think we all experience that so much in life"
Which, coincidentally, is the reverse of Goldstein's trajectory, as he moved from Manhattan to Los Angeles, a move that wasn't as easy as he anticipated. When he got there, it was fine, and then he had to "realize the full readjustment" of it, and the adjustments are what he considers the "things you never expected and can never prepare for sometimes, until you find your way and create a new normal for yourself."
"That experience channeled into the Taylor character. Not so much blind optimism, but unfettered optimism. It's not all as rosy as she thinks, until she makes her personality and who she is as a person work for the environment as opposed to the other way around. And that's kind of the point of the movie. 
"Ultimately, if we can be true to ourselves, we can be happy anywhere. But you have to be true to yourself and meet the challenges head on. What I love about the character is she's strong and determined, but she's open to change and open to listening, and she's on her own journey of emerging into this new environment."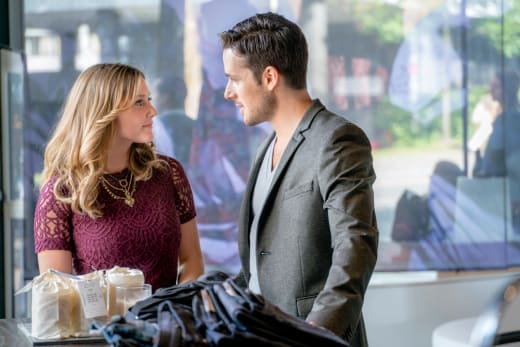 Given his attitude on life, it's no surprise Goldstein has been able to achieve his goals, another of which has been to see his plays produced. Upcoming is a play called "April, May and June," about three sisters named...April, May and June.
After their mother dies, the sisters, all in their 40s, gather one last time at her home to collect a few final items, discovering something about their mother they never knew that completely changes their lifelong opinion and unique relationships with her in the wake of her death. "Ultimately, it's about how they come to terms with the memory of their mother, but also with each other as sisters and women," Goldstein shared.
His very funny and touching play of which he's very proud started as a title. "I just thought of it one day. April, May and June. That's a great title of something. What can that be? I thought, I'm going to write a play. I was between a couple Hallmark scripts at the time, then I got busy again and put it down and busy and put it down and probably wrote it over the course of six or seven months."
A director he knew got it to a theater in Los Angeles, one of the few that actually self produces new work, and new original work in particular, "and they loved the play, it was the right timing, and they do a subscription season and this was the fifth out of six plays for the 2016-17 season and we open, I think, March 17th. So I'm very excited about that." He loves the director and the cast will come from the theater's own directing ensemble.
He's a fan of the play format, which has fewer roles and enjoys watching theater, as well. Through his plays and affiliation with Hallmark, Golstein has written a lot of women. "I'm proud of that. I hope I write all characters well, but I just think there is something rewarding about a man writing women well and women writing a man well. Pressing those lines and upending expectations is really satisfying as a writer."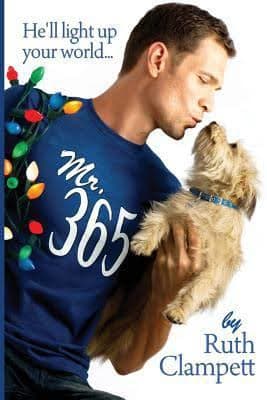 Goldstein currently has two books optioned, including "Mr. 365," about a man who celebrates Christmas 365 days a year and the reality show they want to make of his life. Hopefully we'll be watching that soon on Hallmark Channel. Who isn't obsessed with Hallmark Channel over the holidays?
The other is "Rescuing Riley," which Goldstein is hoping to get produced as an independent film, about a marine who rescues an abandons, injured dog from a canyon in Arizona and what the marine goes through to rescue the dog, but in the process also rescuing himself.
The marine went through horrible bullying as a child, and the marine believes the dog also suffered the fate and was left there to die as a result, so saving him "works out a lot of his own issues." It's a "true life story, a big canvas and a lot of action." He had me at marine, canyon and dog. How about you?
Don't forget to tune into "Summer in the City" on Hallmark Channel tonight at 9/8c. Check your local listings for the channel near you.
Carissa Pavlica is the managing editor and a staff writer and critic for TV Fanatic. She's a member of the Critic's Choice Association, enjoys mentoring writers, conversing with cats, and passionately discussing the nuances of television and film with anyone who will listen. Follow her on Twitter and email her here at TV Fanatic.