Even Harry Houdini can't save this one.
Fox canceled Houdini & Doyle after airing only one season of the interesting and unusual drama.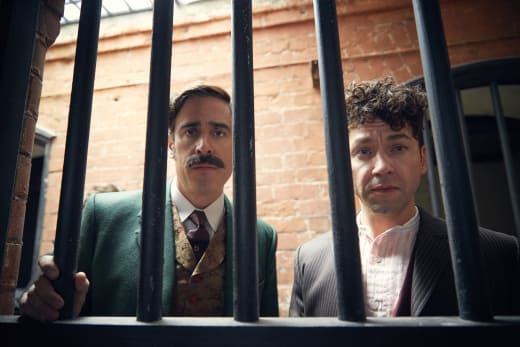 Houdini & Doyle starred Michael Weston and Stephen Mangan as Harry Houdini and Arthur Conan Doyle, respectively.
Yes, they were THAT Houdini & Doyle, the magician and the writer.
The story was that at the turn of the 20th Century, there were a lot of crazy cases turning up with a supernatural bent, and these two learned fellows were chosen to help the New Scotland Yard to solve them.
Unfortunately, the series was reviewed poorly out of the gate and eyes were subsequently averted.
There's always good and bad news about critics being given a chance to see a series ahead of time for review.
There are several ways things can go down as a result.
If only a pilot is released, it's a toss up. A pilot can sometimes be the very best episode of a series or the very worst. Either of those scenarios isn't good for one party or another, whether the viewer or the production company.
If several episodes or an entire series are given out for review, there is a better chance for critics to get it right, but even then if they're looking for the next Fargo and you're looking for the next Rizzoli & Isles, there is going to be a rift.
So Houdini & Doyle was initially reviewed poorly. People looked away. The ratings tanked.
Others, however, stuck with the show. They were entertained. They even, kind of, almost, fell in love.
Because as the characters were given a chance to find their groove, and as the quirks were ironed out, Houdini and Doyle were funny.
Your dead husband shows up begging you to drop the case. Why? Because he cares about you? This coming from a man who let you find him hanging from a rafter.
The cases were interesting and not seen on other procedural programs. As the season drew to a close, fans started hoping it would live to see another day. 
Today, those fans were disappointed. 
There is still the smallest, microscopic chance that Houdini & Doyle could live on outside the U.S., as it's produced internationally and airs on an ITV network in the U.K., but it's on life support there, too. 
So say your goodbyes. Perhaps Houdini & Doyle will find their way back in a seance, or at least when you watch Houdini & Doyle online here at TV Fanatic.
Carissa Pavlica is the managing editor and a staff writer for TV Fanatic. She's a member of the Broadcast Television Journalists Association (BTJA), enjoys mentoring writers, wine, and passionately discussing the nuances of television. Follow her on Twitter and email her here at TV Fanatic.