Killjoys Season 2 Episode 9 Review: Johnny Be Good

Henry A. Otero at . Updated at .
Nooooooo! Killjoys did not just kill off our pretty pretty princess. Did it?
Is there a chance (like with Turin), that Pawter survived Delle Seyah's blade? Though Killjoys Season 2 Episode 9 felt like the character's swan song, I'm hoping she will mysteriously resurface in the finale.
I'm in denial, it looks like she's the latest victim of the Johnny Jaqobis curse.
Sadly, I saw Pawter's death coming and even mentioned it several times in my reviews. That said, watching it go down still broke my heart.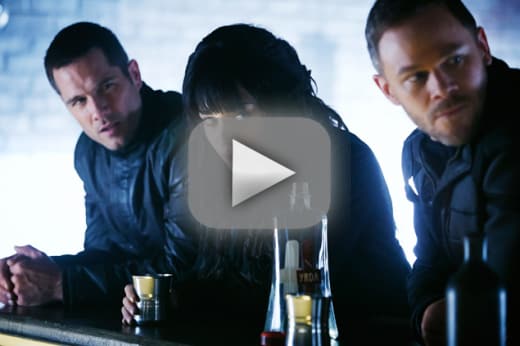 For a fun, light-hearted space romp Killjoys certainly took a turn toward the darker side with this installment. With the true purpose of Jelco's wall revealed and Pawter's tough decision to kill all those Westerlyn's, this wasn't your typical episode.
All the dead bodies in the opening moments threw me for a moment, but you soon realized the writers were playing with time again. That's fine by me, it keeps things interesting. I'm just making a quick observation on that.
From Syfy's episode description, we knew Dutch would be "seized by an angry mob." That's exactly where we met up with her at the top. Though I've got to say, she should have known better than to drink that water. C'mon Yalena, I know Khlyen taught you better than that.
Pree sticking up for Dutch was phenomenal, though I still hope we get to see more of him next season.
Herin's connection to Tighmon from Killjoys Season 2 Episode 2 and seeing Big Borna again was super cool. I really love the way the world of Killjoys is interconnected and names/people resurface. It makes the world feel lived in and authentic.
D'avin's adventure with Jelco was entertaining, but I've got to say the baddie turned out to be more of a sniveling coward that I expected. Then again, he wasn't really our big bad after all. Was he? More on that in a bit.
Herin: Last night, over a hundred people of Old Town died in these streets. Our streets. So what I need is to explain to the wives, the husbands, the children how we are going to get them justice.
Dutch: By beating the piss out of me?
Herin: By hanging the man who started it all with that damn wall. And if we can't do that, the next best thing is the bitch who helped him escape.
Herin: Either Jelco hangs today or you do.
Jump to "Last Night," and we watched Dutch and D'av make their way through the Royale in search of Johnny and Pawter. It was nice to see the team joke about John's betrayal and move past it quickly. There's too much other stuff going on to hold grudges and waste valuable time.
"Culling the herd" was an awful way to describe what the Company was doing in Old Town. However, when John mentioned overloading the wall it never occurred to me what Pawter would later do. That was insane, wasn't it? I mean, I understand why she did it, but damn what a move. Oddly enough, it made me love her more that she made that hard choice for the bigger picture. She sure had come a long way.
Look at me using past tense when referring to Pawter. I simply refuse to believe she's gone.
Liam Jelco is a murderer, a sadist, and a threat to everyone in Old Town. Tonight we bring down his wall and then he dies.

Dutch
Clearly Jelco survived since we saw him walking around with D'av earlier. That meant the villain had something valuable Dutch needed. My guesses haven't been great this season, but I did get the feeling he had intel on the Level Six program or Khlyen. After all, they're all pieces of the same puzzle.
Dutch was tough on Pawter, but I do think telling the pretty pretty princess she wasn't up for what was coming helped her fateful decision. Would Dutch have been able to kill all those Westerlyn's? Did Delle Seyah's little speech help Pawter find the strength she needed?
One of the highlights of the episode for me, was Julian, Spring Hills' A.I. He was even more snarky that Lucy, and the scene gave us that priceless "asshole" Jaqobis joke. That faceoff against Lucy was so fun. "Julian, it's on." Man, I just love Lucy!

The fact Spring Hill was half empty was not a good sign. Luckily Jelco was still lingering.
People of Old Town, I need you to listen to me. Do not eat any of the food the Company sent you. It's poison.

Pawter
While this installment pretty much resolved the mystery of Jelco's wall and the Company's wicked plan, it also revealed Delle Seyah Kendry as a true bad guy. My buddy and blogger extraordinaire Geek Girl Diva figured that twist out weeks ago. Sure, she's been right in front of our faces the entire time, but I always thought of her as a trickster like Loki. Not so much, she finally let her true colors show.
It took a lot for Pawter to reach out to Delle Seyah. What exactly was our evil lady "right in the middle of" when Pawter called her? Michelle Lovretta promised all the seemingly disparate pieces would fit together by the finale. Delle Seyah's place in the larger story and Khlyen/his Sixes are what we need to understand now.
Once the wall came down, we caught up with the riot and Dutch's interrogation. Johnny coming in to talk sense to her helped them iron a few things out. Yeah, Hannah John-Kamen made my eyes water. What an emotional scene.
Whoa, what happened? Why is the wall set to rage? Pawter what did you do?
Borna helped destroy Spring Hill thanks to Jelco's codes. Then Delle Seyah appeared to negotiate for Westerley's independence. It was obvious Delle Seyah was up to something, but I honestly didn't expect her to kill Pawter. Did Delle Seyah not cut her hand because she's a Six? How is she connected to Khlyen? Did she take over the program when he abandoned it?
I've got say, the RED 17 type lab under Spring Hill made perfect sense and that's when I realized why Jelco was spared. Will Dutch use him against the Company? Is he just a cog in the machine? I want him to pay for everything he's done, but perhaps he can still be useful. Afterwards, I hope he gets a brilliantly cruel demise. Pascal Langdale has been terrific, but we need to meet "The Lady" and those invaders from outside the Quad.
Is the Company really planning to make a moon of Sixes? To fight the invaders? Is it me or does it seem we've only scratched the surface of the story? The season finale is going to be epic!
There are so many loose ends to tie up, I can't imagine everything being resolved in the finale. Space/Syfy have to #RenewKilljoys and for more than 10 episodes. Take to Twitter and let your voice be heard. This story just has to continue, guys. It's too damn good.
What did you think of "Johnny Be Good"? Did you ever imagine Delle Seyah was that evil? Did Pawter's death break your heart? Where has Khlyen been this whole time? Your turn ladies and gents, sound off in the comments and share your thoughts below.

Catch up on the entire second season before the big finale. Watch Killjoys online via TV Fanatic now!
NOTE: Killjoys Season 2 Episode 10 is titled "How to Kill Friends and Influence People" and airs on September 2.