Major Crimes Season 5 Episode 10 Review: Dead Zone

Jack Ori at . Updated at .
Julio-centric episodes are a rare treat on Major Crimes.
Julio is always an emotional, complex character who is fun to watch as he struggles to keep moving forward during difficult circumstances.
Major Crimes Season 5 Episode 10 was no exception.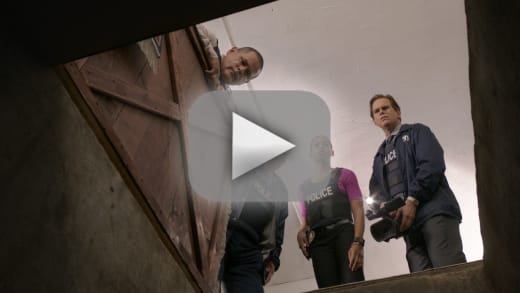 Considering the major losses Julio has had in his life, from his wife's death to his girlfriend turning out to be a murderer, it's not surprising he is willing to do anything to protect a motherless little boy.
He gets double points for caring so much about a child who hates him because he's Mexican.
Please can we wait for her? I'll be good, I promise. It won't be long. I'm sorry, okay? I'll be good.

Mark
From the beginning, telling Mark he was going to see his mom didn't seem like a good idea. Since Ava was dead, he was going to get his heart broken and not understand why, no matter what the detectives did.
He might even have blamed Julio for his mom's failure to appear.
Characterization wise, though, it was an important move. Mark lost a lot of the anger and hatred towards Julio once he heard his mom was around. He seemed a lot more like an eight-year-old boy and a lot less like a carefully groomed domestic terrorist.
He even warned Julio about Henry's room, which might have saved all of the detectives' lives.
It'll be interesting to see where his relationship with Julio goes from here. Will he learn that Julio lied to him? Will he understand that Julio pulled out all the stops to save his life?
See, this is why nobody likes the press.

Andy
Rusty's identification with little Mark was interesting and refreshing. He might be a good mentor for the boy if Mark will allow him to be.
Rusty's preoccupation with sitting in on Buzz's interview was annoying, however. He seemed to have no understanding of why Sharon was hesitant to grant him this privilege and was determined to manipulate his way into it.
Forget the puppy dog eyes; Rusty needs to demonstrate an ability to take responsibility for his actions and not continue to act like he knows more than the cops about how to investigate a cold case.
See, that is why they call us Major CRIMES, not Major Crime. We are capable of handling more than one asshole a day.

Provenza
Buzz's interview with Hecht provided a riveting counterpoint to the main case of the hour. Buzz's reluctance was more about being afraid to face the truth about his family members' death than it was about not wanting to distract from the other case.
Provenza knew it and didn't let him get away with it.
So meth and real estate fraud. They're diversified.

Sharon
The case itself was a bit odd and convoluted, but as usual, it wasn't really the point. The cases on Major Crimes tend to be vehicles to explore character development and this was no exception.
This case was about Julio and Mark. It was also about a particularly eager DDA trying to get evidence to put away another white supremacist, who seemed to exist mainly to say stupid things and make himself look like an idiot.
Darnell: This has nothing to do with justice, and by the time you figure that out HE'LL be in charge.
Chief Taylor: I already am.
If this were a more serious type of show, the stereotypical racism shown here might be problematic.
Racism is a more complex problem than depicted here, and it was confusing that Mark didn't seem to actually hold the racist beliefs he was indoctrinated with but was only using them to hurt Julio because he wanted his mom.
However, as quirky characters go, Darnell was one of the kookiest and most entertaining and served the purpose of making racists look stupid.
What did you think of "Dead Zone"? Are you warming to Mark? Do you think Rusty will grow up and stop doing annoying things?
Weigh in below!
Don't forget that if you missed anything, you can watch Major Crimes online to catch up.
Jack Ori is a senior staff writer for TV Fanatic. His debut young adult novel, Reinventing Hannah, is available on Amazon. Follow him on Twitter.