Pretty Little Liars Season 7 Episode 6 Review: Big Murder a Small Town
Paul Dailly at . Updated at .
Will the murders ever stop in Rosewood?
We were promised a murder on Pretty Little Liars Season 7 Episode 6, and it really delivered. 
Sara Harvey is dead. How freaking ironic is it that her body was found in a tub with the shower on? It's almost like the person who killed her knew she liked showers.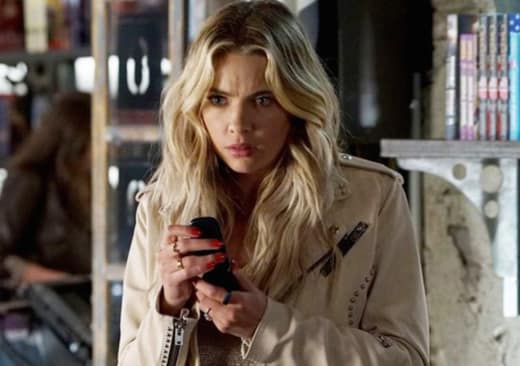 I've been hard on Sara. She was one of the sketchiest people in Rosewood, but she really redeemed herself in her final hours. She genuinely cared about Emily. 
Why else would she follow her and tell her to look out for herself? It's just a shame the character was written off the show as soon as she started to become somewhat likeable. 
There's a good chance Emily won't take the death very well. As much as she despised her, there was a time in which they were romantically linked before it was revealed she was in cahoots with Charlotte. 
Speaking of Charlotte, if you thought she was telling the truth about the game being over on Pretty Little Liars Season 6 Episode 10, then you were sadly mistaken. 
It's now more obvious than ever she never stopped scheming. Maybe she did for a while, but then Jenna got her claws into her and sent her back on her crazy path of destruction. 
What is it with Jenna visiting people in hospitals? If anyone is ever looking for Jenna, just check the local hospitals. She'll be hanging around, looking for someone else to reel in for her plan to take the liars out for good. 
Make no mistake, Jenna's involvement in all of this is pretty random. At one point during the episode, I felt like switching TV off because of how ludicrous Jenna's story was. 
How in the heck did she manage to get Archer/Elliot into Welby? Knowing people who work there does not get a fake doctor hired. Either Jenna is talking trash, or the writers are writing for preschoolers. 
There's only so much you can believe on a show like this before it gets to be too much. Jenna just seems intent on doing whatever she can to cause drama. 
It's now leading me to believe that Toby's involved. There's not a chance in hell a police car could have been sitting outside Ali's house without a legit policeman in it. 
Marco was pretty clear in his observation that Elliot could be out to kill Alison. Alison really has had a horrible time of it. 
After hre troubled upbringing, she finally found the man of her dreams while trying to nurse her sister back to a healthy lifestyle. That sister was actually her cousin, and she married her cousin's boyfriend. 
What gives? Will the web of deceit ever come to a close on this show? This season of answers is really turning into the season of more questions. 
We got confirmation Rollins is dead, but I still can't shake the feeling the person they buried is wearing a mask, and Rollins could actually be hiding in the shadows. 
There really is no end to the possibilities with this show anymore. I get why Hanna and Spencer wanted to check the grave, but they should have known there's always something more sinister going on. 
Now, A.D. has proof they buried the body, and things are going to get terrible for them. They may not be great at sleuthing, but I enjoyed the heart-to-heart between them. 
It now seems like Hanna will be the one getting back with Caleb. It sort of seems like a step back for the plot considering the amount of groundwork that was laid for Spaleb. 
One of the more pressing questions was about Aria and Ezra's proposal. I can't be the only who felt a little short changed at the beginning of the episode when there was a time jump. 
Aria's apprehension for not rushing into an engagement with the love of her life was natural. She didn't want to bring Ezra in on any more of the lies she and her friends have told. 
It was a mature decision, but I was ecstatic Ezra asked again and she accepted. Things in Rosewood are tough, so Aria deserves to at least try to act like things are normal. 
She may not be a free woman for much longer. 
"Wanted: Dead or Alive" was an exciting installment of this Freeform drama. The stage is set for what is sure to be an exciting conclusion to the summer run, but we're probably going to lose some more characters along the way. 
Remember you can watch Pretty Little Liars online right here on TV Fanatic, Get caught up now!
Note: Pretty Little Liars Season 7 Episode 7 airs Tuesday August 9 at 8/7c on Freeform.
Here's your first look at the next episode: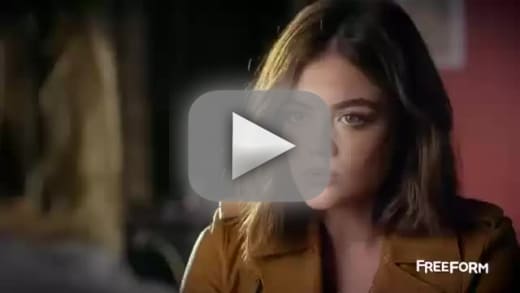 Paul Dailly is the Associate Editor for TV Fanatic. Follow him on Twitter.